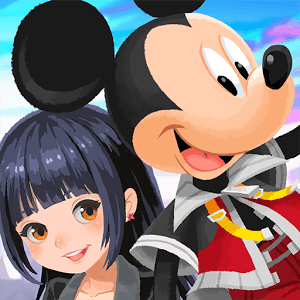 Kingdom Hearts Unchained X
SALE!
Get our Google Play Cyber Week Offer: 3,000 Jewels pack for over 60% OFF!
For a limited time, you can get the Weekly Jewels Extravaganza pack, which includes 3,000 Jewels and unlimited access to special daily quests, for just $4.99 (over 60% off of the regular price of $14.99)! This is a great chance to get Jewels to add powerful and rare Medals to your deck!
----
Adventure across Disney's magical and wondrous worlds in the first mobile app for the beloved KINGDOM HEARTS series!

KINGDOM HEARTS is a tale about Light and Friendship overcoming the power of Darkness. Over the last 15 years, millions of fans have experienced the epic tale of King Mickey, Donald, Goofy, and more than 100 Disney characters joining forces with Sora, Keyblade warriors, and heroes from Square Enix's popular FINAL FANTASY video game series as they battle to protect their friends and save all worlds from the Heartless.
Become a hero at the very beginning of the KINGDOM HEARTS story in the era before the Ancient Keyblade War. Gather LUX—a mysterious form of light—and fight the Heartless as you explore beautiful Disney worlds. Meet familiar faces, strengthen yourself and your Keyblades!
- This game is only available in English.
- Battle against the Heartless using your legendary Keyblades. Tap to attack, swipe to hit multiple enemies, and flick medals to unleash their special abilities.
- Strategize to defeat enemies in fewer turns for greater rewards by using your special attacks and finding the right balance of power, magic, and speed medals.
- Customize your hero by changing your avatar's outfits to match your style of fashion. Be on the lookout for outfits based upon popular Disney, FINAL FANTASY and KINGDOM HEARTS characters, as well as seasonal clothing!
- Collect and evolve hundreds of character medals, which contain the harnessed power of popular Disney and FINAL FANTASY heroes and villains.
- Team up with friends to challenge and take down monstrous Heartless raid bosses for even greater rewards!
- Survive the challenges in the Olympus Coliseum, where the strongest heroes can brave additional bosses and unlock the rare medals.
- Customer support is only available in English.
NOTE: An additional download of about 1.2 GB will be required after installation of this application, so please make sure you have access to a stable internet connection.
Developer
SQUARE ENIX INC
Category
Role Playing
Last Update
November 21, 2016
Update notes
Fixed various issues.

Two Magical Realms Unite Again
The magical world of Disney blends with the world of final Fantasy to create one of the most awe-inspiring adventures of all time. Fifteen years ago, Kingdom Hearts began the story of Sora and his friends who must defeat the Heartless and bring Light to the Disney world once again. In the very first Android installment of this mega-popular video game series, players get to see the story from the very beginning. Go back before the Darkness swept across the land and the Ancient Keyblade War began. Collect a special form of Light called LUX and defeat the Heartless in this brand new adventure from Square Enix and Walt Disney. Along the way, you will encounter familiar faces from Disney, Final Fantasy, and the rest of the Kingdom Hearts series. Unlock new Keyblades and equip special clothing inspired by all three classic series. Join other Disney fans in raids to reap even greater rewards. Become a hero at the beginning of the Kingdom Hearts saga.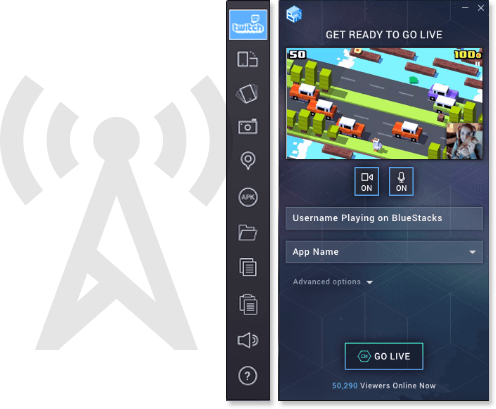 Broadcast Kingdom Hearts Unchained X on Twitch.tv
At one time, mobile users who wanted to show the world their latest gaming footage would need extra equipment and hassles to mirror and share their screen. Not anymore thanks to the free BlueStacks 2 player. Now, anyone with a computer can stream Kingdom Hearts Unchained X with the most convenient Twitch broadcasting controls around. Twitch has become the number one social gaming site in the world and hosts more than one million live gaming broadcasts daily. Users can watch footage, chat live with broadcasters and other viewers, and even follow their favorite broadcasters. Join the future of gaming today with the new BlueStacks 2 and Twitch.tv.