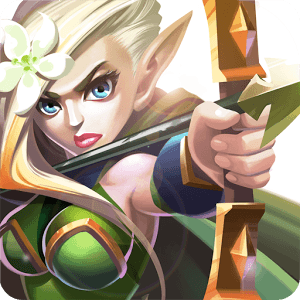 Magic Rush
War is coming – Will you be ready? Summon heroes to defend your kingdom and charge the enemy in this one-of-a-kind RTS adventure!
Magic Rush: Heroes is a revolutionary combination of skill-aiming controls, a thrilling, real-time PvP Ladder Tourney mode, exciting multiplayer World Map battles, simple yet addicting Tower Defense, and more! Experience the fun of multiple different genres all wrapped up in one extraordinary game.
Rush forth on an unforgettable adventure that you won't forget!
Features
Summon Powerful Attacks With Skill-Aiming
- Manually choose targets or directions when casting skills. You call the shots!
- Summon attacks to stun, silence, knock airborne, heal and even interrupt enemy skills using precise controls
- Strategy and speed combine. Master them both, and victory is truly in your hands!
Hero Training Powers You Up to Defend the Kingdom
- Role play as diverse hero types, including dozens of unlockable heroes with hundreds of distinctive skills.
- Heroes can be combined in different ways and take the opposition by storm.
- Upgrade your defender with equipment enhancing, rune inlaying, and unique upgrades and abilities for every kind of weapon.
- RPGs and RTS combine to bring you the ultimate Equipment System.
PvP Games in the Ladder Tourney
- Charge to war in a global, cross-server PvP Arena with a turn-based ban/pick phase to level the playing field.
- Defend your victory by strategically banning your opponent's heroes depending on your own battle plan.
- PvP combat offers awesome rewards for every season!
War Strategy and RTS Gameplay
- RTS combat challenges you to build your tower, upgrade your tech, and dispatch your armies to plunder resources from enemies.
- Defend the kingdom together! Create alliances with millions of players from around the world to thrive in this war-torn landscape.
- RTS battles let you conquer enemies to become the dominant alliance!
Hero Tower Defense Combines Your Favorite Strategy Genres
- An all-new "Hero Tower Defense" concept cleverly combines the heroes of the game with dozens of exquisitely designed Tower Defense stages.
- Drop tower emplacements and activate Hero abilities in real time during exciting battles that you won't want to put down!
- Defend your based on one-of-a-kind map creations.
Constant Updates Offer
- New heroes
- In-game events
- Weekly updates based on your feedback and suggestions!
- Hard-working developers are constantly updating and improving the gaming experience with new gameplay!
Are you the defender this kingdom needs? Download Magic Rush: Heroes and join the RTS war today!
PLEASE NOTE! Magic Rush is free to download and play, however some game items can also be purchased for real money. If you do not want to use this feature, please set up password protection for purchases in the settings of your Google Play Store app. Also, under our Terms of Service and Privacy Policy, you must be at least 13 years of age to play or download Magic Rush.
Have any questions or issues with the free tower defense RPG adventure game from Elex Tech?
Reach us at: magicrush.help@gmail.com
Facebook: https://www.facebook.com/MagicRushOnline
Twitter: @MagicRushHeroes
Official Forum: http://f.elex.com/forums/35-Magic-Rush-Heroes
Developer
Elex
Category
Role Playing
Last Update
December 4, 2016
Update notes
Update Content:
Subterra
a) To accommodate players in more time zones, opening times for Subterra have been changed to server time 5:00-8:00, 11:00-14:00, and 18:00-21:00.
b) We've improved data transmission for joining rooms between servers to reduce "timeout" occurrences.
c) Now players can send up to 5 invitations to the same players within a 15 minute time window. (Originally 1 invitation)
d) Bug fix: Scylla's HP regen skill was sometimes mistakenly interrupted.

Defend Your Kingdom in the Most Genre-Bending Video Games Ever!
So many mobile games available to players today simply take a genre and copy it until the market is flooded with running games, tower defense games, matching games, and more. Forget playing the same game with different graphics and take a turn with the most innovative Android game out right now. Magic Rush: Heroes combines the deep gameplay and storylines of the role-playing genre and throws in some champion tower defence for good measure. Protect your kingdom against invaders and enemies through intense RPG-style and tower defence levels. Instead of leaving the fight in the hands of the computer, Magic Rush: Heroes gives players the chance to use skill-aiming to make precise moves and attacks to stall, kill, and even interrupt the advancing enemies. Get in the action right now when you download and play Magic Rush: Heroes on Mac or PC with the new BlueStacks 2 player.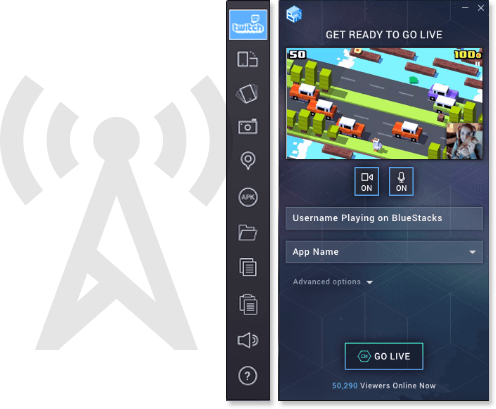 Combine the Powers of Magic with the Powers of BlueStacks
Together, the combination of mighty magic and mighty technology forge a new future for gaming. Twitch.tv has been the number one spot for streaming live video game broadcasts for years now and there is finally an easy way to stream Magic Rush to Twitch with the free BlueStacks 2 player. Users on Twitch are able to connect with gamers all over the world through live chats during a million live broadcasts each day. Start your international connection by broadcasting Magic Rush to Twitch using one-click controls in the new BlueStacks 2.