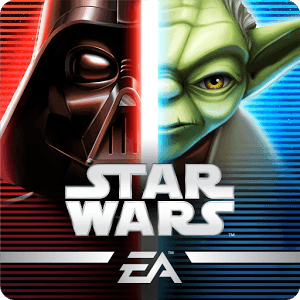 Star Wars™: Galaxy of Heroes
"Visually striking and with adrenaline-pumping Star Wars™ music, Galaxy of Heroes is a must-play for fans for the franchise." – USA Today
"The best Star Wars game to release for mobile devices in recent memory." – Gamezebo
Live your Star Wars™ dreams as you fight with your favorite dark and light side heroes across iconic locations to become master of the galaxy. Create and customize your dream squad using characters from every era, including new characters from Star Wars™: The Force Awakens and the upcoming Rogue One™: A Star Wars™ Story. Engage in epic turn-based battles, confront giant bosses, progress your characters, and take your experience to the next level!
CREATE THE ULTIMATE TEAM
Rebel leaders? Empire stalwarts? It's your choice as you construct elite light and dark side teams while collecting heroes and other characters from the Star Wars™ universe. Make key strategic moves and pick teammates with complimentary abilities to assemble unbeatable squads!
BECOME MASTER OF THE GALAXY
Defeat opponents and rise to the top as you dominate the galactic hologames in a far-off cantina. Upgrade your heroes' abilities as you play for even more powerful attacks and bigger wins. Then fight other players in Squad Cantina Battles, PvP Squad Arena, and Squad Tournaments to achieve greatness.
PLAY WITH POWERFUL CHAMPIONS
Make smart tactical decisions and equip your heroes with the ultimate gear to enhance their damage in galactic war. Unlock special leader abilities to make your team unstoppable as you unleash commanding moves like Emperor Palpatine's Force Lightning, Chewbacca's Wookiee Rage, and others.
ENGAGE IN EPIC SHIP BATTLES
Collect iconic starships and massive Capital Ships to construct your fighting fleets. Attack all-new challenges, battle through space, and compete in the Fleet Arena to test your prowess. Gather unique upgrade materials for characters, available only as rewards for Ship battles. Each vessel also has its own crew, adding special powers to individual Ships. Recruit powerful characters to create the strongest armada!
RISE TO THE TOP IN GUILDS
Lead Raids with friends and face off against powerful bosses like the Rancor and AAT Tank by creating a customizable Guild! Command your guildmates through Guild Chat and engage in Daily Guild Activities to earn rare rewards. Stake out your spot at the top of the Guild Leaderboards and watch your legend grow.
Download now for free! Visit www.starwarsgalaxyofheroes.com and follow @EAStarWars on Facebook, Twitter, and Instagram for the latest news and fun updates.
Developer
ELECTRONIC ARTS
Category
Role Playing
Last Update
November 21, 2016
Update notes
Ships have arrived! Your favorite Star Wars™ characters take flight in the biggest update of the year. Now you can:
• Experience a new layer of strategy with Fleet Commanders
• Call in reinforcements during Ship battles to fight with more units than ever
• Build your own Capital Ship, including Grand Moff Tarkin's Star Destroyer
• Assemble and crew Ships, including Millennium Falcon Ep. VII and Ahsoka's Jedi starfighter
• Battle in the Fleet Arena to earn Ship Blueprints

Journey to a Holotable Far, Far Away
Join your favorite heroes and villains from the entire Star Wars universe when you play Star Wars: Galaxy of Heroes on PC and Mac. Come to the Cantina where great players like Jabba come to play cards and win fortunes. As a new player, you are not ready to face a player of Jabba's weight, but soon, young Jedi. Collect heroes and villains and level them up to increase their power and special skills. Unlock new skills as your characters become more powerful. Create multiple teams to fit a myriad of situations, utilizing each character's special abilities and attacks. Fight in iconic locations throughout the Star Wars universe and collect gear to equip on every player. Use your best fighters in the PvP arena to climb the leaderboards and win valuable data cards and gems. Take a tour through the entire Star Wars universe with Star Wars: Galaxy of Heroes.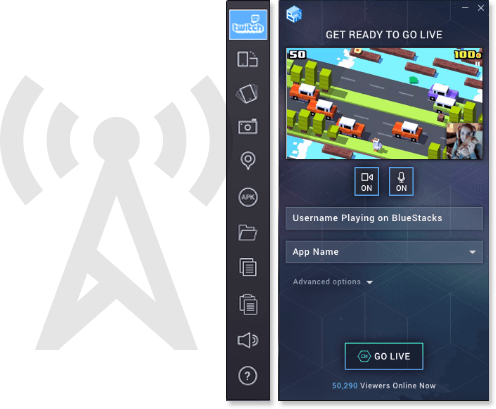 Everyone Loves Star Wars, So Share the Fun
As kids, we were all taught to share. Growing up, we seem to forget how to share. Let's work together to bring sharing back by streaming Star Wars: Galaxy of Heroes to millions of Star Wars and video game fans across the galaxy. By using the new BlueStacks 2 player to play your favorite mobile games, you are unlocking one-click access to the world of Twitch broadcasting. Every day, players come to Twitch.tv to watch a million live broadcasts. These players chat with other fans, follow their favorite broadcasters, and make lasting friendships. Now, you can join them and share your Star Wars love with the entire community.