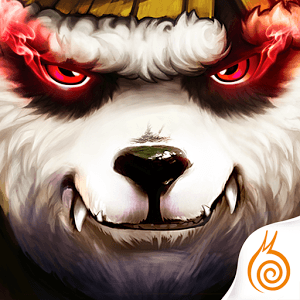 Taichi Panda
Avzar is once again engulfed in the flames of war, and the distant memory of peace has almost completely disintegrated. This time, Avzar has called on its longtime ally, the assassin-like Ninja, to destroy the scourge of evil. Heroes can use brand new elemental blades to slay enemies and reclaim their kingdom. Dive into the latest thrilling chapter of the epic Taichi Panda adventure in the all-new Assassin's Update!
Touch Arcade – "A stand-out in RPG genre!"
App Advice – "An intense and fast-paced dungeon crawler!"
148 Apps – "Make this the Year of the Panda!"
Inside X Game*Spark – "Best of Social/Mobile E3 2015"
==Features==
The Journey Begins
Grab your sword and battle hordes of crazy creatures, magical mysteries, and sinister specters on an action-filled journey to become the ultimate legend! Prove you have what it takes in a goofy and thrilling action adventure MMO rendered with PC game quality 3D graphics and full-body motion capture technology.
Slash Through Opponents
True power lies within, unleash your hero and fight through to infinity! Battle through unique levels wielding blades, magic, and fists to bash enemies into oblivion with a fun, fast-paced action combat system. Master the unique skills of 6 distinct heroes to defeat enemies and become the ultimate champion of Avzar!
Discover Powerful Gear
Build up a powerful hero through strength and cunning in an RPG adventure! Collect and upgrade gear, skills, pets and mounts to increase your might and unlock your inner potential. Do you have what it takes to become a Taichi Legend?
Battle Online and Rule the Land
Join in online PvP and co-op with other players! Take on powerful bosses, and become a hero alongside allies in Team Instances. Battle in the arena, join Guilds for online Guild competition and co-op, or enter the fray in 25v25 Battle Royale PvP. Capture territory in Warpath, and rise to the top in team arena PvP League!
==Connect==
Visit our official site to learn more about Taichi Panda: http://panda.snail.com/en
Join the Taichi Panda community and learn more on Facebook and our official Forum
Facebook Page: https://www.facebook.com/TaichiPandaOfficial
Community Forum: http://pandabbs.snail.com/
Developer
Snail Games USA Inc
Category
Role Playing
Last Update
December 5, 2016
Update notes
1. New Hero -- Ninja
2. New Weapons -- Elemental Ice Blade, Elemental Fire Blade and Elemental Thunder Blade
3. Tech Tree System and Spirit Tree System added to Guild
4. Thanksgiving-Themed City and UI added
5. New Pet Cultivation System
6. New Paired Talisman System
7. New Team Instance -- Land of Hermit(Hard)
8. New Auto-loot Function to Gold Instance and Survival Instance

True RPG Action Comes to Your Computer
It's difficult to find a true role-playing game in the Google Play store these days. More often than not, we are stuck with watered down versions of other games or something that doesn't even resemble an RPG at all. Fear no more, my friends. Taichi Panda is an RPG for true RPG fans. Choose from a variety of characters and enter Avzar, a world unlike any you have ever seen before. Taichi Panda is a fun and goofy role-playing game that has captured the minds and hearts of millions of players around the globe. Unlike other mobile games, Taichi Panda was created using full-body motion capture technology to help make the most stunning 3-D graphics and effects available on Android. Experience the thrill and wonder of Avzar for yourself by clicking the link above to play Taichi Panda on Mac or PC.