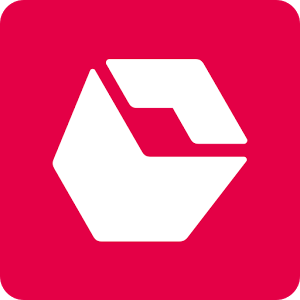 Snapdeal app
Snapdeal is your personal gateway to first-class online shopping for clothing, fashion, electronics, home & kitchen essentials, gadgets, mobile recharge, booking cabs, ordering food and more.
Discover the latest offers on women's and men's clothing, mobile phones, electronics and over 65 million other items. Snapdeal is India's largest marketplace, giving you access to not just what you need, but to all that you desire. Deals and offers get you the best price on the items you've been dreaming of.
Upgrade your life with Snapdeal!
==Snapdeal Online Shopping Features==
Online Shopping with the Latest Brands
• Shop for the latest brands like Vero Moda, Hidesign, Acer and Samsung in India's largest online marketplace
• Shopping recommendations let you personalize the app fit your tastes
• Online shopping for clothes, electronics, books, gadgets and daily essentials
• Clothing, home design and other necessities are all available in one convenient online shopping app
Fashion to Fit Your Lifestyle
• Men's clothing – Discover clothes, shoes, ties, belts and more
• Women's clothing – Shop for tops, jeans, shoes, dresses and more
• Clothing from the world's top brands is just a tap away
Electronics and Gadgets
• Buy the latest mobile phones, televisions, projectors and more
• Phone cases, chargers, headphones and everything else you need on the go
Sales and Deals – Get the Best Price on Your Dream Item
• Snapdeal always offers the best price and gets you exclusive access to great deals
• Daily deals give you even more ways to save while shopping
• Sales notifications give you instant access to offers, discounts and deals
Discover and Search
• Search for new offers with a catalog of over 35 million products
• View product images, item details and price specifications
• Search for the best price by reading customer reviews and ratings
Delivery Updates and Advanced Security for Every Order
• Delivery offers free shipping to more than 6000 cities in India
• Order safely, with a 100% payment protection guarantee via TrustPay
• Complete transactions via credit/debit, EMI, NetBanking, Cash-on-Delivery, or FreeCharge Cashback
• Order tracking is also available for added security
• 7-day easy returns
Recharge, Book Flights, Book Cabs and Other Convenient Features:
• Online recharge for your mobile device
• Pay mobile bills, electricity bills and more in less than 10 seconds
• Book a cab to your destination
• Book a flight for your next trip
• Book bus tickets
• Order food as you shop
• Get movie tickets
• Book personal and home services
Snapdeal unboxes a new world of possibilities, with fast, easy and secure online shopping. The boxes we send to our customers don't just contain orders - they contain the fuel that powers your aspirations. We love the anticipation and the delight that we see on our customer's faces when they receive a box from Snapdeal. That's why our new red box inspires our all-new brand mark - a modern & stylised design that represents the joy of unboxing.
At Snapdeal we love competition, and in order to beat it we are constantly trying to bring the latest products under the sun to our online shopping app. Discover everything you need from fashion to flights, and pay for it all in one secure and easy mobile application.
So give Snapdeal a shot and let us know what you think at apphelp@snapdeal.com. Our Help Centre feature is always there to answers all your queries.
_____________
Things to note:
We seek permission to access your:
Media Files, Camera & Photos to enable sharing of the product image. We'd love to hear your feedback with product selfies.
Contact Book: To enable you to pay someone else's bill using the Freecharge widget. Mom, Dad, Spouse, GF, BF – keep them all happy.
SMS access to send you a one-time password.
Location: To provide location specific personalisation.
Microphone: To exchange old electronic products with brand new ones.
*The Snapdeal app is supported on Ice Cream Sandwich (4.0) and above.
Developer
Snapdeal.com
Category
Shopping
Last Update
January 6, 2017
Update notes
We are always working to improve your shopping experience by making the app faster and more reliable. New update contains bug fixes and performance enhancements.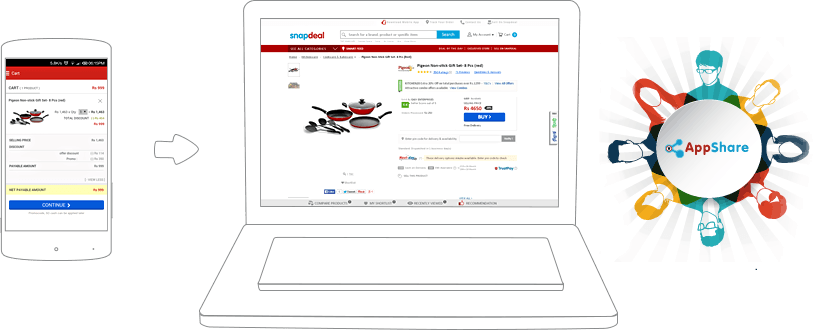 Shop India's Largest Shopping App on Your PC
These days, everyone is looking for a great deal, especially when shopping online. Snapdeal was created to give consumers an easy way to shop for thousands of product easily using only one app. Snapdeal has grown into the largest shopping network in India and is now growing in other parts of the world, as well. By inviting friends, you can save even more money on already rock bottom prices. To make your shopping experience as complete as possible, download the Snapdeal Android app today.

Saving money is great, if it is easy to do. Nobody wants to wait forever for a product page to load. Download the new BlueStacks Android Emulator to install Snapdeal on PC, along with almost any other Android app. No more swiping through endless pages of products to find what you're looking for. Now you simply have to type and click to quickly find the perfect product at a great price. The increased viewing area of your computer screen allows you to better compare product features, read descriptions and locate prices.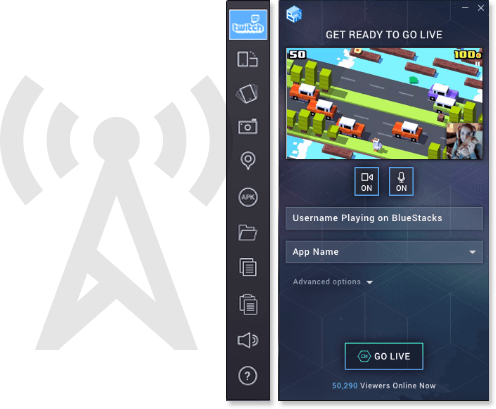 Twitch.tv is a Mere Click Away
It takes no time at all to begin streaming your mobile life to the vast Twitch.tv community of gamers and mobile app aficionados. When you use the latest version of the free BlueStacks 2 Android emulator to run your favorite shopping apps, you can stream your entire shopping trip and mobile experience to Twitch using simple, one-click controls. Join millions of other Android users that hang out and watch live broadcasts while chatting and making new friends. Learn more about your favorite apps or games, follow users you like, and even make a few new followers of your very own.