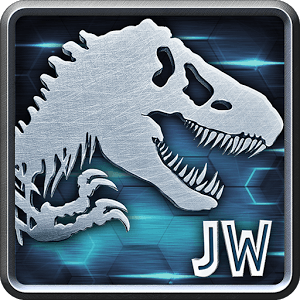 Jurassic World: The Game
Return to Isla Nublar with the creators of the smash hit Jurassic Park™ Builder for your next adventure: Jurassic World™: The Game, the official mobile game based on this summer's epic action-adventure. Bring to life more than 140 colossal dinosaurs from the new film and challenge your opponents in earth-shaking battles. Construct the theme park of tomorrow in this unrivaled build-and-battle dinosaur experience.
In order to build a winning Battle Arena team, you'll need to design the most efficient and effective park, one that will allow your dinosaurs to thrive and evolve. Discover new and amazing species of dinosaurs by acquiring surprise-filled card packs. Join Owen, Claire and your favorite characters from the film as, daily, you feed and genetically enhance your dinosaurs. Now that the park is open, it's time to make Jurassic World™ your own!
In Jurassic World™ The Game you will:
* Defy the laws of science as you COLLECT, HATCH & EVOLVE more than 140 unique dinosaurs!
* CONSTRUCT & UPGRADE iconic buildings & lush landscapes inspired by the film.
* CHALLENGE opponents from around the world in earth-shaking BATTLES!
* INTERACT with characters from the film as you navigate exciting new storylines & thrilling missions!
* ENHANCE your experience with Hasbro® Brawlasaurs™ toys – scan each toy dinosaur & battle with it directly in the game!
* CHOOSE from multiple card packs; each can bring a special dinosaur to life!
* EARN daily rewards such as coins, DNA & other essential resources.
By installing this application you agree to the terms of the licensed agreements.
Like us on Facebook for fan giveaways, the latest news and updates! (facebook.com/jurassicworldthegame)
Jurassic World™ is a trademark and copyright of Universal Studios and Amblin Entertainment, Inc. Licensed by Universal Studios Licensing LLC. All rights reserved.
Please note: Jurassic World™: The Game is completely free to play but offers some game items for purchase with real money.
Developer
Ludia Inc.
Category
Simulation
Last Update
October 27, 2016
Update notes
We're always working to make your Jurassic World™ theme park better!
- Fixed a number of crashes, improved general stability.
- Fixed several minor bugs.
- Miscellaneous improvements to game features and services.
As always, thanks for playing!
The Jurassic World Team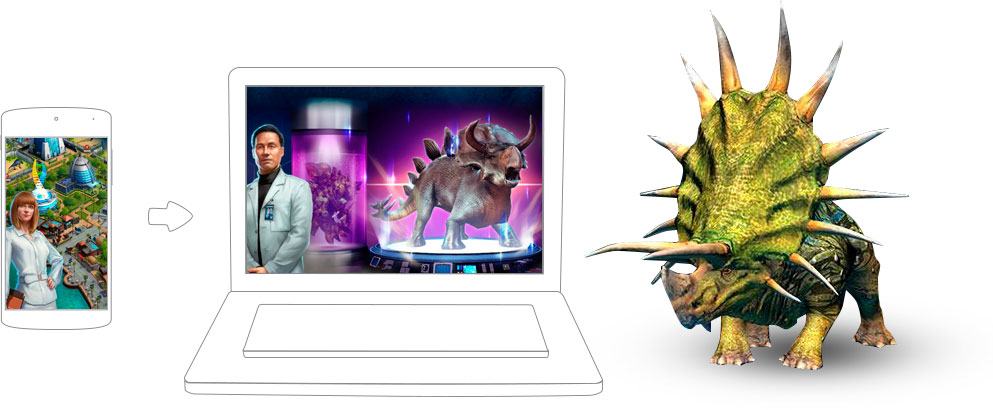 Create Your Jurassic Park with the Offical Android Game
Based off the box office smash, Jurassic World: The Game puts the power and future of Isla Nublar in your hands. You are tasked with creating the ultimate dinosaur theme park by collecting, hatching, and evolving more than 50 species based off the film. Work alongside some of your favorite characters from the film as you build your theme park from the ground up. To make your park even more attractive, battle dinosaurs int he Battle Arena for complete dino-supremacy. Jurassic World: The Game allows players to collect daily rewards for simply signing, as well as an exclusive Hasbro Brawlasaurs toys interactive content. The only way your park will be successful is by combing the perfect elements of movie inspired buildings, awe-inspiring dinosaurs and creatures, and a Battle Arena team to take on the globe.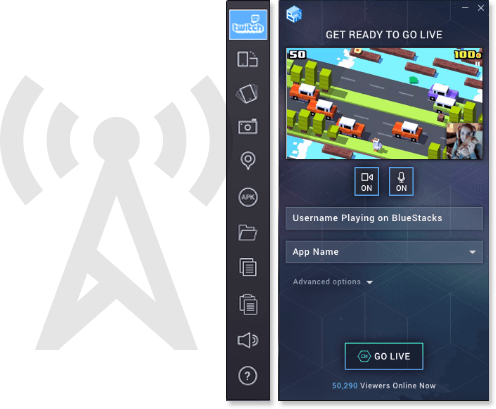 Open the Gates to Your Jurassic World
What good is having one of the most thrilling Jurassic parks in the world if there is nobody to come and admire it? Play Bigger with BlueStacks 2 and Jurassic World: The Game to easily stream gameplay footage the Twitch network of players. Twitch.tv hosts millions of live video game broadcasts every day from the kid next door to some of the top names in the industry. Join the new wave of gaming and start broadcasting Jurassic World: The Game to open the gates to your Jurassic Park for the world to visit.