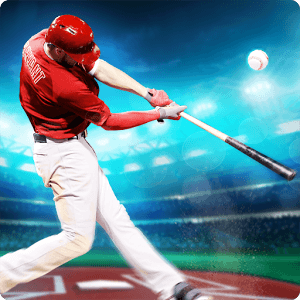 TAP SPORTS BASEBALL 2016
EASY ONE-TOUCH CONTROLS
Tap to swing and watch home runs fly out of the park! Simple controls and short gameplay sessions let you play anywhere, anytime.
BUILD YOUR TEAM WITH REAL PLAYERS
Collect your favorite major league players, manage your roster and climb up the standings!
COMPETE FOR BASEBALL LEGENDS
Earn the greatest players in baseball history by competing in daily events and challenges!
BATTLE IT OUT IN TOURNAMENTS AND LEAGUES
Go head-to-head online in live competitions, and dominate players from around the world!
CHOOSE YOUR STRATEGY
Steal bases, bunt, pinch-hit or bring in a reliever – it's your call! Outsmart your opponent and lead your team to victory.
TRADE FOR SUPERSTAR PLAYERS
Use the new Tap Sports Trading Block to acquire world-class players! Trade in 3 players from your roster to get a legendary player.
JOIN A CLUB AND EARN THE COOLEST REWARDS
Team up with your friends! Join a club or create your own, and compete in exclusive events for top prizes.
PLAY WITH YOUR FRIENDS
Fun for everyone – get social and compete in multiple games simultaneously with players via email, username or Facebook!
High-end, immersive tablet gameplay!
OFFICIALLY LICENSED PRODUCT OF MAJOR LEAGUE BASEBALL PLAYERS ASSOCIATION-MLBPA trademarks and copyrighted works, including the MLBPA logo, and other intellectual property rights are owned and/or held by MLBPA and may not be used without MLBPA's written consent. Visit www.MLBPLAYERS.com, the Players Choice on the web.
PLEASE NOTE:
- This game is free to play, but you can choose to pay real money for some extra items, which will charge your Google account. You can disable in-app purchasing by adjusting your device settings.
-This game is not intended for children.
- Please buy carefully.
- Advertising appears in this game.
- This game may permit users to interact with one another (e.g., chat rooms, player to player chat, messaging) depending on the availability of these features. Linking to social networking sites are not intended for persons in violation of the applicable rules of such social networking sites.
- A network connection is required to play.
- For information about how Glu collects and uses your data, please read our privacy policy at: www.Glu.com/privacy
- If you have a problem with this game, please use the game's "Help" feature.
FOLLOW US at
Twitter @glumobile
facebook.com/glumobile
Developer
Glu
Category
Sports
Last Update
November 21, 2016
Update notes
• New WORLD CHAMPIONSHIPS! Top players compete for awesome real world prizes!
• Exclusive specialty Draft Picks and Players now available!
• Bug fixes and other improvements to game performance

Make Your Mark on The Big Show
Do you have what it takes to lead your team to victory? Play Tap Sports Baseball 2016 on Mac and PC to find out by managing your team, filling your roster, and signing some of the most legendary Major League Baseball players of all time. Use one-click controls to hit bombers and bring in the winning run while each win brings you step closer to the top of the standings. Every day, new events and challenges are posted to earn great rewards like legendary players and more.

Your success relies completely on you. It's up to you to decide who stays and who goes, when it's time to run and when it's time to chill, and when to bring in a new arm from the bullpen. Trade your players for new and better players as your team wins more and you earn even more. Play Tap Sports Baseball 2016 by clicking the button above.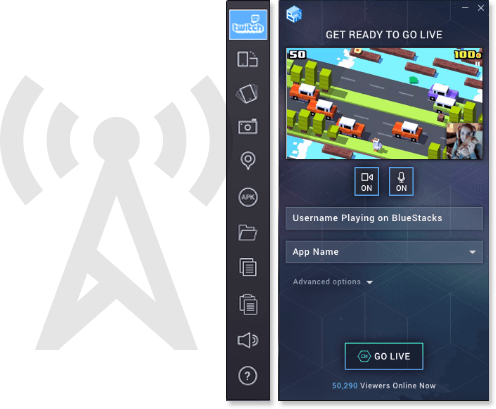 Broadcast Your Games to Twitch With One-Click Controls
Twitch.tv has become the largest gaming site on the internet and attracts millions of users and visitors every single day. At any given time, you can find hundreds or thousands of live video game streams covering a wide range of platforms and genres. Now, with the new and improved BlueStacks 2, you can broadcast Tap Sports Baseball 2016 action directly to the massive Twitch.tv network. Viewers can interact with each other and you live during every broadcast. The world of Twitch broadcasting has never been more accessible thanks to the one-click controls in the latest version of the free BlueStacks 2 player.