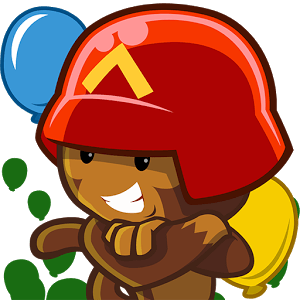 Bloons TD Battles
Play the top-rated tower defense franchise in this all new head-to-head strategy game - FREE!
Go monkey vs monkey with other players in a bloon-popping battle for victory! From the creators of best-selling Bloons TD 5, this all new Battles game is specially designed for multiplayer combat, featuring 18 custom head-to-head tracks, incredible towers and upgrades, all-new attack and defense boosts, and the ability to control bloons directly and send them charging past your opponent's defenses.
Check out these awesome features!
* Head-to-head two player Bloons TD
* 27 custom Battles tracks
* 22 awesome monkey towers, each with 8 powerful upgrades
* Assault Mode - manage strong defenses and send bloons directly against your opponent
* Defensive Mode - build up your income and outlast your challenger with your superior defenses
* Battle Arena Mode - Put your medallions on the line in a high stakes Assault game. Winner takes all.
* Card Battles Mode - Choose the perfect deck of tower and bloon cards to outwit and outplay your opponent
* Monkey Tower Boost - supercharge your monkey towers to fast attack for a limited time
* Bloons Boost - power up your bloons to charge your opponent in Assault mode
* Create and join private matches to challenge any of your facebook friends
* 16 cool achievements to claim
* Customize your bloons with decals so your victory has a signature stamp
If you are new to Bloons tower defense games, don't worry - a helpful tutorial walks you through the game, and matchmaking will help balance the opponents you face. And if you want to battle against your friends, you can easily create and join private matches with anyone on your Facebook friends list.
The choice of strategy is yours - hunker down for the long game, or go for the quick win with a rush of fast Bloons? Jump into a game of Bloons TD Battles now!
REQUIRES INTERNET CONNECTION
PERMISSIONS: Bloons TD Battles requests permission to access to read and write to your external storage to buffer video ads. Video ads help fund the production of our free games, so we appreciate your understanding and support. If there are ever any problems with the amount of data stored, please contact us at support@ninjakiwi.com.
YouTubers and Streamers: Ninja Kiwi is actively developing, supporting, and promoting channel creators on YouTube, Twitch, Kamcord, and Mobcrush. If you are not already working with us, keep making videos and then tell us about your channel at youtube@ninjakiwi.com.
Developer
ninja kiwi
Category
Strategy
Last Update
December 16, 2016
Update notes
The battle lines have been drawn! Clans have arrived in BTD Battles! Band together with other players and form the mightiest clan ever seen! Rack up wins to improve your clan's War Chest and climb the leaderboards and reap the amazing rewards! Call your friends, create your clan, and get popping!

For the First Time Ever - It's Monkey vs Monkey!
Finally, those crazy bloon-popping monkeys have made their way to a full-blown multiplayer extravaganza. Play Bloons TD Battles on PC or Mac to experience all of the fun and excitement of Bloons TD 5 with an awesome multiplayer twist. Bloons TD Battles is designed specifically for PvP battles and features over 15 new tracks, special power-ups and boosts, and even new towers and defenses. Players can also control bloons directly and send them charging at opponents' towers. Bloons TD Battles comes equipped with multiple game modes to fit whatever mood you're in - assault mode, defensive mode, and battle arena mode. New boosts are available to help you slaughter the enemy along with an impressive 20 tower collection and numerous upgrades for each tower. Drop your banana and download Bloons TD Battles on Mac and PC.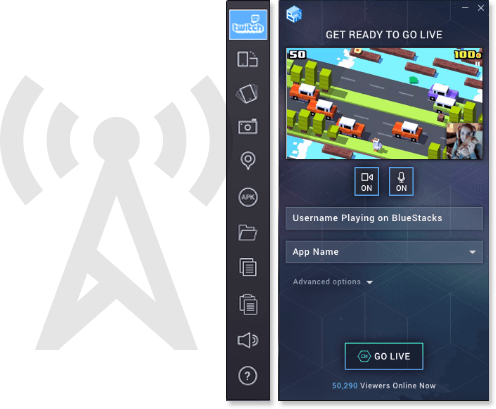 It's Time to Show the World Your Bloons
There is no way to hide it. You're going to have to whip out your bloons and show them to the world to prove you're the best. How are you going to do that? When you Play Bigger with the new BlueStacks 2, you get the most convenient Twitch streaming controls ever created. With one click, you can start broadcasting Bloons TD Battles to the massive Twitch community. Join millions of other users who come to watch more than one million live broadcasts every day. Twitch gives players the chance to connect and share experiences with players around the globe.