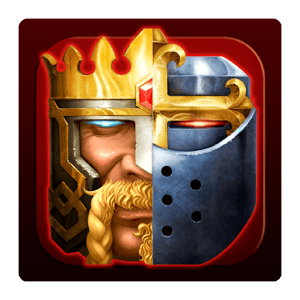 Clash of Kings
Looking for action? We got it all right here in Clash of Kings!
Epic clashes, monumental throne battles, miraculous dragon fights and so much more!
Clash of Kings is an award winning real time strategy MMO game where you battle to build an empire, become King and take control of a kingdom! If you like PVP games or multiplayer games, you'll love this base building, fighting game where you must fight to survive!
Put your strategic mind to test against combatants from across the globe in this worldwide MMO game.
Download Clash of Kings now and join millions of players from around the world!

CLASH OF KINGS FEATURES:
Online Multiplayer PVP war battles
- Play PVP online against millions of other players
- Train massive armies and lead them into epic battles
- Attack enemies, conquer their castles and plunder their resources
- Attack and occupy the Throne to become the King
MMO universe with massive online battles
- Enter an amazing online world where kingdoms battle for control of a PVP fantasy kingdom
- Amazing world map to explore with lots of PVE monsters to defeat
- Real time resource management
- Talk to your friends with 1-on-1 messaging, kingdom chat and alliance chat
Real time strategy and leveling
- Fight and level up your Lord
- Forge amazing weapons and armor for your Lord as you level up
- Craft new equipment sets, equip magical items such as Dragonglass to increase attributes.
- Increase your stats with the college, and research technologies
Battle for the Throne
- Compete against your kingdom and battle for the throne
- Attack and occupy the Throne to become the King
- Become the king and rule the kingdom. Inspire your allies and destroy your enemies
- Give buffs and special titles to players in your kingdom, as well as kingdom buffs
Dragon Campaign and Ancient Battlefield
- Compete in massive staged PVP battles and competitions
- Battle against players from other kingdoms, fight for the pride of your kingdom
- Win massive in game rewards from the matches
Experience the thrill of battle and victory in the tremendous world of Clash of Kings!
Unite to create massive alliances and dominate your foes. Fight to become King and rule the lands in the action packed world of Clash of Kings.
Connect with Clash of Kings!
Facebook: https://www.facebook.com/Clash.Of.Kings.Game
Google+: https://plus.google.com/communities/102750039774058615160
Twitter: https://twitter.com/ClashOfKingsCOK
YouTube: https://www.youtube.com/ClashofKingsGame
Developer
Elex Wireless
Category
Strategy
Last Update
December 3, 2016
Update notes
Hero Equipment
1. Now the Heroes can put on equipment, the equipment will bring extra bonuses to the heroes.
Land of Trials Event
Troop Balance Adjustment
1. The chance of a Combo Attack made by the Prestige 5 Archers has been reduced slightly.
2. The Damage of the Swipe attack from the Prestige 5 Pikeman has been increased.
Hero Feature Optimization
Exile Tower Optimization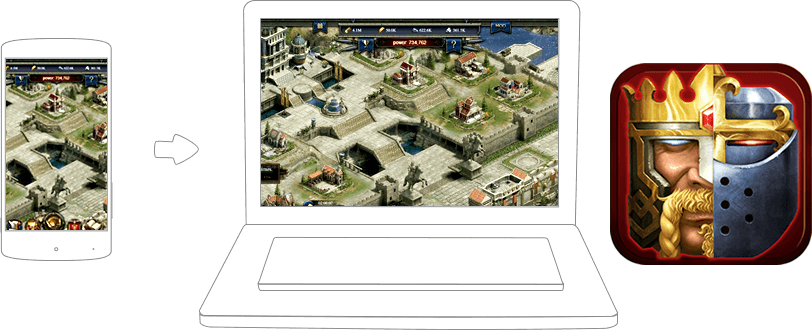 Claim the Throne Using the BlueStacks Advantage
In Clash of Kings, you are one ruler looking to unite the seven kingdoms of the world. To do this, you will have to build up your kingdom from nothing and forge the more powerful army on the planet. This real-time strategy game is unlike anything you have ever seen before and has already enthralled thousands of players. If you think you have what it takes to claim the throne and be the ultimate king, then download Clash of Kings today.

This Android app is even more powerful when you play it on your home computer using the new BlueStacks Android Emulator. This free program allows players to search the vast Google Play store and download their favorite games and apps right to their computer. No more worrying about expensive data plans or wasting storage space on your mobile devices. Playing Clash of Kings on PC and Mac is even easier using your computer's mouse and being able to chat with your friends and surf the web while playing will make your time more enjoyable.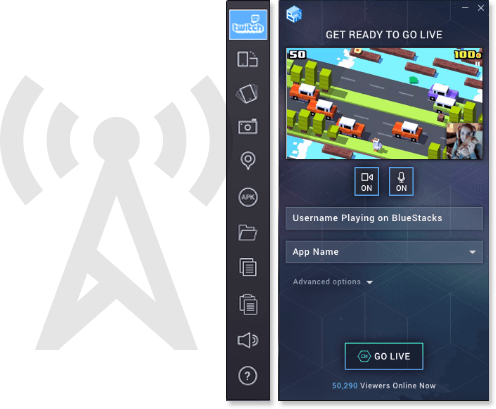 Stream Clash of Kings Onto Twitch Now
BlueStacks knows how important the titles that gamers enjoy are to them, which is why the latest version of the gaming player now includes easy access to share Clash of Kings battles with millions of other fans and players via Twitch.tv. Twitch is a gaming site that allows gamers to share their gaming experiences from thousands of games across almost all platforms. Twitch gives players a chance to beat that tough opponent but it also brings fans closer together through chat and a fun following system. Stream Clash of Kings to show your might and start your own army on Twitch today.