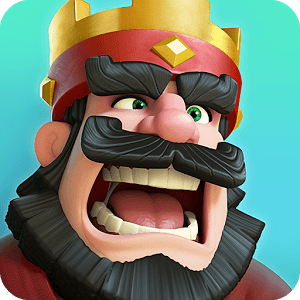 Clash Royale
Enter the Arena! From the creators of Clash of Clans comes a real-time multiplayer game starring the Royales, your favorite Clash characters and much, much more.
Collect and upgrade dozens of cards featuring the Clash of Clans troops, spells and defenses you know and love, as well as the Royales: Princes, Knights, Baby Dragons and more. Knock the enemy King and Princesses from their towers to defeat your opponents and win Trophies, Crowns and glory in the Arena. Form a Clan to share cards and build your very own battle community.
Lead the Clash Royale Family to victory!
PLEASE NOTE! Clash Royale is free to download and play, however, some game items can also be purchased for real money.If you do not want to use this feature, please set up password protection for purchases in the settings of your Google Play Store app. Also, under our Terms of Service and Privacy Policy, you must be at least 13 years of age to play or download Clash Royale.
A network connection is also required.
FEATURES
● Duel players from around the world in real-time and take their Trophies
● Earn chests to unlock rewards, collect powerful new cards and upgrade existing ones
● Destroy opponent's towers and win Crowns to earn epic Crown chests
● Build and upgrade your card collection with the Clash Royale Family along with dozens of your favorite Clash troops, spells and defenses
● Construct your ultimate Battle Deck to defeat your opponents
● Progress through multiple Arenas all the way to the top
● Form a Clan to share cards and build your very own battle community
● Challenge your Clanmates and friends to a private duel
● Learn different battle tactics by watching the best duels on TV Royale
Support
Are you having problems? Visit http://supercell.helpshift.com/a/clash-royale/ or http://supr.cl/ClashRoyaleForum or contact us in game by going to Settings > Help and Support.
Privacy Policy:
http://supercell.com/en/privacy-policy/
Terms of Service:
http://supercell.com/en/terms-of-service/
Parent's Guide:
http://supercell.com/en/parents/
Developer
Supercell
Category
Strategy
Last Update
November 1, 2016
Update notes
SPECIAL EVENT CHALLENGES
• Introducing the first special event challenge: King's Cup!
• King's Cup is a limited time challenge with special rules
• Your first King's Cup challenge is free to enter
• Watch the King's Cup tournament livestream on Nov 6
FOUR NEW CARDS
• Tornado available on Nov 11
• One new card will be released every two weeks!
IMPROVEMENTS
• During a Friendly Battle, both players' cards are leveled up (or down) to the "Tournament Rules" for an even playing field
The Royale 'Stache is Back!
Your favorite characters, Royales, and troops from the original Clash of Clans are all back and ready for a brand new battle. Play Clash Royale on PC or Mac to eneter the arena and fight against other players from all over the world in real-time battles. Unlock and collect cards featuring all of the characters you know and love, plus some new ones you're sure to love, and fight in head-to-head combat to win awesome rewards, lots of loot, trophies, and more. Destroy your opponent's towers win Crowns and earn the powerful Crown chsts to score the sweetest loot and prizes. There are a wide variety of cards available that you can collect and upgrade with more being added with regular updates. With so many cards ready to be found, the possibilities are endless. Join a Clan or form your own and even spend a little time watching the exclusive TV Royale.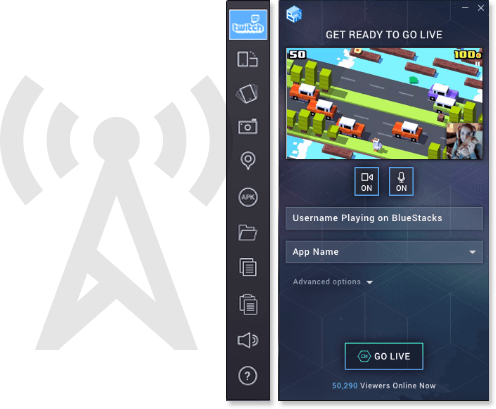 Play for a Royale Audience
NJow, thanks to the free BlueStacks 2 player, anyone can become a Twitch broadcaster right from home. At one time, this feat would have required a lot of annoying cables, wires, and stress. Not with BlueStacks 2. Simply start your game and click one simple button to stream Clash Royale to millions of gamers and Royale Barbarians aroud the globe via the massive Twitch.tv network. Twitch isn't just a gaming site. Over the last few years, Twitch.tv has grown to become the largest social gaming site anywhere in the world. Get ready to join the fun and excitement of Twitch streaming when you broadcast Clash Royale with BlueStacks 2.