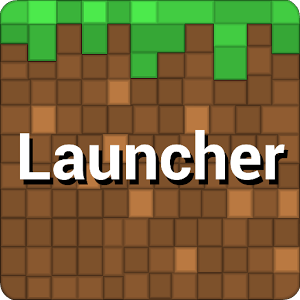 Block Launcher
ON JELLY BEAN, NORMAL MINECRAFT PE TEXTURES CANNOT BE ACCESSED BY THIS APPLICATION! A demonstration texture pack has been provided.
THIS APPLICATION IS INCOMPATIBLE WITH SOME SAMSUNG DEVICES! Devices with Samsung Knox or other security solutions may not be able to utilize the live patching and the ModPE Script Runtime of BlockLauncher. Patching .mod-formatted patches and texture packs still work. A fix is being worked on.
BlockLauncher is a custom Minecraft PE launcher that wraps around Minecraft PE and provides loading of patches, texture packs, and mods.
(formerly known as MCPELauncher)
Just choose Options on the main screen, then select mods. It is that easy!
THIS MAY NOT WORK ON ALL DEVICES! If it crashes with your device, please post on the forum thread with your device model and your operating system version for support.
THIS APP REQUIRES THE FULL VERSION OF MINECRAFT PE TO RUN. The demo version or the J version is not supported.
This program loads libminecraftpe.so from the currently installed copy of Minecraft PE, so it should be compatiable with the mod patching features of PocketTool and QuickPatch.
Jelly Bean users: currently, this application cannot load original textures from copies of Minecraft installed by Google Play on Android 4.1 and above. The built-in texture pack will be used.
Features:
- Patch up to 3 patches
- Test the texture pack support with the built-in RepetiCraft texture pack
Developer
Zhuowei Zhang
Category
Tools
Last Update
December 21, 2016
Update notes
fix dropping custom items; add ModPE.getOS

Control Your World With the Greatest of Ease
Minecraft players are more than simple gamers. These dedicated fans imagine a world bigger than themselves and create it using simple textured blocks. To manage this, these world builders must be in control of a wide number of aspects. The last thing any of them wants is to do is be bogged down with worries about new patches or texture updates. Managing everything by hand can be a bit difficult and time-consuming. Forget about wasting precious time and begin building the world of your dreams. With the new BlockLauncher app for Android, you can become one of the most dedicated Minecraft Pocket Edition players in the game. This handy app allows players the chance the quickly and easily manage a lot of the background aspects of their Minecraft PE game. This custom Minecraft PE launcher provides loading of patches, texture packs, and mods. Make your gaming life easier and download BlockLauncher on Mac and PC now.