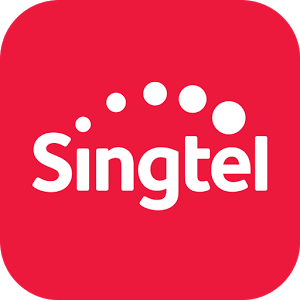 My SingTel
My Singtel app
A one-stop application that allows you to view your Singtel bills, manage your mobile services, check data usage and even subscribe to overseas data roaming, all on the go!
Usage
• Monitor your local outgoing talktime, SMS and data usage.
• Check on your re-contract date and get a new phone.
• Choose from a variety of mobile add-ons for more data, talktime, voicemail, etc.
• Share your travel adventures and stay connected with our roaming plans.
• Keep track of your overseas data roaming usage.
• Find out the usage details of your home services.
Bills
• View and pay your Singtel bills on the go.
• View your bill summary at a glance.
• View and save a PDF copy of your last six months' Singtel bills (applicable for Singtel myBill subscribers only).

Rewards
• Check out exciting FREE treats and exclusive deals every month with Singtel Rewards.
Inbox
• Check out the latest updates, rewards and promotions at your convenience in one handy location.
More
• Drop us a message via Message Us and we'll reply as soon as we can.
• Reduce your waiting time by booking a Singtel Shop Appointment online in advance.
• Request a callback from our Singtel Customer Care officer at your preferred date and time.
• Top up your Prepaid hi! SIM Card or buy your desired Data or Social Plan.
• Find out your nearest Singtel WiFi Hotspot.
• Locate a Singtel Retail Shop near you.
• Nominate your mobile lines now to enjoy discount and free data on your Fibre Entertainment Bundle+.
If you have difficulty accessing Onepass registration/ password reset page, please use a computer.
Developer
Singtel Idea Factory Pte Ltd
Category
Tools
Last Update
December 5, 2016
Update notes
Minor Bug Fixes

Control Your SingTel With My Singtel
Ease of access has always been something SingTel has strived to provide to their customers. In our increasingly mobile world, that means having a mobile app that works well for them. The My Singtel Android app does just that. With this one simple app, SingTel customers can have everything they ever want or need right at their fingertips. To make things even more convenient, install My Singtel on PC or Mac and have your entire account in one, easy to access place. Forgo the need to search a huge site for one little piece of information. With My Singtel, subscribers can access and monitor their usage for talk time, messages, and data. Travellers can also monitor overseas usage and connect to a variety of roaming plans. Billing info can also be found on My Singtel and allows customers to view and pay bills right from the app. Download My Singtel and get the instant access on everything SingTel with one click.