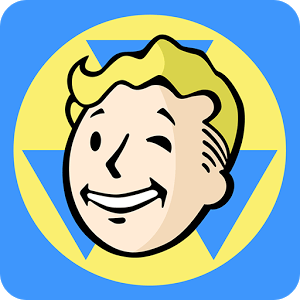 Fallout Shelter
** Google Play Best of 2015 **
Mobile Game of the Year - 2016 DICE Awards
Winner 2015 Golden Joystick Best Handheld/Mobile Game
"Might just be the best free-to-play game out there" - GamesBeat
"Probably the best game of E3 2015" – Gizmodo
"Fallout Shelter is simple to play and addictive as hell." - GameZone
BAUEN SIE DEN PERFEKTEN BUNKER
Schaffen Sie eine bessere Zukunft… unter der Erde! Wählen Sie eine Reihe moderner Annehmlichkeiten aus, um eine Felshöhle 500 Meter unter der Erde in ein Bunkerparadies zu verwandeln.
VERWALTEN SIE EINE AUFBLÜHENDE GEMEINSCHAFT
Lernen Sie Ihre Bewohner kennen und führen Sie sie in ein glücklicheres Leben unter der Erde. Unterstützen Sie sie bei der Berufswahl und der Suche nach Ausrüstung, Waffen und Kleidung sowie der Ausbildung ihrer Fähigkeiten.
WACHSE ZU WOHLSTAND
Ein gut verwalteter Bunker benötigt eine Vielzahl spezialisierter Bewohner. Bauen Sie eine Radiostation auf, um weitere Überlebende einzuladen. Nehmen Sie eine aktive Rolle in der Lebensgestaltung ihrer Schützlinge ein, verkuppeln Sie sie miteinander und beobachten Sie wie die Funken fliegen!
ERKUNDEN SIE DAS ÖDLAND
Senden Sie Ihre Bewohner auf oberirdische Missionen, um die verstrahlte Oberfläche zu erkunden, neue Abenteuer zu erleben, wertvolle Beute zu machen oder unsagbaren Gefahren zu begegnen. Finden Sie neue Rüstungen und Waffen, sammeln Sie Erfahrung und verdienen Sie sich ein paar Kronkorken. Und lassen Sie sie vor allem auf keinen Fall sterben!
BESCHÜTZEN SIE IHREN BUNKER
Von Zeit zu Zeit wird das idyllische Bunkerleben durch die Gefahren der post-nuklearen Lebensbedingungen gestört. Bereiten Sie Ihre Bewohner auf die Bedrohungen von Außen …und von Innen vor.
Vault-Tec stellt Ihnen dieses tolle Serviceprogramm zur Verfügung, der Rest liegt in Ihrer Hand! Worauf warten Sie noch? Beginnen Sie noch heute ihren Bunker zu bauen, kostenlos.
Entwickler
Bethesda Softworks LLC
Kategorie
Simulation
Letztes Update
16. November 2016
Update-Benachrichtigungen
Vault-Tec-Ingenieure arbeiten weiterhin unermüdlich und haben ein weiteres großartiges Update für euch!
- Eine spannender neuer Quest-Ort: Bewohner können jetzt die Höhlen erforschen!
- Neue Quests: Fraktionsdesign-Quests, tägliche und zeitlich begrenzte Feiertagsquests.
- Verbreite mit neuen iMessage-Stickern ein wenig Festtagsstimmung!
- Allgemeine Wartung, um die Simulation zu optimieren.

It's the End of the World as You Play Fallout Shelter on PC and Mac!
Man, you are going to be pretty busy while the world comes to an end. As owner of one of only a few Vault-Tec fallout shelters, it is up to you to find dwellers and create your own self-sustaining environment underground. Sure, it sounds easy, but are things ever as easy as they sound? Recruit other dwellers to come in from the wasteland and help build your thriving community. You will have to work together to build resource rooms, fight off Deathclaws, raiders and Mole Rats, and simply learn to survive. Fallout Shelter is the first game from the popular Fallout franchise to be released on mobile devices.

With so much on your post-apocalyptic plate, it is going to be tough to manage everything from your tiny mobile device. Play bigger and download the new Bluestacks Android Emulator app. With this one powerful tool, you can turn your PC or Mac into an Android gaming console. Easily download and install almost any Android app or game right onto your home computer. Instead of waiting for a steady internet connection, you can jump right into playing Fallout Shelter on Mac and PC. When you play bigger, the fun graphics and animation are even more entertaining when you can easily see them on a larger screen.