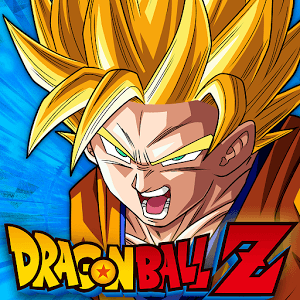 Dragon Ball Z Dokkan Battle
A brand-new chapter in the Dragon Ball Z saga has arrived!
Now you can experience all the nonstop action in the palm of your hand!
◎Explore the World of Dragon Ball!◎
Face off against formidable adversaries from the anime series! Explore your favorite areas in a whole new way with unique board-game-style gameplay! Utilize various items and power-ups to strengthen your team and steel yourself for the battles ahead!
◎Intense Over-the-Top Action!◎
Simply tap the Ki Spheres on the screen to engage in supersonic combat! The fighting is so extreme your screen won't be able to handle it! Awaken the true potential of your favorite Dragon Ball characters and make them stronger than ever before! You've never experienced Dragon Ball like this!
◎Assemble Your Very Own Dream Team!◎
Create your own team from a wide variety of Dragon Ball characters! You can even group together certain characters to activate powerful Link Skills! Only Dokkan Battle gives you the freedom to build virtually any team you want! Take your trusty fighters to the battlefield and rise to the top!
◎Time is of the Essence!◎
The story begins when Trunks' Time Machine crash-lands on a planet where the Dragon Ball timeline has been thrown into chaos! Who could be behind this sinister turn of events? Work together with Trunks to get to the bottom of this mystery, battling legions of familiar foes along the way. The very fate of the Dragon Ball universe rests on your shoulders!
Get pumped–the world of "Dragon Ball Z Dokkan Battle" awaits you!
[Recommended OS Versions]
Android 4.1 or later
[Disclaimer]
(1) Operation is not supported for models and OS versions other than those recommended.
(2) Depending on your usage, there may be cases where operation is unstable even with the recommended models.
(3) Regarding the recommended OS versions, although it says "Android 4.1 or later," this does not guarantee that the latest OS version is supported.
For information on the latest recommended models and answers to frequently asked questions, visit:
https://bnfaq.channel.or.jp/contact/faq_list/1624
By downloading or installing this app, you agree to the BANDAI NAMCO Entertainment Terms of Service
Terms of Service:
https://legal.bandainamcoent.co.jp/terms
Privacy Policy:
https://legal.bandainamcoent.co.jp/privacy
Note:
This game contains some items available for in-app purchase that can enhance gameplay and speed up your progress. In-app purchases can be disabled in your Google Play Store Settings or device settings, see https://support.google.com/googleplay/answer/1626831?hl=en for more details.
(C)BIRD STUDIO / SHUEISHA, TOEI ANIMATION
Game(C)2015 BANDAI NAMCO Entertainment Inc.
Desarrollador
BANDAI NAMCO Entertainment Inc.
Categoría
Última actualización
11 de diciembre de 2016
Notas de actualización
・Fixed some bugs

Trae el poder de las Dragon Balls en tu Ordenador
Goku, Vegeta, y el resto de la pandilla Dragonball Z está aquí para las batallas épicas en Dragon Ball Z Dokkan Battle. Esta nueva aplicación Android cuenta con todos tus personajes favoritos de la serie Z Dragonball para hacerse la guerra. Visita varios lugares del universo Dragon Ball Z mientras luchas para restaurar el orden en un mundo de caos. La máquina de tiempo de Trunks choca y envía toda la línea de tiempo Dragonball Z en un alboroto. Ahora tienes que luchar para encontrar una solución si quieres que las cosas se vuelvan a lo que eran antes.

Al igual que Dragon Ball Z, esta aventura va a ser épica. Demasiado épica, de hecho, para que juegues en tu pequeño dispositivo móvil. En su lugar, lleva el poder de las Dragon Balls a tu ordenador y juega a Dragon Ball Z Dokkan Battle en la PC y la Mac utilizando la herramienta gratuita BlueStacks Android Emulador. BlueStacks es un programa gratuito que le da a tu equipo el conocimiento técnico para entender y ejecutar casi cualquier aplicación Android que existe. Amplía tu universo de juegos para móviles con el reproductor BlueStacks al hacer clic en el enlace arriba.