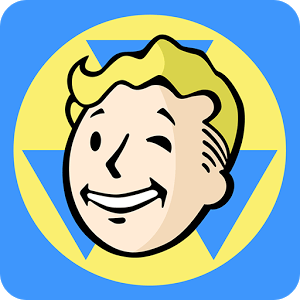 Fallout Shelter
** Google Play Best of 2015 **
Mobile Game of the Year – 2016 DICE Awards
Winner 2015 Golden Joystick Best Handheld/Mobile Game
"Might just be the best free-to-play game out there" – GamesBeat
"Probably the best game of E3 2015" – Gizmodo
"Fallout Shelter is simple to play and addictive as hell." – GameZone
BUILD THE PERFECT VAULT
Create a brighter future…underground! Select from a variety of modern-day rooms to turn an excavation beneath 2,000 feet of bedrock into the very picture of Vault Life.
OVERSEE A THRIVING COMMUNITY
Get to know your Dwellers and lead them to happiness. Find their ideal jobs and watch them flourish. Provide them with outfits, weapons, and training to improve their abilities.
CUSTOMIZE
Turn worthless junk into useful items with Crafting! Customize the look of any dweller in the Barbershop.
PROSPER
A well-run Vault requires a variety of Dwellers with a mix of skills. Build a Radio Room to attract new Dwellers. Or, take an active role in their personal lives; play matchmaker and watch the sparks fly!
EXPLORE THE WASTELAND
Send Dwellers above ground to explore the blasted surface left behind and seek adventure, handy survival loot, or unspeakable death. Find new armor and weapons, gain experience, and earn Caps. But don't let them die!
PROTECT YOUR VAULT
From time to time, idyllic Vault life may be disrupted by the dangers of post-nuclear life. Prepare your Dwellers to protect against threats from the outside…and within.
Vault-Tec has provided the tools, but the rest is up to you. What are you waiting for? Get started building your Vault today for FREE.
Pengembang
Bethesda Softworks LLC
Kategori
Simulasi
Pembaruan Terakhir
16 November 2016
Catatan pembaruan
** Get our Google Play Cyber Week Offers **
– 50% off ALL BUNDLES
– 60% off Select Bundles
– Specially Priced Starter Pack!
– Curious Dwellers have uncovered an exciting new Quest location and can now embark on Quests that take place in Caves!
– A busy Dweller is a happy Dweller! New Quests including Faction Theme Quests, Daily and Limited Time Holiday Quests.
– Continuing general maintenance to fine tune the capacitors inside various aspects of the simulation.

Ini adalah Akhir Dunia saat Anda bermain Fallout Shelter di PC dan Mac!
Anda akan cukup sibuk sementara dunia akan berakhir. Sebagai pemilik salah satu dari tempat penampungan Vault-Tec, terserah Anda untuk menemukan penghuni dan menciptakan lingkungan mandiri sendiri bawah tanah. Tentu, kedengarannya mudah, tetapi hal-hal yang pernah semudah kedengarannya? Merekrut penghuni lain untuk datang dari gurun dan membantu membangun komunitas Anda. Anda akan harus bekerja sama untuk membangun kamar dan sumber daya, melawan Deathclaws, perampok dan Tikus mondok dan belajar untuk bertahan hidup. Fallout Shelter adalah game pertama dari franchise populer yang akan dirilis pada perangkat mobile.

Dengan begitu banyak tumpukan piring pasca-apokaliptik Anda, itu akan menjadi sulit untuk mengelola segala sesuatu dari perangkat mobile Anda kecil. Bermain dilayar yang lebih besar dengan mengunduh aplikasi Bluestacks Android Emulator baru. Dengan satu perangkat canggih ini, Anda dapat mengubah PC atau Mac menjadi konsol game Android. Sangat mudah mengunduh dan menginstal hampir semua aplikasi Android atau permainan ke komputer rumah Anda. Daripada menunggu untuk koneksi internet yang stabil, Anda bisa bermain Fallout Shelter di Mac dan PC. Ketika Anda bermain dilayar yang lebih besar, Grafis dan animasi yang bahkan lebih nyata ketika Anda dapat dengan mudah melihat mereka di layar yang lebih besar.