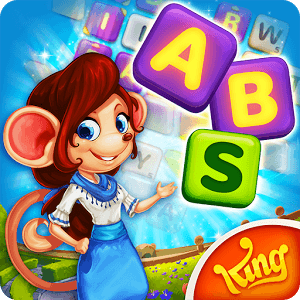 AlphaBetty Saga
AlphaBetty – a fun, new word game from the makers of Candy Crush Saga and Farm Heroes Saga - King's first, social, mobile word game!
Challenge your skills in a brand new, free word game that will take you on a rip-roaring adventure to the far-flung corners of the mouse world! Join Professor Alpha, Betty and their loyal friend Barney as they embark on an epic quest to collect new words and complete the Encyclopedia of Everything!
Journey to exotic lands in this top new word game and puzzle your way through over 100 cheesetastic levels of letter-linking fun!
Collect special characters on your travels to help you along the way, but watch out for those mousetraps and creeping vines!
Play on your own or take on your friends to see who can get the highest score in the best game to ever ignite your word skills!
Are you ready? Let the adventure begin!
AlphaBetty Saga is completely free to play, but some in-game items such as extra moves or lives will require payment.
By downloading this app on your mobile you are agreeing to our terms of service; http://about.king.com/consumer-terms/terms
Think you know word games? Then think again! AlphaBetty Saga features:
● Link letters in any direction - up, down, diagonally, in fact, any way you want - even multiple directions!
● Bright and colorful graphics that will transport you to the far reaches of the mouse world
● Three intrepid explorers on an epic journey
●Powerful boosters to help you crack challenging levels
● Unlock boosters and unique characters with special abilities to help you along the way
● Easy and fun to play, challenging to master 
● Over 100 cheesetastic levels of letter-linking fun!
● Play your way - long words or short words, race through levels or take your time, impress your friends or play by yourself, quick fun or leisurely indulgence - you choose.
● Leaderboards to follow your friends and competitors' progress! Give lives, add friends and see your friends' progress on the map in game.
● Easily sync the game between devices and unlock full game features when connected to the internet
If you love word searches, crosswords, puzzles and sudoku, download the AlphaBetty Saga app and discover a new way to word play!
Already a fan of AlphaBetty Saga? Like us on Facebook or follow us on Twitter for the latest news:
https://twitter.com/alphabettysaga
https://www.facebook.com/alphabettysaga 
Last but not least, a big THANK YOU goes out to everyone who has played AlphaBetty Saga!
Pembangun
King
Kategori
Teka-teki
Kemas Kini Terakhir
29 November 2016
Nota Kemas Kini
Time for a Fun-tastic update!
It's a tiny step for a skilled word-explorer like you but a giant leap for Mousekind.
Fascinating challenges lie hidden in the Cheese-like surface of the moon! Explore 15 NEW LEVELS in our NEW CHAPTER 'Giant leap for Mousekind'!
Enjoy your Squeak-tastic travel in outer space and don't forget to leave a review and let us know what you think!
Gouda luck!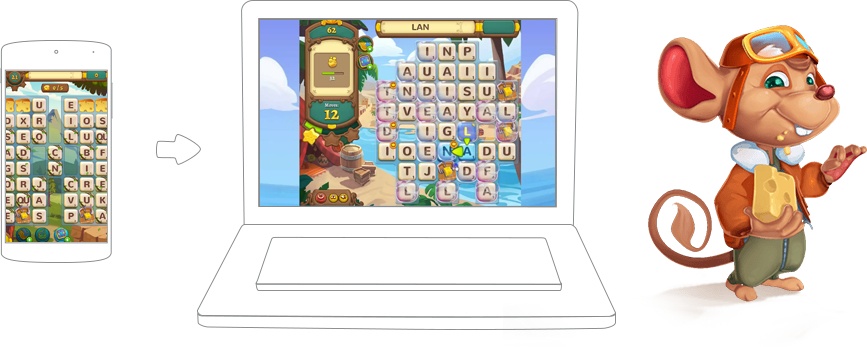 Betty Memerlukan Kata-kata Anda
Di dalam permainan kata sosial yang pertama dari pereka permainan iaitu King, anda ditugaskan untuk membantu tikus bernama Betty dalam pengembaraan yang akan membawa anda ke hujung dunia Betty. Betty dan rakannya Barney harus memasang 'Encyclopedia of Everything' tetapi mereka memerlukan kata-kata baru. Bermain melalui banyak bab di dalam pengembaraan Betty dan cuba mencari perkataan di dalam huruf-huruf bercampur aduk yang gergasi itu. Lebih banyak perkataan yang anda dapat mencari, tedapat lebih banyak peluang yang amat baik untuk Betty dan Barney menyelesaikan pengembaraannya. Memakai topi pengembara anda dan mengembara dengan AlphaBetty Saga.

Betty dan Barney sangat terdesak untuk mendapat kata-kata anda tetapi untuk cuba mengabungkan huruf yang betul di skrin mudah alih kecil anda itu amat sukar pada masa yang tertentu. Bermain AlphaBetty Saga di PC atau Mac dan anda tidak perlu bimbang tentangnya lagi. Gunakan BlueStacks Android Emulator percuma dan anda boleh bermain AlphaBetty Saga di komputer anda dengan beribu-ribu aplikasi dan permainan Android yang lain. Tiada batasan apabila anda mendapat Kelebihan BlueStacks di sisi anda. Mengawal kesemua aksi mencari kata dengan tetikus anda dan ucapkan selamat tinggal pada tekanan yang tidak sengaja.