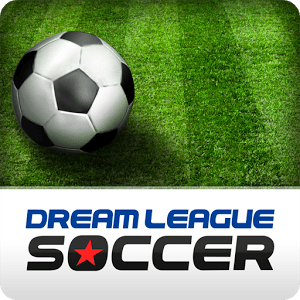 Dream League Soccer
Top 10 Sports Game in Italy, Singapore, Belgium & Turkey!
Soccer as we know it has changed! Dream League Soccer is YOUR chance to build THE best team on the planet. Recruit new Players, upgrade your Stadium, and train your team as you march towards glory, on your road to Soccer Super Stardom!
Download Dream League Soccer for FREE now!
* Includes Tablet Support! *
*****************************************
BUILD YOUR TEAM
Use our in depth transfer system to build the team of your choice! Sign players using coins or even spot a bargain in the free transfer market! Develop a team of up to 32 players for the ultimate experience, including the ability the create your own players!
INTELLIGENT AI, RAPID GAMEPLAY & SHARP VISUALS
Smart defensive and attacking player AI form a challenging and addictive experience. With intuitive controls & excellent visuals, Dream League Soccer is the perfect Soccer package which captures the true essence of your favourite sport.
COMPETE ACROSS 4 LEAGUES IN A BID TO RISE TO THE TOP!
Got the skills to gain promotion into the Elite Division? Or if that's not enough, it doesn't just end there...Friendly matches, the Global Challenge cup and a few extra prestigious competitions await the very best Dream Teams out there!
DEVELOP YOUR PLAYERS TO REACH THEIR FULL POTENTIAL
Train your squad members in our unique player development program. Increase Ball Skills, Fitness, Distribution and much more!
MEET YOUR TARGETS
Strive every match to achieve your board's season and match objectives, also keep your fans happy with our very own fan rating system!
GET INVOLVED!
Watch matches come to life with over 60 unique celebrations, realistic cameras and ultra smooth animations.
CRAMMED FULL OF ACHIEVEMENTS!
Unlock challenging achievements to keep you engaged for hours, each one giving you in-game currency to help build the ultimate dream team!
*****************************************
Exclusive soundtrack provided by Charly Coombes & the New Breed, Dance à la Plage, We Outspoken & Secret Rivals.
We hope you enjoy playing Dream League Soccer; this title wouldn't be possible without valued fan feedback.
PLEASE NOTE: This game is free to play, but additional content and in-game items may be purchased for real money.
Coins can be earned during gameplay or gained by watching videos, but can also be bought in packs ranging from $1.99 - $54.99.
This app contains third party advertising. Advertising is disabled if you purchase in game currency from the shop.
VISIT US: firsttouchgames.com
LIKE US: facebook.com/dreamleaguesoccer
FOLLOW US: twitter.com/firsttouchgames
WATCH US: youtube.com/firsttouchgames
Pembangun
First Touch
Kategori
Sukan
Kemas Kini Terakhir
18 Mei 2015
Nota Kemas Kini
Version 2.07
* Bug Fixes
Thanks everyone for your support, please keep the reviews coming!

Bola sepak Telah Berubah dan Kini Live pada PC anda
Permainan video yang telah meributkan dunia kini boleh dimain di komputer rumah anda. Dream League Soccer adalah permainan nombor satu diantara negara yang meminati bola sepak di seluruh Eropah kerana ia membawa semua keseronokan perlawanan bola sepak utama terus kepada anda. Tidak perlu lagi menunggu kelab kegemaran anda bermain. Kini anda boleh membina kelab kegemaran anda dan bertanding bila-bila masa yang anda mahu. Bermain menentang lawan AI pintar atau pemain lain dari seluruh dunia dalam permainan sukan penuh aksi ini.

Soccer terlalu sengit untuk terus dikongkong pada peranti Android yang kecil. Sebaliknya, bawa semua aksi ke rumah dan muat turun Dream League Soccer pada PC menggunakan BlueStacks Android Emulator baru. Program percuma untuk komputer Windows anda meletakkan kuasa bola sepak liga utama di dalam tangan anda dengan membenarkan permainan bila-bila masa dan di mana sahaja. BlueStacks membolehkan pengguna untuk mencari Google Play store untuk aplikasi dan permainan yang boleh dimuat turun terus ke komputer anda. Tiada lagi membazir wang pada pelan data apabila anda boleh bermain Dream League Soccer pads PC.