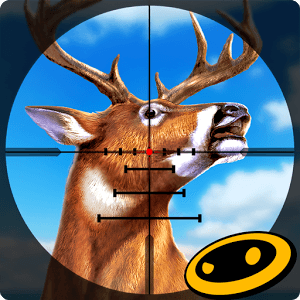 Deer Hunter 2014
Return to the wilderness in the most visually stunning FPS hunting simulator on Android!
Travel from North America's Pacific Northwest to the Savannah of Central Africa in an epic journey to hunt the world's most exotic animals!
BRAND NEW CLUB HUNTS!
Join your friends in global cooperative challenges where teamwork is critical. Work together to complete hunting objectives and collect rewards!
EXPLORE A LIVING WORLD
Immerse yourself in diverse environments filled with over 100 animal species! Watch out for attacking predators including bears, wolves, and cheetahs! Hunting deer is just the beginning!
MAXIMUM FIREPOWER
Enjoy endless customization as you perfect your weapons. Upgrade magazines, scopes, stocks, barrels and more! Take hunting to the next level!
COLLECT TROPHIES
Compete for bragging rights as you bag the biggest animals with Google Play achievements and leaderboards!
High-end, immersive tablet gameplay!
It's open season join the hunt today!
Developed for fans of FPS games, Hunting Simulators, and the Deer Hunter franchise.
---------------------------------------------
PLEASE NOTE:
- This game is free to play, but you can choose to pay real money for some extra items, which will charge your Google account. You can disable in-app purchasing by adjusting your device settings.
-This game is not intended for children.
- Please buy carefully.
- Advertising appears in this game.
- This game may permit users to interact with one another (e.g., chat rooms, player to player chat, messaging) depending on the availability of these features. Linking to social networking sites are not intended for persons in violation of the applicable rules of such social networking sites.
- A network connection is required to play.
- For information about how Glu collects and uses your data, please read our privacy policy at: www.Glu.com/privacy
- If you have a problem with this game, please use the game's "Help" feature.
FOLLOW US at
Twitter @glumobile
facebook.com/glumobile
Ontwikkelaar
Glu
Categorie
Actie
Laatste update
6 januari 2017
Opmerkingen over update
Celebrate the holiday season with amazing gifts!
• PvP Mode – Challenge fellow hunters in tests of skill!
• Timed PvP Leagues – Compete in multiple leagues to earn rewards and climb to the top of the leaderboards
• Weapon Tiers and Mods – Upgrade your guns and equip them with mods to make each gun in your collection truly unique!
• Eagle Crates and New Eagle Currency – Introducing Gold and Diamond Eagles! Open special crates to find mods, blueprints, and upgrade parts!

Pak Je Tas Voor een Avontuur Rond de Wereld
Een goede jager weet dat waar je jaagt even belangrijk is als waar je op jaagt. Afhankelijk van wat je wil schieten zal de locatie variëren. Ervaar de spanning van het reizen over de wereld om te jagen op de meest exotische dieren die ooit gezien zijn. Met Deer Hunter 2014 voor Android krijg je niet alleen de prachtige langschappen en majestueuze wezens te zien, je kunt ook nog eens de spanning van het jagen ervaren in deze first-person shooter. Verzamel diverse trofeeën om mee te pronken en upgrade je vuurkracht om maximale efficiëntie te bereiken.

Een goede first-person shooter heeft de juiste besturing nodig. Op een touch screen word je beperkt door je vinger, die een deel van het scherm verbergt. Wanneer je Deer Hunter 2014 op de PC of Mac speelt met de gratis BlueStacks Android Emulator hoef je nooit meer moeilijk te doen om goed zicht te krijgen. Door je muis te gebruiken krijg je alle controle en nauwkeurigheid die je nodig hebt om op wilde dieren rond de wereld te jagen. Het grotere scherm geeft je meer kans je doelwitten te zien en ook nog een betere kans om van de weelderige landschappen om je heen te genieten.