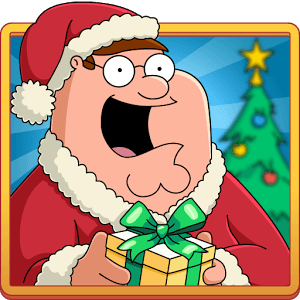 Family Guy: The Quest for Stuff
Get our Google Play Year-End Deal: Consuela 70% off!
After another epic battle with the giant chicken, Peter Griffin has accidentally destroyed Quahog! Play for FREE and rally your favorite FG characters (even Meg) to save the city in a hilarious new adventure from the writers of Family Guy. Or don't, and regret it forever!
Game Features:
• It's Free! Freakin' free? Freakin' sweet!
• Create a living Quahog that fits enjoyably in your pants
• Unlock hilarious outfits for your characters like Mermaid Peter, Bikini-Clad Quagmire, and Rambo Lois
• Send your characters on ridiculous quests
• Keep Quahog safe from pirates, evil chickens, and other invasions
• Peterfy your town with decorations such as The Petercopter, The Peterdactyl, and The Hindenpeter
• Unlock hundreds of brand new and classic animations
PS: You can play this game in French, Italian, German, Spanish, Russian, and Brazilian Portuguese!
PPS: Don't forget to watch new episodes of Family Guy on Sundays – only on FOX!
Check out all the latest news & updates for Family Guy: The Quest for Stuff:
• Like us on Facebook: www.facebook.com/playfamilyguy
• Follow us on Twitter: https://twitter.com/playfamilyguy
• Follow Peter on Instagram: www.instagram.com/peterpumpkineater69
• Check out awesome Family Guy clips, episodes, pictures, and more: www.fox.com/family-guy
Ontwikkelaar
TinyCo
Categorie
Avontuur
Laatste update
6 januari 2017
Opmerkingen over update
Get your kicks at the big Martial Arts Tournament, coming soon to Quahog! A surprise guest is returning to challenge Dojo Peter. Feathers will be ruffled!

Quahog – De Plek Waar Pop Cultuur en Geen Cultuur Samenkomen
Doe mee met iedereens favorite familie terwijl ze proberen de knotsgekke plaats Quahog van de grond af te herbouwen. Nadat het voortdurende gevecht tussen Peter Griffin en de reuzenkip epische proporties heeft bereikt is het aan Peter Griffin om iedereen te redden en de stad te herbouwen. Doe mee met Peter en de hele Family Guy bende terwijl ze de gekste opdrachten uitvoeren om gebouwen, decoraties en zelfs nieuwe personages vrij te spelen. Al je favoriete personages zijn er: Mayor Adam West, Brian, Joe, Stewie en zelfs Meg (alsof iemand dat uitmaakt). Speel regelmatig geüpdatete special events en cross-promotions met je favoriete programma's en films.

Het zal niet makkelijk zijn om de stad Quahog te herbouwen, maar met de hulp van de nieuwe BlueStacks Android Emulator kan het een stuk makkelijker zijn. Het kan wel eens vervelend worden om een spel waarbij je steden bouwt op een mobiel apparaat te spelen. Kleine schermen en grote vingers combineren niet zo goed, vooral wanneer het om een stad vol met gestoorde personages en interessante animaties gaat. Zie Quahog met al zijn pracht en praal op je computerscherm wanneer je Family Guy: The Quest for Stuff op de PC en Mac downloadt en installeert.