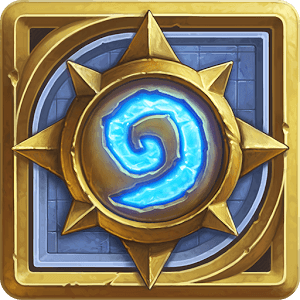 Hearthstone app
DECEPTIVELY SIMPLE. INSANELY FUN.
Pick up your cards and throw down the gauntlet! In Hearthstone, you play the hero in a fast-paced, whimsical card game of cunning strategy. In minutes, you'll be unleashing powerful cards to sling spells, summon minions, and seize control of an ever-shifting battlefield. Whether it's your first card game or you're an experienced pro, the depth and charm of Hearthstone will draw you in.

JUMP RIGHT IN: Fun introductory missions bring you into the world of Hearthstone's intuitive gameplay.

BUILD YOUR DECK: With hundreds of additional cards to win and craft - your collection grows with you.
HONE YOUR SKILLS: Play in practice matches against computer-controlled heroes of the Warcraft universe. Thrall, Uther, Gul'dan - they're all here!

COLLECTION TRAVELS WITH YOU: Your card collection is linked to your Battle.net account - enabling you to switch your play between tablet and desktop with ease.

AND FIGHT FOR GLORY: When you're ready, step into the Arena and duel other players for the chance to win awesome prizes!

Post feedback about the game in our forums:
http://us.battle.net/hearthstone/en/forum/13619661/
Languages Supported:
* English
* Français
* Deutsch
* Español (Latinoamérica)
* Español (Europa)
* Italiano
* Português
* Polski
* Русский
* 한국어 (Korean)
* 简体中文 (Simplified Chinese)
* 繁體中文 (Traditional Chinese)
* 日本語 (Japanese)
* ไทย (Thai)
©2016 Blizzard Entertainment, Inc. All rights reserved. Hearthstone, Battle.net and Blizzard Entertainment are trademarks or registered trademarks of Blizzard Entertainment, Inc., in the U.S., and/or other countries.
Ontwikkelaar
Blizzard Entertainment, Inc.
Categorie
Kaart
Laatste update
29 november 2016
Opmerkingen over update
*The Mean Streets of Gadgetzan expansion will be available in early December. It includes:
**132 new cards
**All-new Tri-Class cards
**A gritty new game board.
*The following card backs have been added: Jade Lotus, Grimy Goons, Kabal, and maybe one more
*A search for "missing" in the Collection Manager has been improved
*Fixed various audio, visual, gameplay, AI, and UI issues
For more information, please visit www.playhearthstone.com

Neem de Heroes of Warcraft Mee Naar Huis
Van de makers van World of Warcraft is hier nu één van de langstverwachte mobiele games van het jaar: de instant-klassieker Hearthstone. Het is een kaartspel wat je meesleept en niet meer laat gaan. Dit verraderlijk simpele Android spel is ontzettend leuk en trekt nu al miljoenen spelers van over de hele wereld aan. Hoeveel ervaring je ook met kaartspellen hebt, Hearthstone zet je er middenin en binnen no time ben je andere spelers aan het verslaan.

Hoewel Hearthstone in eerste opzicht een simpel kaartspel lijkt zul je, als je langer speelt, ontdekken dat er een intens verhaal vol actie en magie in zit. Verzamel speciale kaarten en bouw het ultieme deck. Vecht tegen helden uit het Warcraft universum zoals Thrall, Uther en Gul'Dan. Met regelmatige updates en nieuwe content is Hearthstone voorlopig verzekerd van een plek bovenaan de verkooplijsten. Bevrijd de helden van Warcraft door Hearthstone op de PC en Mac te spelen met de nieuwe BlueStacks Android Emulator tool. BlueStacks is een programma dat je computer in staat stelt meer dan duizenden verschillende Android games en apps te draaien.