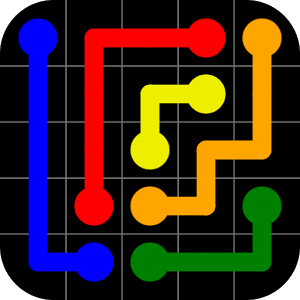 Flow Free
Flow Free® is a simple yet addictive puzzle game.
Connect matching colors with pipe to create a Flow®. Pair all colors, and cover the entire board to solve each puzzle in Flow Free. But watch out, pipes will break if they cross or overlap!
Free play through hundreds of levels, or race against the clock in Time Trial mode. Flow Free gameplay ranges from simple and relaxed, to challenging and frenetic, and everywhere in between. How you play is up to you. So, give Flow Free a try, and experience "mind like water"!
Flow Free features:
★ Over 2,000 free puzzles
★ Free Play and Time Trial modes
★ Clean, colorful graphics
★ Fun sound effects
Special thanks to Noodlecake Studios, creators of Super Stickman Golf, for their work on Flow Free!
Enjoy.
Ontwikkelaar
Big Duck Games LLC
Categorie
Puzzel
Laatste update
9 oktober 2016
Opmerkingen over update
Big news Flow Free Fans! We've released a new game called Flow Free: Hexes! It's the next evolution of Flow Free!
To celebrate, we've also got a great update for Flow Free:
- Two new level packs: Hexes Sampler and Rectangle Pack!
- New Honeycomb color theme, inspired by Flow Free: Hexes
- Many touch control improvements and visual tweaks
- Various minor fixes
Enjoy, and be sure to check out Flow Free: Hexes!

Hoe Goed Kun Je Flowen?
Één van de verslavendste Android games is ook één van de simpelste. Flow Free is een simpel verbind-de-puntjes-spel, maar het wordt al gauw zo veel meer. Het doel is om elk paar gekleurde puntjes te verbinden. Maar wees voorzichtig; als de lijnen elkaar kruisen breken ze. Flow Free biedt uren gratis plezier voor alle leeftijden en niveau's. Als je van puzzels houdt kun je er hier meer dan 1500 gratis proberen op te lossen.

Zo veel puzzels, en zo weinig ruimte. Als je op je kleine telefoonscherm de juiste paden wilde proberen te zoeken om de puntjes te verbinden, vergeet het dan maar. Download liever de gratis BlueStacks Android Emulator via de link hierboven om Flow Free op de PC of Mac te spelen. Nooit meer knijpen met je ogen om puntjes en lijnen op kleine mobiele schermen te kunnen zien. Nu verschijnt je Flow op het grote scherm, waardoor het veel makkelijker zien en verbinden is. Niet alleen maakt het BlueStacks Voordeel je game makkelijker speelbaar, het ziet er ook nog eens veel beter uit op een kwalitatief hoogwaardig scherm. De felle kleuren komen echt naar voren terwijl je probeert de puntjes te verbinden.