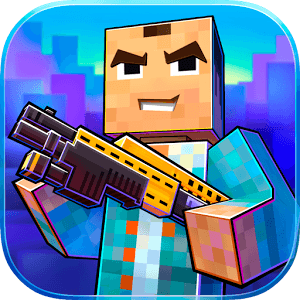 Block City Wars
Welcome to the Block City!
Welcome to the vast open world where the real war is going! Constant skirmishes between gangsters and cops, bangs, mafia and police – that is Block Сity Wars about.
Complete impossible missions, drive cool cars, parkour, destroy different enemies (even zombies and angry monsters) or just do what you wanna do! Check out third person shooter in the great megalopolis with top high skyscrapers and military base. Play multiplayer mode on the big map with your friends!
Main FEATURES:
– online modes: Sandbox and PVP Deathmatch
– singleplayer mode – Adventure! Take Jobs and missions, pass them and grab cash!
– Huge megalopolis with several districts – 10 PVP maps: Old city, Port, China Town, Military Base and others.
– Play with your friends from all around the world (use online chat)
– drive cool cars, flight via jet pack and helicopters!
– participate great shooting assault with tanks and APС!
– Great variety of weapons and guns: M16, Ak47, MINIGUN, Sniper rifle, RPG, Knives, Katana and many more!
– use hero room to choose one of the custom skins. Choose the favorite skin or skins and fight!
– awesome pixel graphics with dynamic light.
————————————————————————
Block City Wars is not an official application of Mojang. Minecraft is a trademark of Mojang AB, and this product isn't connected with or approved by the developers of this game.
Ontwikkelaar
D-Games Apps
Categorie
Simulatie
Laatste update
2 januari 2017
Opmerkingen over update
1. Three new game modes:
– Team battle! Fight side by side with your allies against the enemy team.
– Tank battles. The most noisy mode in the game! Destroy all enemy tank!
– Racing! Classics of the genre! Choose the fastest ride and win the race!
2. Unique chests system. Test your luck!
3. Winter has come to Block City! Snow is falling snow, Santa is flying , Ice castle is back.
4. Brad new area for the snow fights.
5. New content for your character: hats, masks, and shoes!

Er Woedt een Oorlog in Block City
Block City is niet als andere steden waar je geweest bent. De stad voert oorlog en geen straat is veilig voor je. In deze uitgestrekte open blokkenwereld moet je een zijde kiezen en missies uitvoeren om de koning van Block City te worden. Vecht tegen agenten, gangs en zelfs zombies terwijl je hoge wolkenkrabbers verkent en in diverse coole voertuigen rijdt. PvP is beschikbaar in niet één, maar twee verschillende gamemodi waar regelmatig nieuwe levels aan toe worden gevoegd. Geniet van scherpe HD graphics met een leuk pixel design en dynamische verlichting.

Met zo'n uitgestrekte open ruimte om te verkennen en in te vechten moet je er wel voor zorgen dat je het goed doet en Block City Wars op de PC of Mac speelt met de gratis BlueStacks Android Emulator. Met BlueStacks wordt je computer een Android player die elke Android app kan installeren en draaien. Dit betekent dat je je nooit meer zorgen hoeft te maken dat je batterij leeg gaat of dat je je internetsignaal verliest. Nu heb je het vermogen al je favoriete Android games en apps te draaien wanneer je maar wil. Het enige wat je moet doen om te beginnen is op de link hierboven klikken.