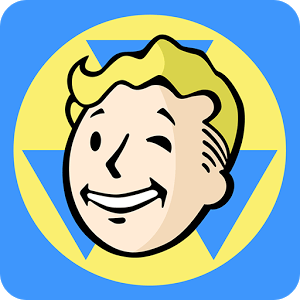 Fallout Shelter
** Google Play Best of 2015 **
Mobile Game of the Year – 2016 DICE Awards
Winner 2015 Golden Joystick Best Handheld/Mobile Game
"Might just be the best free-to-play game out there" – GamesBeat
"Probably the best game of E3 2015" – Gizmodo
"Fallout Shelter is simple to play and addictive as hell." – GameZone
BUILD THE PERFECT VAULT
Create a brighter future…underground! Select from a variety of modern-day rooms to turn an excavation beneath 2,000 feet of bedrock into the very picture of Vault Life.
OVERSEE A THRIVING COMMUNITY
Get to know your Dwellers and lead them to happiness. Find their ideal jobs and watch them flourish. Provide them with outfits, weapons, and training to improve their abilities.
CUSTOMIZE
Turn worthless junk into useful items with Crafting! Customize the look of any dweller in the Barbershop.
PROSPER
A well-run Vault requires a variety of Dwellers with a mix of skills. Build a Radio Room to attract new Dwellers. Or, take an active role in their personal lives; play matchmaker and watch the sparks fly!
EXPLORE THE WASTELAND
Send Dwellers above ground to explore the blasted surface left behind and seek adventure, handy survival loot, or unspeakable death. Find new armor and weapons, gain experience, and earn Caps. But don't let them die!
PROTECT YOUR VAULT
From time to time, idyllic Vault life may be disrupted by the dangers of post-nuclear life. Prepare your Dwellers to protect against threats from the outside…and within.
Vault-Tec has provided the tools, but the rest is up to you. What are you waiting for? Get started building your Vault today for FREE.
Ontwikkelaar
Bethesda Softworks LLC
Categorie
Simulatie
Laatste update
16 november 2016
Opmerkingen over update
** Get our Google Play Cyber Week Offers **
– 50% off ALL BUNDLES
– 60% off Select Bundles
– Specially Priced Starter Pack!
– Curious Dwellers have uncovered an exciting new Quest location and can now embark on Quests that take place in Caves!
– A busy Dweller is a happy Dweller! New Quests including Faction Theme Quests, Daily and Limited Time Holiday Quests.
– Continuing general maintenance to fine tune the capacitors inside various aspects of the simulation.

Het is het Einde van de Wereld Wanneer je Fallout Shelter Speelt op de PC en Mac!
Je zult het nog aardig druk hebben terwijl de wereld aan zijn eind komt. Als eigenaar van één van de weinige Vault-Tec schuilkelders is het aan jou om bewoners te vinden en je eigen zelfvoorzienende ondergrondse omgeving te creëren. Ja, dat klinkt makkelijk, maar zijn dingen ooit zo makkelijk als ze lijken? Rekruteer andere bewoners die binnenkomen vanuit de woestenij en help ze een bloeiende gemeenschap te bouwen. Je zult samen moeten werken om grondstofkamers te bouwen en je te verdedigen tegen Deathclaws, raiders en Mole Rats. Fallout Shelter is het eerste spel uit de populaire Fallout franchise wat uitkomt op mobiele apparaten.

Met zo veel op je post-apocalyptische bord wordt het lastig om alles vanaf je kleine mobiele apparaat te regelen. Speel groter en download de nieuwe Bluestacks Android Emulator app. Met deze krachtige tool verander je je PC of Mac in een Android gaming console. Download en installeer bijna elke Android app of game gemakkelijk, gewoon op je thuiscomputer. In plaats van te wachten op een stabiele internetverbinding kun je direct Fallout Shelter op de Mac en PC spelen. Wanneer je op een groter scherm speelt zijn de graphics en animaties nog leuker en beter te zien!