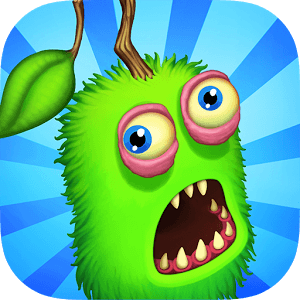 My Singing Monsters
CELEBRATING 4 YEARS OF MY SINGING MONSTERS!
You start with an empty island… it's all quiet… when suddenly - BAM, Singing Monsters. These bizarre critters do exactly as advertised – they sing! But here's the cool part – as you breed more and more, the music grows and grows until you have a song! Collect one of each to experience the whole tune, and unlock different songs as you move from island to island. Customize the monster world with structures and decorations however you like – after all, they're YOUR Singing Monsters.
Also - sorry in advance for the songs getting stuck in your head. It can't be helped – you're going to love this game. Download My Singing Monsters today - Happy Monstering!
FEATURES:
• Over 100 unique monsters to collect, nurture, and love
• Amazing art, animation, and audio effects
• Lush islands, each with its own musical theme
• Dozens of wacky decorations and structures
• Built-in social features and activities
• New and exciting content is always in the works!
"One of the most intriguing and unique games to date."
USA Today
"Toe-tapping charm and gravelly songs are worthy of endless encores"
GAMEZEBO
"The creativity of layering monsters and the animation is what makes this worth your time"
APPSTORE ARCADE
Come sing with us. Join the My Singing Monsters community:
Facebook (Facebook.com/mysingingmonsters)
Twitter (Twitter.com/singingmonsters)
YouTube (YouTube.com/mysingingmonsters)

PLEASE NOTE! My Singing Monsters is completely free to play, however some game items can also be purchased for real money. If you don't want to use this feature, please disable in-app purchases in your device's settings. My Singing Monsters requires an internet connection to play (3G or WiFi).
HELP & SUPPORT: Get a hold of the Monster-Handlers by visiting www.bigbluebubble.com/support or contacting us in game by going to Options > Support.
Ontwikkelaar
Big Blue Bubble
Categorie
Simulatie
Laatste update
17 november 2016
Opmerkingen over update
You've discovered the songs of the Singing Monsters, and now it's time to make your own! With the emergence of Composer Island, you now have to power to craft new musical parts for your Monsters, and create your own Monstrous Melodies, or recreate some of your favorite songs! Also coming to light is the fabled Book of Monsters; accessible from the Map menu, this handy catalog will help you keep track of your Monster collection so you'll always know how many species you've discovered!

Verzamel Zingende Monsters en Maak Je Eigen Muziek
Welkom in een vreemde, magische wereld vol zingende monsters en bizarre wezens. In deze nieuwe, bizarre wereld zul je deze getalenteerde monsters verzamelen, fokken en trainen om je eigen unieke wereld te creëren. Speel met vrienden en probeer Tribal Points te scoren voor coole beloningen en zeldzame monsters.

Speel My Singing Monsters op de PC of Mac met de gratis BlueStacks Android Emulator en je zult hun magische muziek nog beter kunnen ervaren. Door My Singing Monsters op je computer te spelen kun je gebruik maken van de kracht die je computer te bieden heeft om de neuriënde, piepende en fluitende monsters via je speakers te horen. Nodig vrienden en familie uit om alle prachtige geluiden te ervaren die je monsters voor je maken. Gebruik je muis en toetsenbord in plaats van zo'n nare touch screen besturing om nog meer verrassingen en features vrij te spelen.