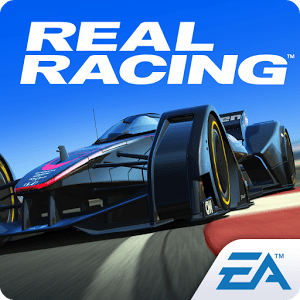 Real Racing 3
**#1 Top Free App in over 100 countries**
Real Racing 3 is the award-winning franchise that sets a new standard for mobile racing games – you have to play it to believe it.
This app offers in-app purchases. You may disable in-app purchasing using your device settings.
Over 200 Million Downloads!
TabbyAwards 2014 – WINNER: Best Action, Adventure, Arcade & Racing Game
Mobile Excellence Awards – WINNER: Best Mobile Game 2013
Game Connect Asia Pacific – WINNER: Game of The Year 2013, Technical Excellence, Excellence in Art
Meffy Awards – FINALIST: Best Mobile Game 2013
Real Racing 3 features an ever-expanding roster of officially licensed tracks with 39 circuits at 17 real-world locations, a 43-car grid and over 140 meticulously detailed cars from top manufacturers. Plus Real-Time Multiplayer, Social Leaderboards, Time Trials, night racing, and innovative Time Shifted Multiplayer™ (TSM) technology, allowing you to race anyone, anytime, anywhere.
**This is a resource-intensive game featuring extremely high quality visuals. Please make sure you have at least 1.5GB of free space on your device.**
PRAISE FOR REAL RACING 3
"Feels a full generation ahead of the competition" (IGN, 9.1/10, Editors' Choice)
"A stunning visual masterpiece on mobile" (Touch Arcade)
"Sets the new standard on mobile for racing games" (Pocket Gamer, 9/10, Gold Award)
REAL CARS
Take the wheel of over 140 intensely detailed vehicles from iconic manufacturers like Ford, Ferrari, Lamborghini, Aston Martin and Mercedes-Benz and test your skills on an authentic 43-car race grid – the most epic racing experience on any handheld.
REAL TRACKS
Burn rubber on a full lineup of 17 real tracks in multiple configurations from top worldwide locations, including Silverstone, Hockenheimring, Le Mans, Dubai Autodrome and many more.
REAL PEOPLE
Go bumper to bumper with friends and rivals in global 8-player, cross-platform, real-time racing with drafting. Or drop into any race to challenge their AI-controlled versions in Time-Shifted Multiplayer™.
MORE CHOICES THAN EVER
Compete in over 4,000 events including Cup races, Eliminations and Endurance challenges. Choose from a wide range of upgrades to maximize your car's performance. Customize your car with a huge collection of paints, vinyls and rims. View the action from a variety of camera angles, tweak the HUD and fine-tune the controls to your personal preference.
THE PREMIER RACING EXPERIENCE
Powered by the remarkable Mint™ 3 Engine, Real Racing 3 features detailed car damage, fully functioning rear view mirrors, and dynamic reflections for truly HD racing. Enjoy a rich, next-gen game with the most advanced cross-platform social and competitive racing community ever. Real Racing 3 delivers it all and pushes the boundaries with every update.
Welcome to the definitive racing experience.
__
User Agreement: terms.ea.com
Visit https://help.ea.com/ for assistance or inquiries.
EA may retire online features and services after 30 days' notice posted on www.ea.com/1/service-updates
Important Consumer Information: requires a persistent Internet connection (network fees may apply);Requires acceptance of EA's Privacy & Cookie Policy and User Agreement.
includes in-game advertising; collects data through third party analytics technology (see Privacy & Cookie Policy for details); contains direct links to the Internet and social networking sites intended for an audience over 13.
Nhà phát triển ứng dụng
ELECTRONIC ARTS
Thể loại
Đua xe
Last Update
12 tháng 12, 2016
Các chú giải về cập nhật
Formula E joins Real Racing 3 and hits the streets of Hong Kong with an all new street circuit track.
• Take on the High Voltage special event and earn the Renault e.dams Formula E SRT_01E
• Win the Mercedes-AMG GT3 in a new special event - Victory by Design
• The Gauntlet season 11 - featuring the NextEV TCR Formula E SRT_01E
• 2 Limited-Time Series, featuring the ABT Schaeffler Formula E SRT_01E, and the Chevrolet Corvette C7.R

Mang đến sự thích thú và hứng khởi của bộ môn đua xe lên PC
Đua xe không phải trò chơi bạn ngồi xem mãi. Giờ là thời điểm bạn ra sau vô-lăng và cho thế giới thấy bạn là ai với Real Racing 3. Phiên bản mới nhất của tựa trò chơi đua xe bổ sung thêm bản quyền nhiều mẫu xe và màn đua hơn bao giờ hết. Đua thách đấu cùng bạn bè và các bạn chơi toàn cầu trong chế độ nhiều người chơi cân não, hoặc đua với máy trong các thử thách đua một chọi một. Không quan trọng bạn là kiểu người hâm mộ nào của môn đua xe, Real Racing 3 chắc chắn sẽ làm bạn vừa lòng.

Trải nghiệm đua xe cân não sẽ tốt hơn nữa nếu chơi tựa trò chơi này trên máy tính của bạn. Sử dụng bộ giả lập Android Bluestacks, bạn có thể trải nghiệm cảm giác đua như các tay đua thực thụ. Tải, cài và chơi bất kì trò chơi Android nào ngay trên PC tại nhà. Đốt lốp qua các màn đua ở khắp nơi trên thế giới, vượt mặt đối thủ nhờ lợi thế Bluestacks mang lại. Chơi Real Racing 3 trên PC hôm nay và chiến thắng nhiều hơn nữa.