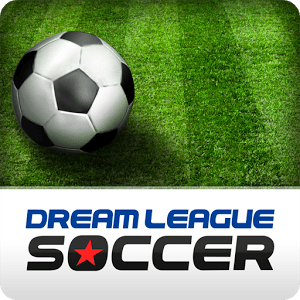 Dream League Soccer 2016
Top 10 Sports Game in Italy, Singapore, Belgium & Turkey!
Soccer as we know it has changed! Dream League Soccer is YOUR chance to build THE best team on the planet. Recruit new Players, upgrade your Stadium, and train your team as you march towards glory, on your road to Soccer Super Stardom!
Download Dream League Soccer for FREE now!
* Includes Tablet Support! *
*****************************************
BUILD YOUR TEAM
Use our in depth transfer system to build the team of your choice! Sign players using coins or even spot a bargain in the free transfer market! Develop a team of up to 32 players for the ultimate experience, including the ability the create your own players!
INTELLIGENT AI, RAPID GAMEPLAY & SHARP VISUALS
Smart defensive and attacking player AI form a challenging and addictive experience. With intuitive controls & excellent visuals, Dream League Soccer is the perfect Soccer package which captures the true essence of your favourite sport.
COMPETE ACROSS 4 LEAGUES IN A BID TO RISE TO THE TOP!
Got the skills to gain promotion into the Elite Division? Or if that's not enough, it doesn't just end there...Friendly matches, the Global Challenge cup and a few extra prestigious competitions await the very best Dream Teams out there!
DEVELOP YOUR PLAYERS TO REACH THEIR FULL POTENTIAL
Train your squad members in our unique player development program. Increase Ball Skills, Fitness, Distribution and much more!
MEET YOUR TARGETS
Strive every match to achieve your board's season and match objectives, also keep your fans happy with our very own fan rating system!
GET INVOLVED!
Watch matches come to life with over 60 unique celebrations, realistic cameras and ultra smooth animations.
CRAMMED FULL OF ACHIEVEMENTS!
Unlock challenging achievements to keep you engaged for hours, each one giving you in-game currency to help build the ultimate dream team!
*****************************************
Exclusive soundtrack provided by Charly Coombes & the New Breed, Dance à la Plage, We Outspoken & Secret Rivals.
We hope you enjoy playing Dream League Soccer; this title wouldn't be possible without valued fan feedback.
PLEASE NOTE: This game is free to play, but additional content and in-game items may be purchased for real money.
Coins can be earned during gameplay or gained by watching videos, but can also be bought in packs ranging from $1.99 - $54.99.
This app contains third party advertising. Advertising is disabled if you purchase in game currency from the shop.
VISIT US: firsttouchgames.com
LIKE US: facebook.com/dreamleaguesoccer
FOLLOW US: twitter.com/firsttouchgames
WATCH US: youtube.com/firsttouchgames
Nhà phát triển ứng dụng
First Touch
Thể loại
Thể thao
Last Update
18 tháng 5, 2015
Các chú giải về cập nhật
Version 2.07
* Bug Fixes
Thanks everyone for your support, please keep the reviews coming!

là phiên bản mới nhất của tựa game quản lý bóng đá đình đám với nhiều cải tiến về cả hình ảnh lẫn nội dung, Dream League Soccer 2016 hứa hẹn sẽ mang đến cho người chơi những trải nghiệm hấp dẫn về môn thể thao vua ngay trên điện thoại của mình
Hãy xây dựng đội bóng trong mơ của bạn với những gương mặt cầu thủ xuất sắc nhất thế giới, xây sân vận đồng hoành tráng với sức chứa khổng lồ, chuẩn bị cả cơ sở vật chất lẫn nhân lực để sẵn sàng cho giải đấu,mang về cho đội tuyển vinh quang, tiền bạc và tiến gần hơn tới danh hiệu đội bóng mạnh nhất hành tinh!