IF by IFFTT (If This Then That) is a great mobile app with over a million downloads. This app simply creates commands that make mundane and tedious tasks automatic. An example of a command could be: "IF you post a picture on Instagram, THEN post on Facebook too"…even more useful commands such as "If a new apartment posting appears on Craigslist, THEN email me." All commands recipes begin with an "IF" and connect with a "THEN".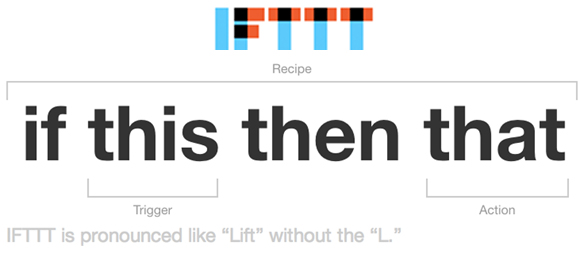 This app is super handy and time consolidating and really great for forgetful busy minds. IF has command recipes for over 180 apps including Facebook, Twitter, Instagram, Tumblr, eBay, Amazon and many more.
Like most apps, IF is not flawless. There are a few things users have complained about this app. Some users have mentioned that recipes that include any Location services/info. IF has also been reported to have trouble working on some Android devices such as the Nexus 5.
Overall IF by IFFT is a great concept and is an idea that can really change the way we do things. A little lukewarm right now but as more time and work goes into IF in order to keep improving, this app can be a great tool for many.
IF is available for download at the Google Play Store.