BlueStacks Exclusives
Becoming A One-Man Army With The Farm Mode In BlueStacks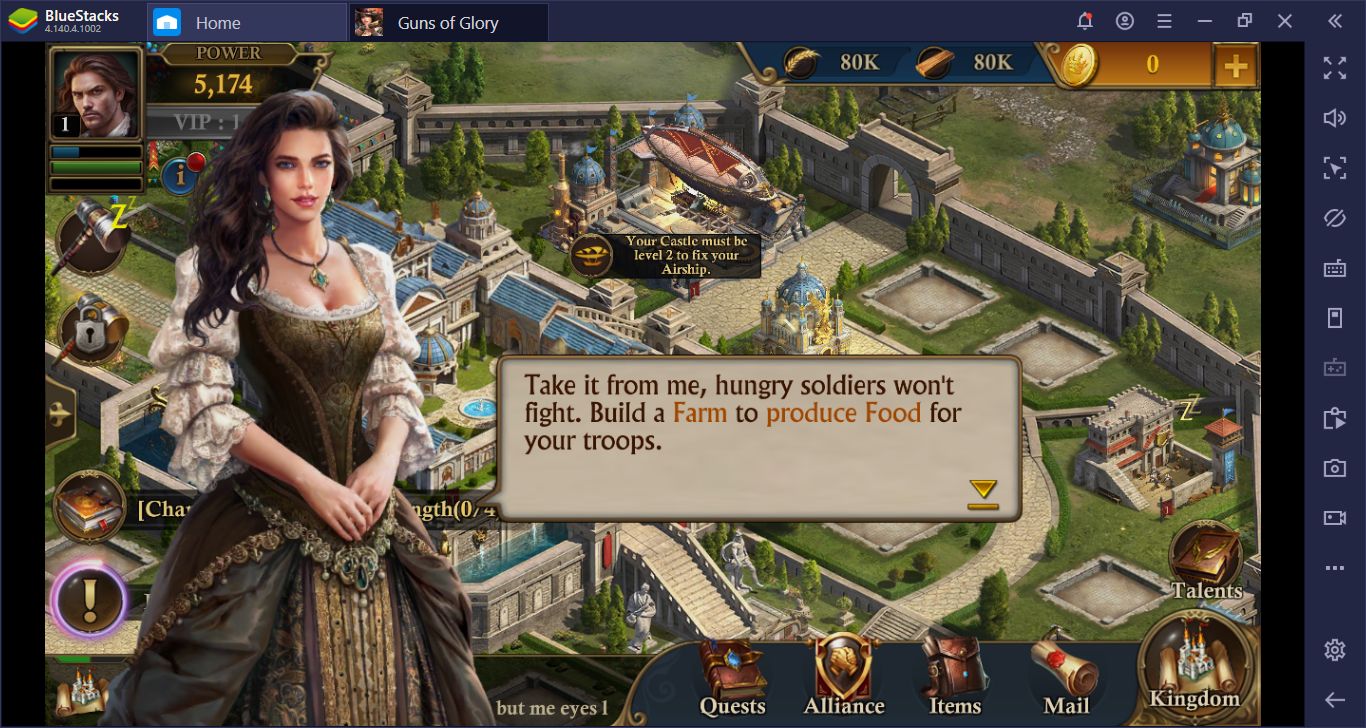 No matter which game you play, you can always be sure that you will be chasing something: A bigger army, more resources, a better weapon, rarer heroes… And even if you find them, this won't be the end of it because there will always be "better" ones to keep chasing. If you have managed to find the "Thousand Truths Sword", you will start chasing the "Thousand And One Truths Sword": It is impossible to escape from this hamster wheel. However, it is possible to reduce your time on this wheel: BlueStacks Farm Mode promises exactly that. Let's take a closer look at this feature and explain how it can help you.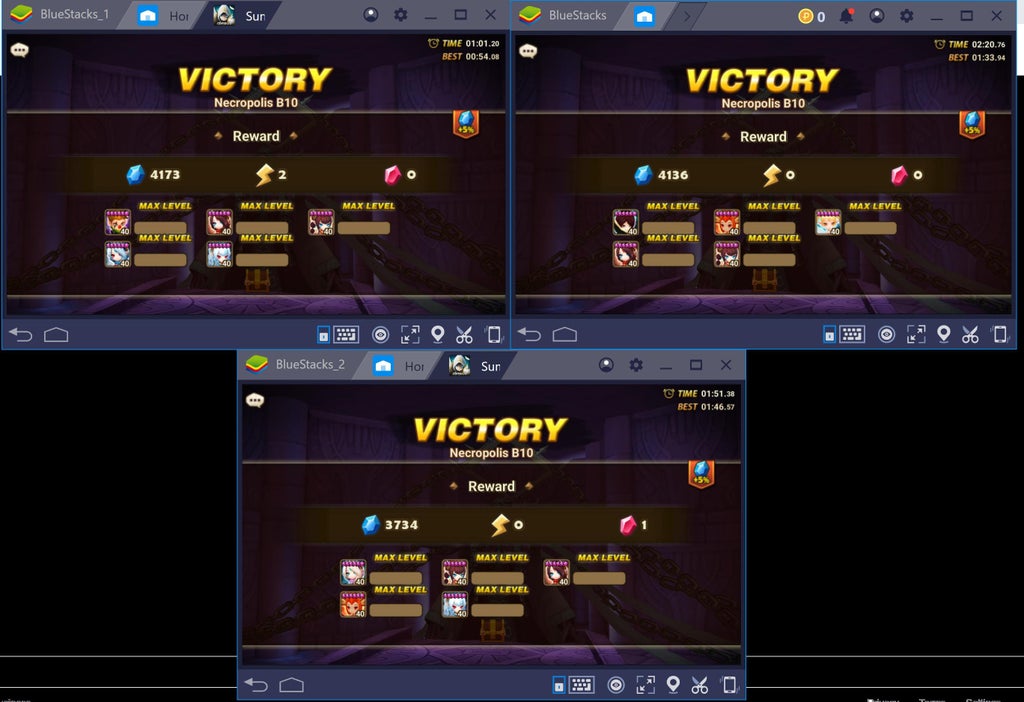 Let's Start With The Basics: What Is Farming?
In short, farming means doing the same things over and over until you find/get the desired results. In long, it is… well, it is actually still the same. Here is a simple example: Let's say you are playing an RPG like Saint Seiya Awakening and chasing for a piece of very rare equipment, which drops from a specific mob. You need to kill the same mob over and over, sometimes hundreds of times, until that equipment drops, right? Well, this process is called "farming". And it can be required for anything: If you want a bigger army, you need more resources, so you "farm" for them. Or, maybe you are playing a gacha game like Land of Kings and trying to find the rarest heroes by making multiple summons, which can also be summarized as "farming". You get the idea: If you are trying to achieve a specific thing and need to repeat the same actions for a long time, this is called farming. Based on how lucky you are; you can farm for a particular thing for days or years.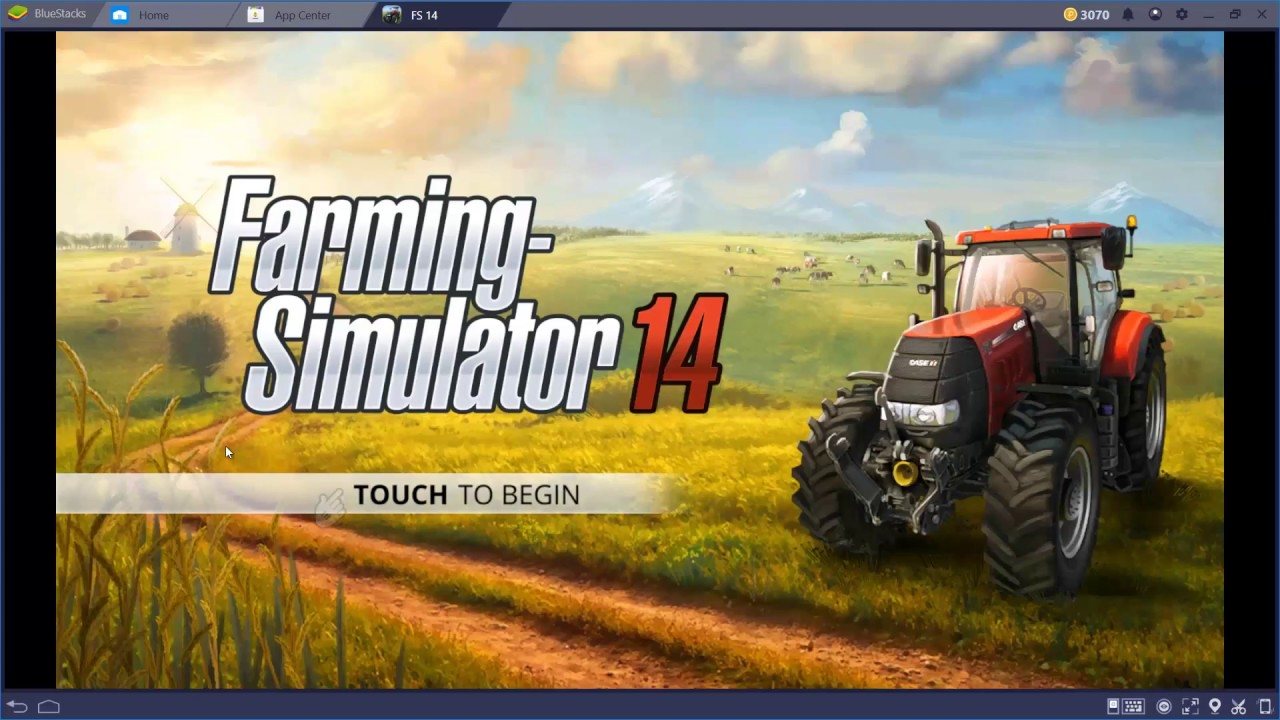 Nope, this is not what we mean by "farming". Although this is a good game, you should try it.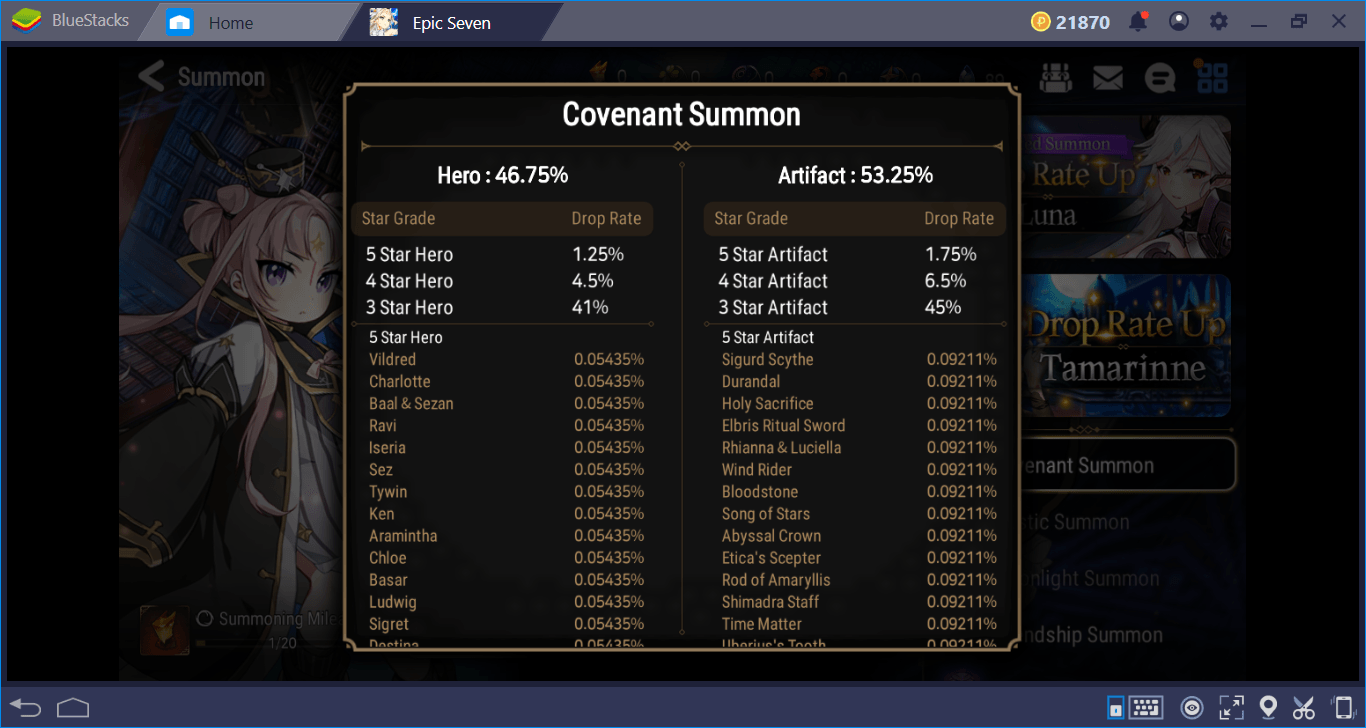 But this is a good example of farming: Your chance of summoning a rare/powerful hero is only 1.25%, which means you need to complete a lot of summons. Finding a 5-star hero may take months, even a year if you are not that lucky.
What Is The Purpose Of BlueStacks Farm Mode?
As you can guess from this description, if you can do the same action more than once and at the same time, you can significantly decrease the time required for farming. Here is a simple example: Epic Seven, for example, allows you to make one free summon per day, unless you are willing to purchase more with real money. This means you are allowed to try your chances once per 24 hours. Now, what if you were able to try your chances 20 times per 24 hours, without paying anything? You will find your rare heroes much faster and easier, right? Or, you will be able to collect a lot of resources in a short period. And that rare equipment you are after will drop sooner than you expect. Basically, your time on the hamster wheel will decrease.
And that's what BlueStacks Farm Mode can do for you.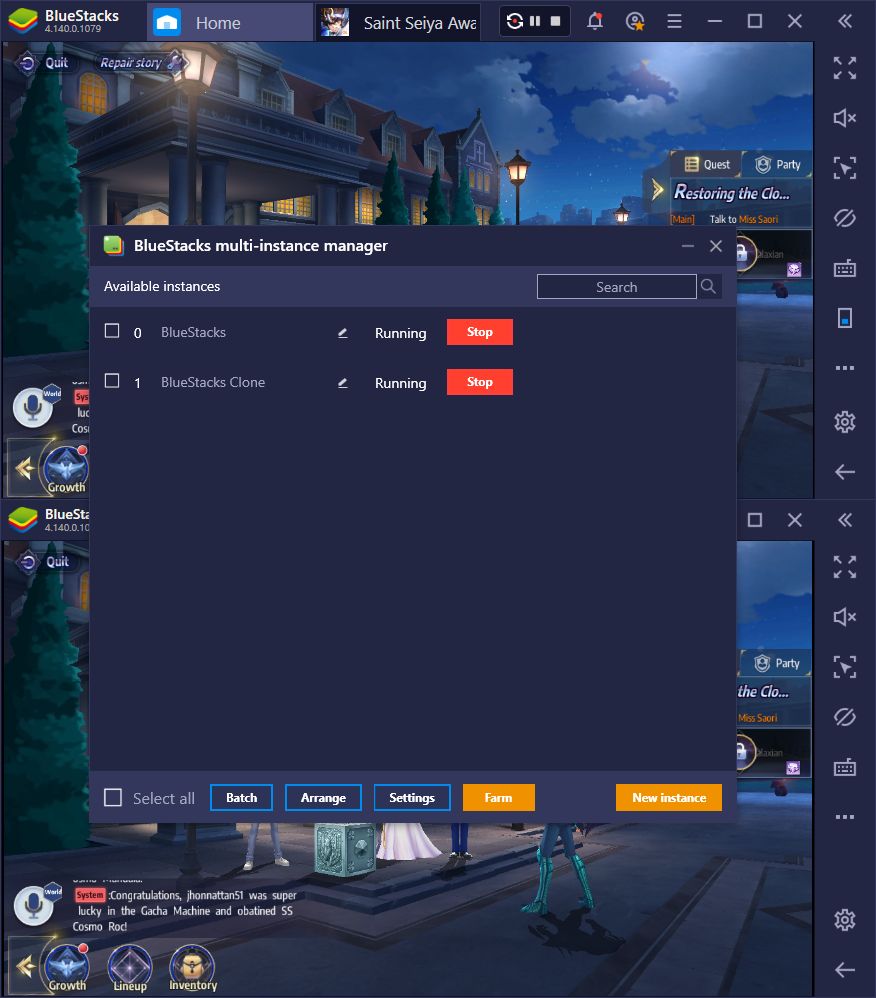 Click here to launch Farm Mode – we are explaining how to use it below. You can also use Ctrl + Shift + 8 combination by default.
So, what is the purpose of this feature? More importantly, how is it different than our Multi-Instance feature – aren't they basically the same thing? Well, not really. Let's explain the "instances" first: You can create a new instance or clone the current one without closing and re-launching BlueStacks. We support this feature for a long time and basically, each of these instances is separate & independent game sessions. For example, you can create three instances for a game and play on all of them at the same time: This is very similar to multi-boxing. However, because of the simplicity of mobile games and the advantage of our additional features, such as Macro Recorder, managing all these instances at the same time is way easier than it is on PCs.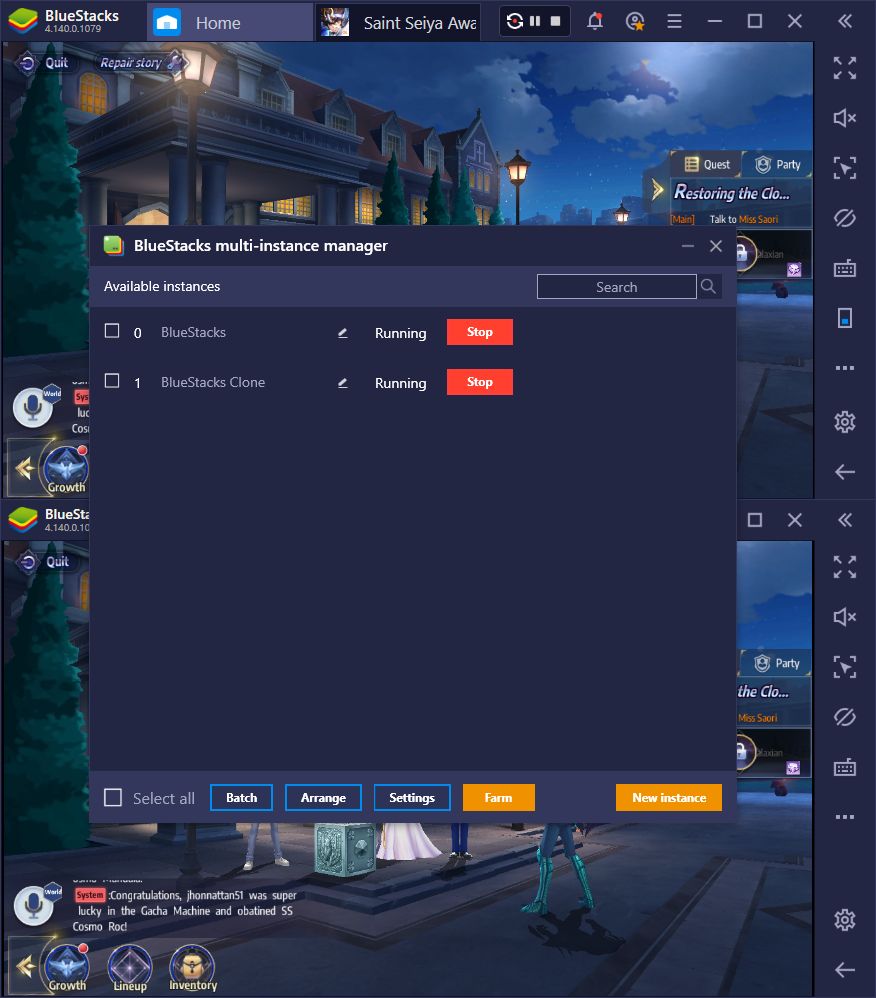 This is a good example of the Multi-Instance feature: We have created two instances foe Saint Seiya Awakening and play on both of them at the same time.
Thing is, the Multi Instance feature has a limitation: The hardware power of your PC. Creating one or two instances is not a problem but when you want to create 10 instances at the same time, that may be a problem. Each of these instances will require a significant hardware power to run seamlessly, and even the most powerful PCs in the world has a limit.
That's where the Farm Mode comes to play.
The purpose of the Farm Mode is simple: It lowers the resource consumption of instances, so you can create more and keep multitasking without a problem. By using the Farm Mode, you can even create a dozen instances on a netbook, and all of them will run flawlessly. Of course, their graphics quality won't be that good and you will be getting lower FPS, but the purpose of them is "farming" something, not actually "playing". You don't create 20 instances to play all of them at the same time: You use 20 instances to find a rare thing faster & easier. And that's what the Farm Mode can give you: Repeat the same actions on dozens of independent game sessions at the same time without crippling your PC, find what you are looking for faster.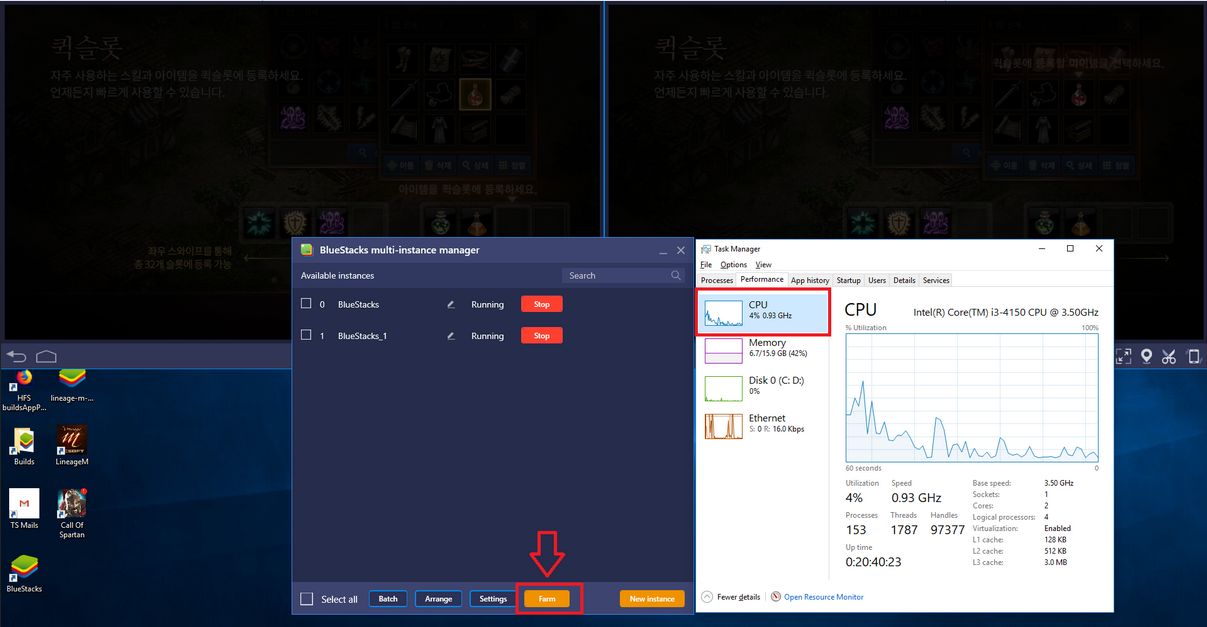 Take a look at the CPU usage: Even after the second instance, it is just 4%.
Configuring The Farm Mode: Instance Settings
Ok, so how should we configure BlueStacks and all these instances to get the best results? And by results, we mean the maximum performance of course: Which settings are better to create the maximum number of instances without a slowdown? Let's start with the main settings of BlueStacks.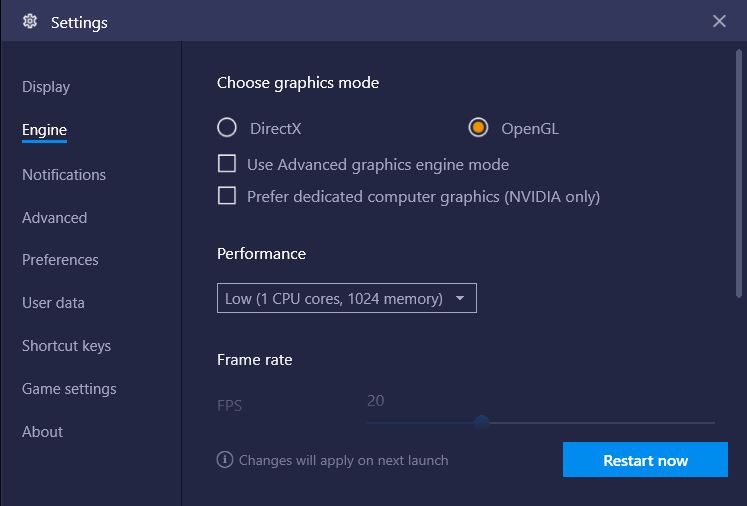 These are the settings of the main program and this screenshot shows the ideal settings. To be able to create more instances, start with decreasing the "performance". Picking the "low" performance will be a good start: You will have more resources to use in more instances. The graphics mode should stay at "OpenGL" unless you experience a problem. The same goes for the "use advanced graphics engine mode": It is not related to farming and unless there is a problem, it should stay as unchecked. Lastly, do not forget to use the dedicated computer graphics, as long as you have an NVIDIA card: It makes a big difference in terms of performance.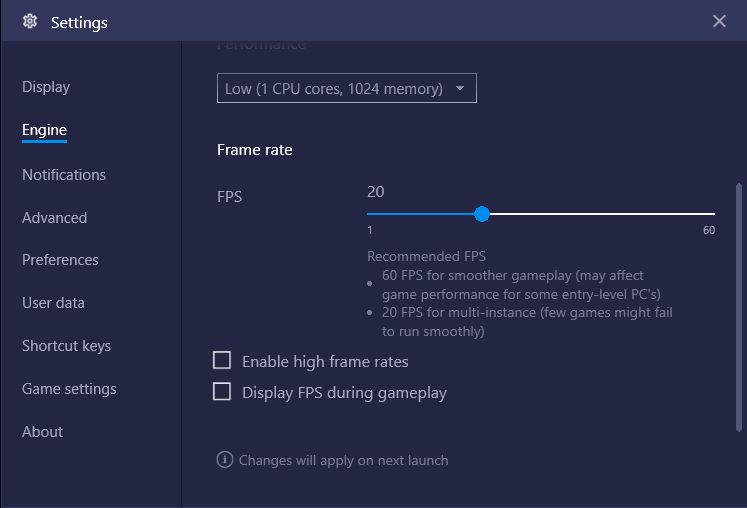 The same screen but these options are located at the bottom. We will start with the "frame rate" and set it to 20, as suggested. This will reduce the smoothness of the gameplay, as can be expected, but once again, we are farming, not actually playing. The other options can stay as they are – do not change them.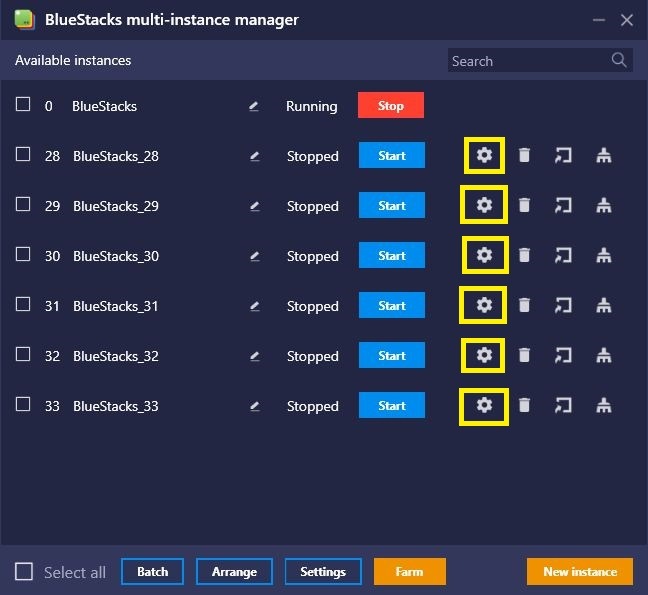 And now, we can start changing the settings of instances. Start by clicking the marked sections, this will open the screen below.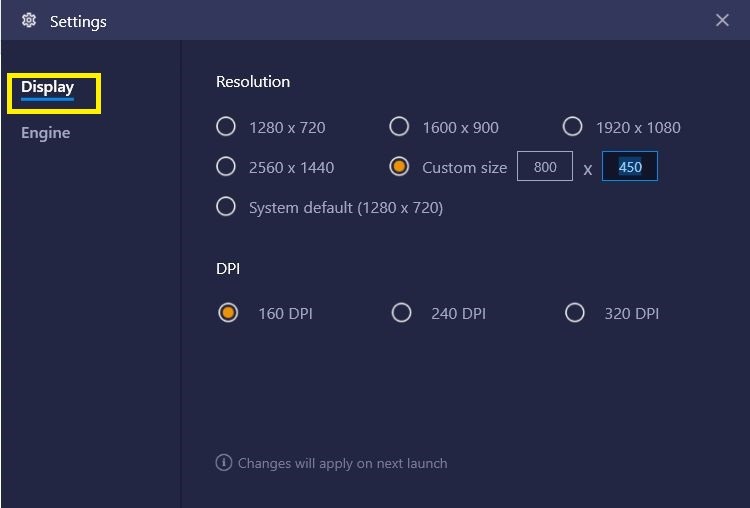 We can start by lowering the resolution. Once again, we won't be actually playing on these instances, so the resolution should be as low as possible. For example, 800×450 is a good starting point. You should also lower the DPI to 160.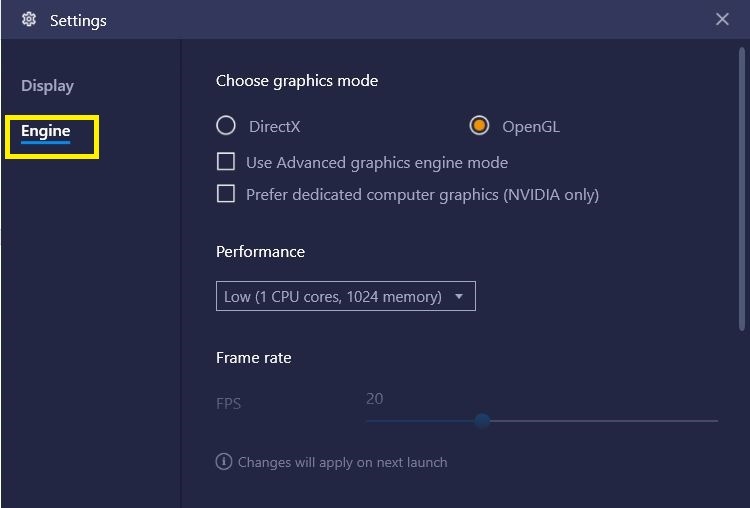 This is actually the same screen we explained above, so we can use the same settings.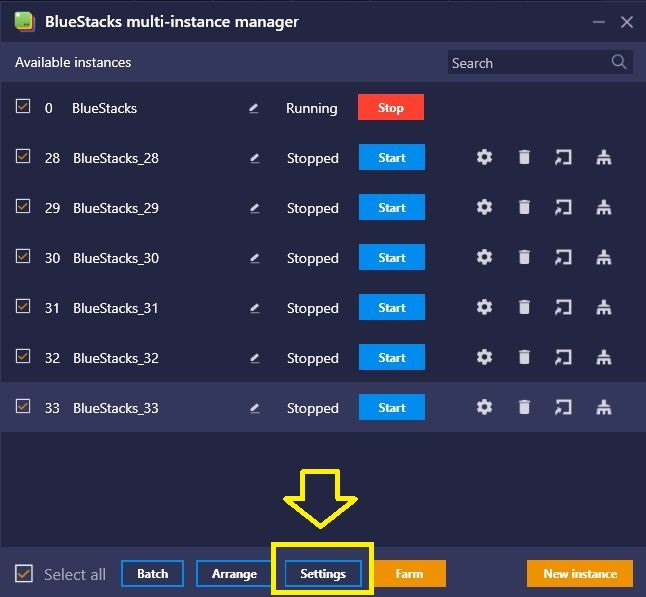 We are about to finish, but there is still an important thing to do: Disabling additional features in order to gain more performance. Start by clicking the marked button.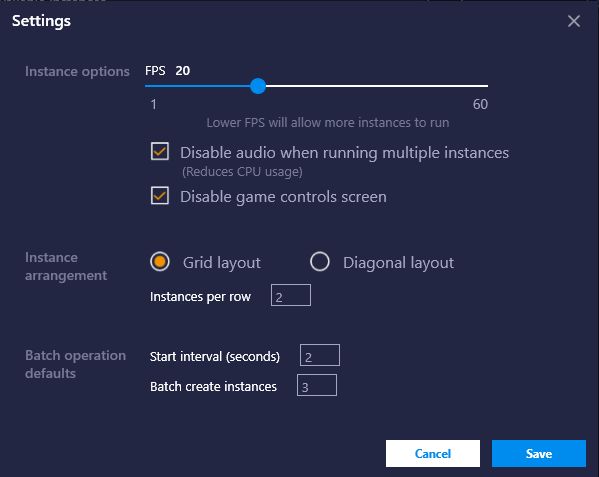 Doing so will open this screen. You only need to change "instance options" settings. Lower the FPS to 20 and disable audio & game controls screen. We need every resource we can find and these will help us.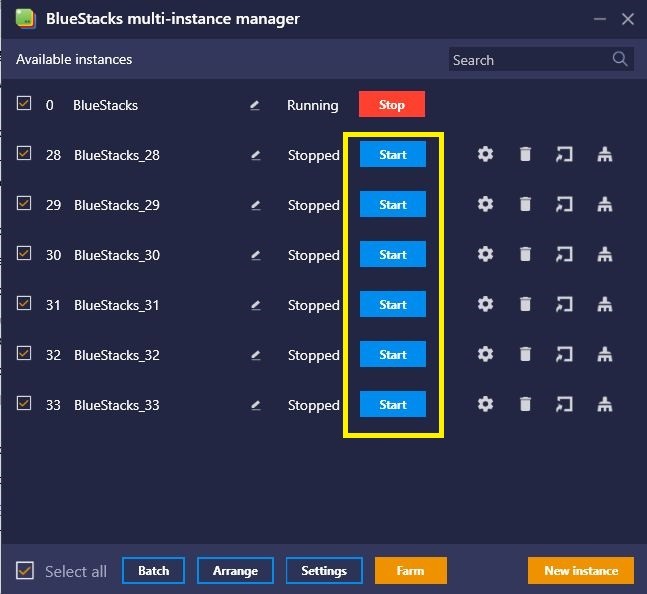 All done. Now, we can click the "start" buttons and become a one-man-army!
Practical Examples To BlueStacks Farm Mode
Let's see what the BlueStacks Farm Mode can do for us with some practical examples, shall we?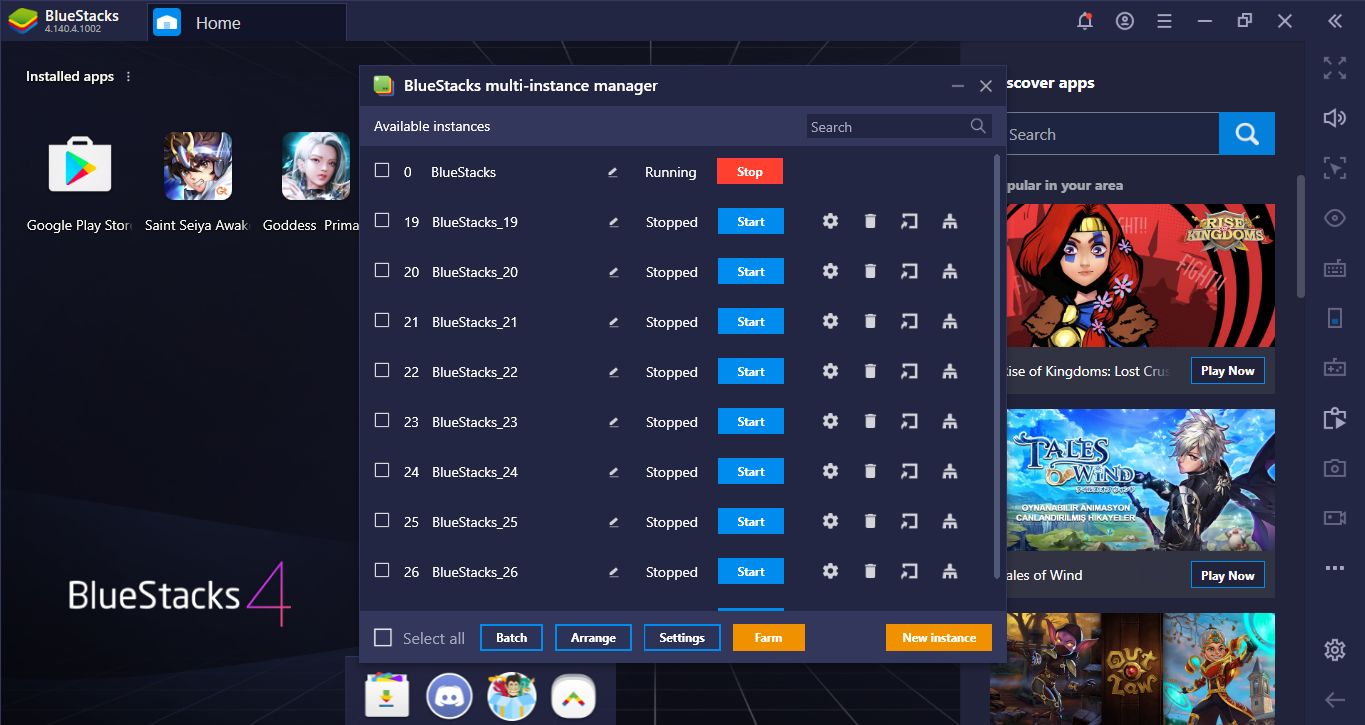 Yes, we have created dozens of farm instances – now let's see how we can use them on different games.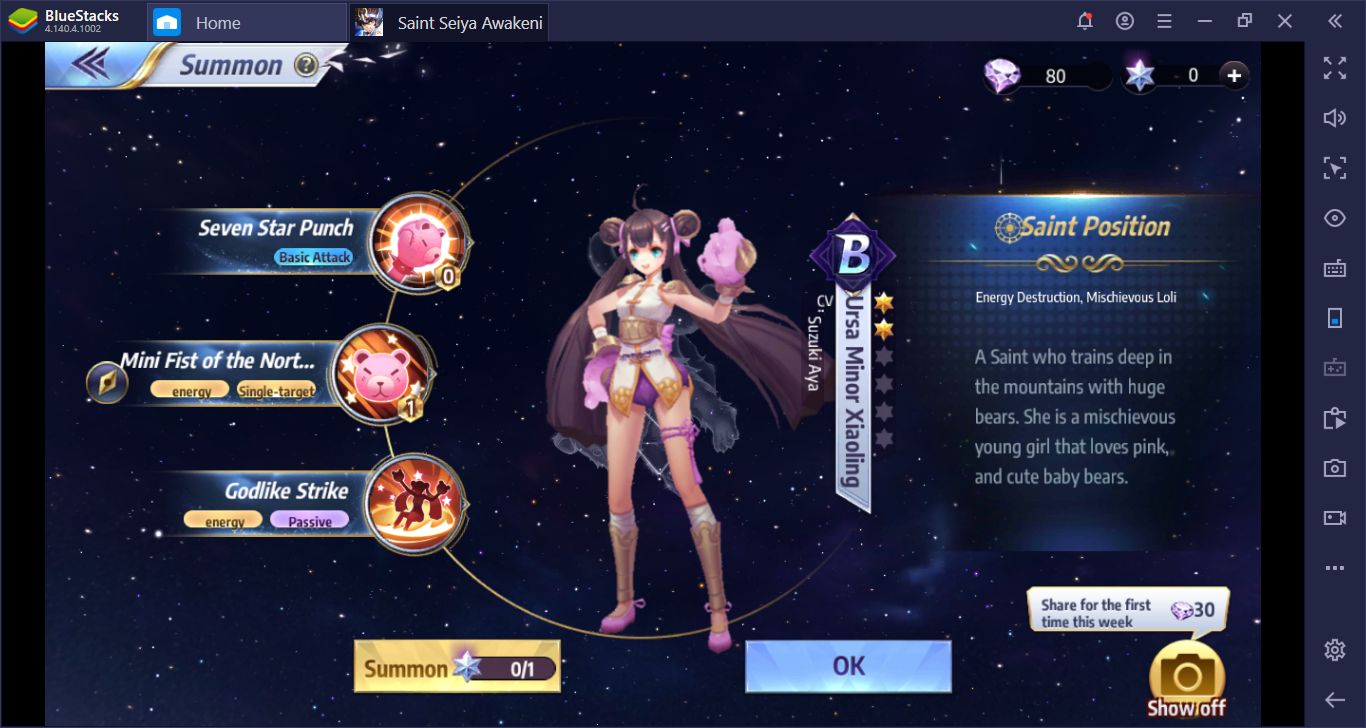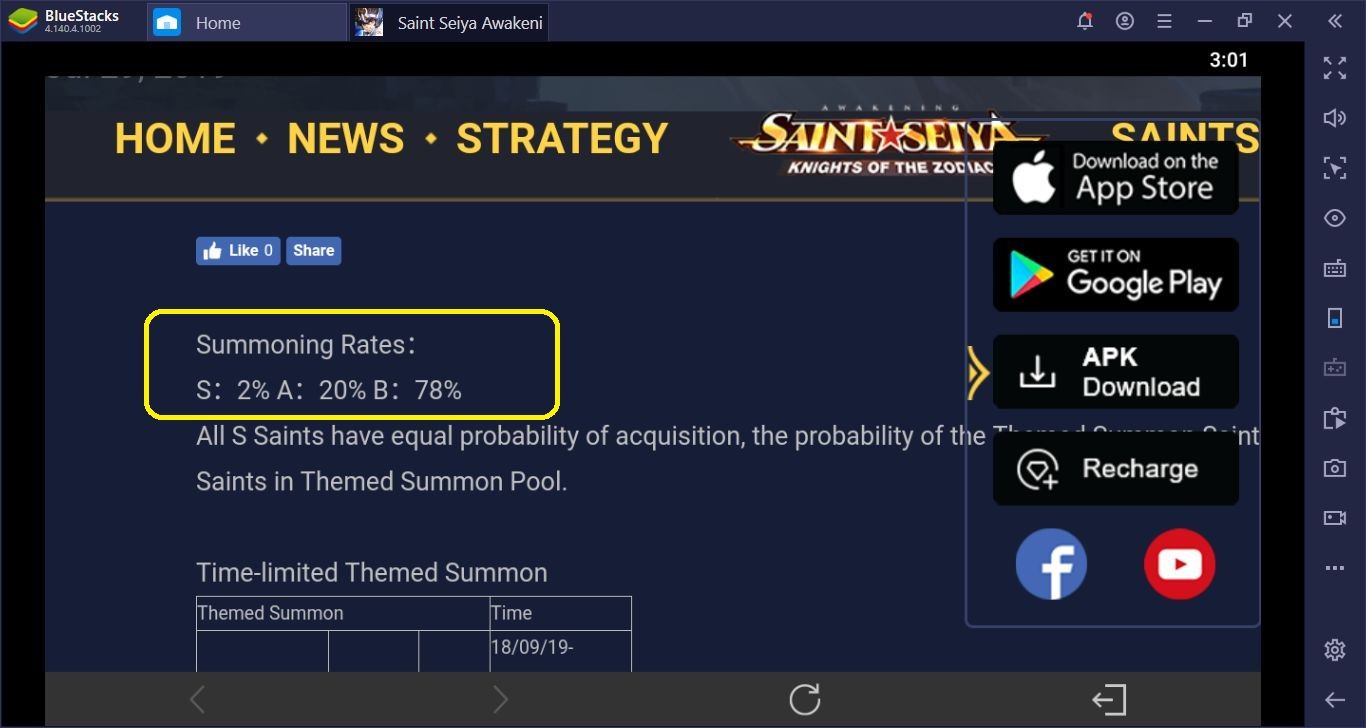 The first screen shows the result of our daily summon in Saint Seiya Awakening. The second one shows the drop rates. The result is not good of course, but we don't have to wait for 24 hours just to try our chances again. We can use all of these instances to do the same summon 10 more times – statistically, one of them will give a better result than the others.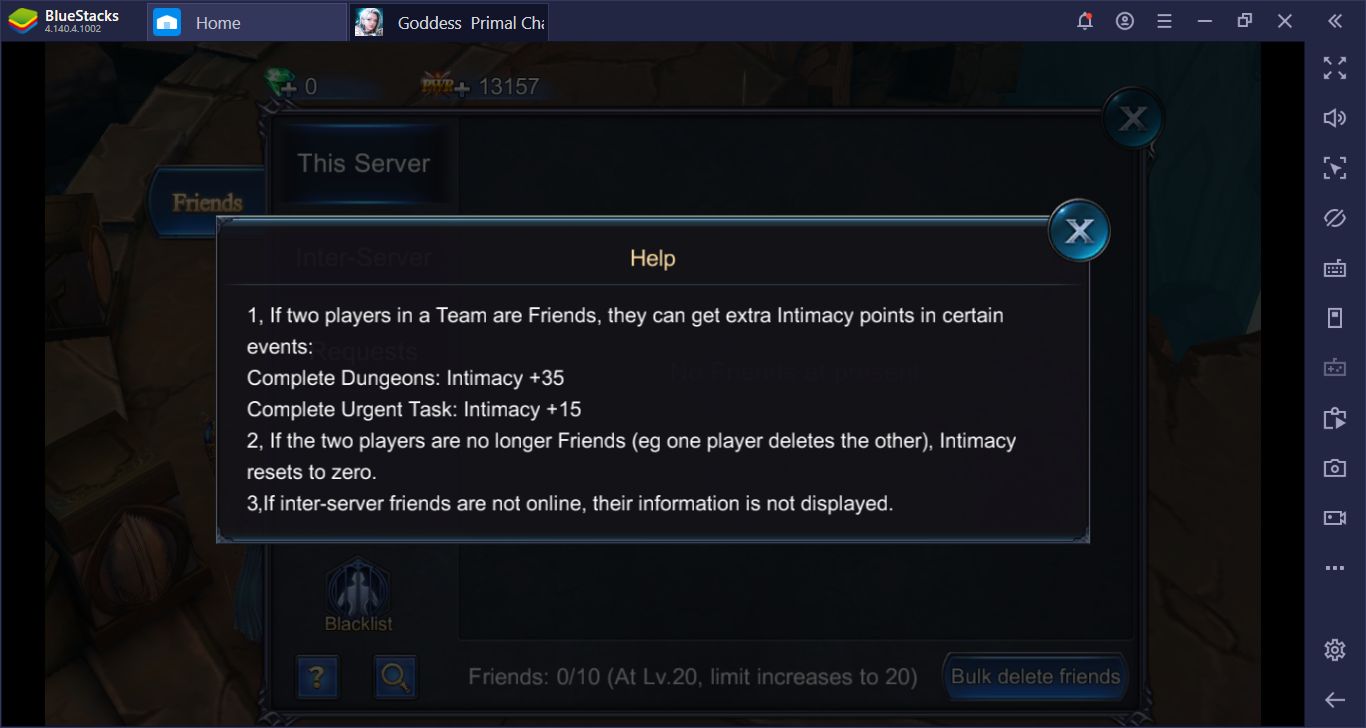 To get more intimacy points in Goddess: Primal Chaos, you don't need other players: You can become friends with your own instances and level up together. You don't need a guild – you are the guild.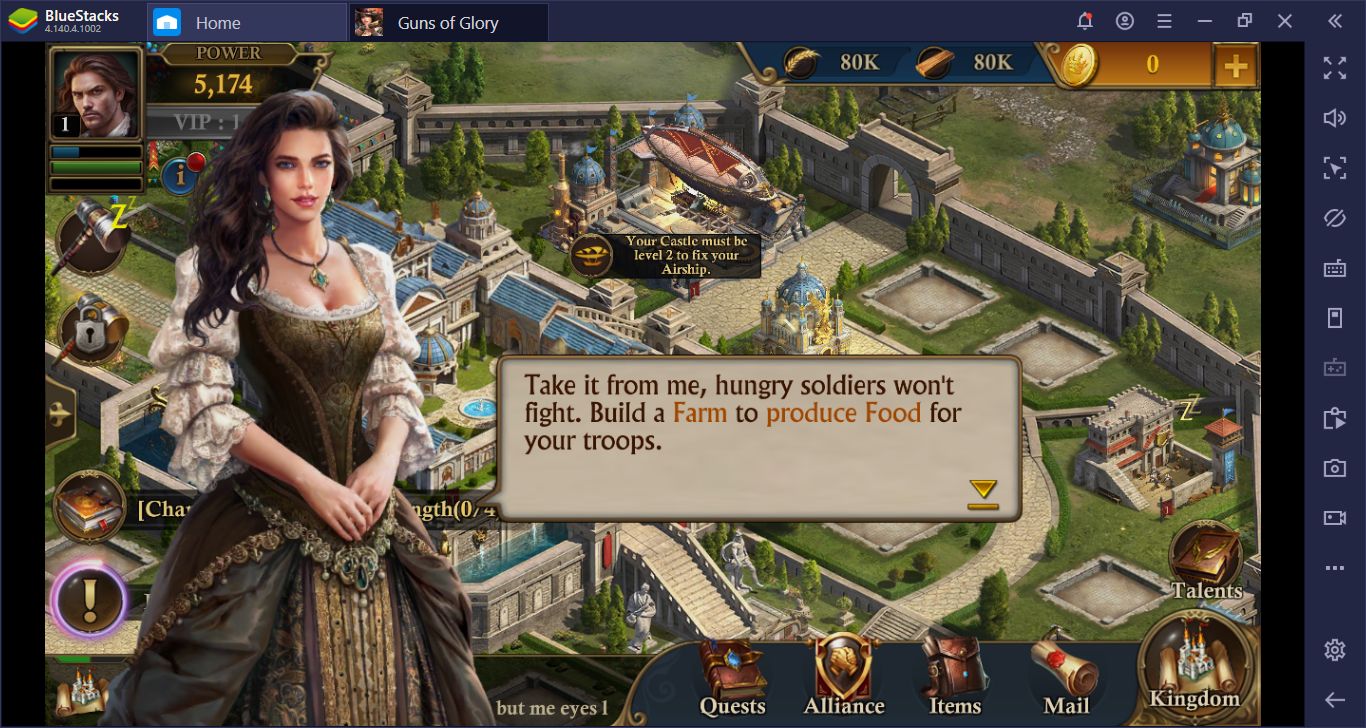 That's right: We need more food if we want to build more houses. Well, guess what: We can use some of these instances just for food production and some of them to train troops. And we can send both of these to our main instance, to create the strongest kingdom these lands have ever seen.
These are just examples: You can find different uses for the Farm Mode in different games. But no matter which type of game you are playing, you can be sure that it will help you. Gacha, RTS, RPG, even card games: As long as you are chasing something, the Farm Mode will allow you to get it faster and easier. If you found different uses for this mode, share with us via comments – we love to hear from you. BlueStacks contains lots of features that will help gamers and the Farm Mode is just one of them: Join us to find the rest!