BlueStacks Roundups
Top 10 Gacha Games on Android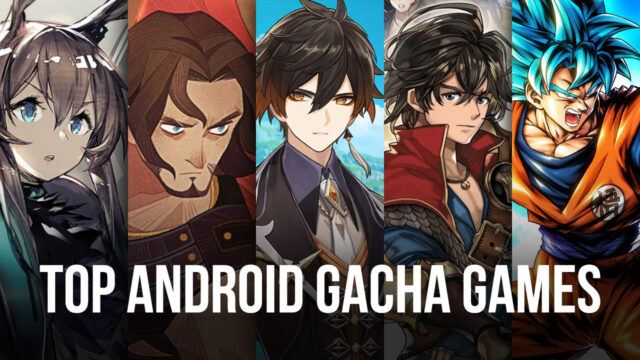 Gacha, with hardly a decade and a half since its introduction may be one of the more recent entries, but it hasn't stopped it from being one of the most enjoyable yet unique genres in the gaming industry. If you're unfamiliar with gacha games, the genre encourages players to spend in-game currency in exchange for random in-game items and even upgrades. Gacha games mostly focus on delivering dazzling products in the game to attract players and tempt them to spend in-game money. However, not every gacha game is the same; there are a variety of games with no genuine pay-to-win gain, providing you with highly entertaining moments as well as the grind to make it an addicting yet brilliant journey. There are several Gacha games on the market, and we made it easy for you to pick the best games for your tastes by compiling a list of the top 10 Gacha games for Android in 2022.
1. Genshin Impact [ Free ]
Genshin Impact is one of the world's most popular MMORPGs, with over 10 million downloads and a 4.3-star rating on Google Play,
Genshin Impact is a spectacular open-world game with a vast universe to explore. You can climb any mountain, swim in every river, and glide about the planet below while admiring the beauty. The game contains a complicated backstory, as well as a cast of individuals with whom you can interact during the quest. The game combines modern Gacha concepts with elemental magic to provide a novel experience.
The game supports 4-player co-op, making it an excellent choice for playing with friends. The game's gacha elements are largely utilized to get characters, the game continues to receive frequent updates and is well-received by the community. It is also quite easy to begin your Genshin Impact adventure using creator-provided codes to unlock various cosmetics.
Although high-end technology is necessary, the graphics are equally pleasing, and you may get around the hardware compatibility by trying Genshin Impact on PC here.
2. ANOTHER EDEN Global [ Free ]
ANOTHER EDEN is a Gacha game with classic Sci-fi elements with over 1 million downloads and a 4.4 star rating on the Google Play store.
Eden's gameplay is reminiscent of classic JRPG games. The game begins very simply, with you selecting several characters of varying rarities, leveling them up, changing their weapon/equipment, and changing what skills they learn and can obtain. The game incorporates time travel and background design aspects as well as extensive lore into the tale.
Like most other gacha games, you may spend currency to unlock the characters in this game. The game is aesthetically rich and of great quality; the designers have referred to it as console-level content since its release in 2020, and it has undoubtedly improved with time. The game's soundtrack is the game's standout element; it was created with meticulous care to enhance the experience.
If you want to go on a voyage beyond time and space, and enjoy playing with diverse characters in general, you should try this game. ANOTHER EDEN is also accessible for PC here.
3. DRAGON BALL LEGENDS [ Free ]
DRAGON BALL LEGENDS is an RPG game based on the anime Dragon Ball. It is one of the top grossing Action games in the market, with over 10 million downloads and an average rating of 4.4 on the Google Play store.
DRAGON BALL LEGENDS expands the DBZ universe with a new plot and characters. You can play as famous Dragon Ball characters, but there are also new characters to be introduced, including the game's showpiece, the mysterious Saiyan known as Shallot. We join forces with him and the other DRAGON BALL characters to assist him in regaining his memories and saving the Earth.
DB LEGENDS claims to be the best anime fighting game on the platform, with features such as intuitive controls and simple card-based assault action. The game feels premium to the maximum when combined with high-quality 3D animation and visuals.
If you want to play an action fighting game with your friends or embark on an epic anime fighting journey, this is a good choice; to ease the process, we've also made a character handbook, which you may find here.
4. RAID: Shadow Legends [ Free ]
RAID: Shadow Legends is a magnificent dark fantasy RPG game with over 10 million downloads and a 4.1 star rating on Google Play.
In RAID, your goal is to defend Teleria by recruiting its most renowned warriors from the forces of Light and Darkness. You must teach them to battle as a team, shape them into living weapons, and construct the most formidable raiding party ever seen. There are 400+ Summonable warriors from 14 factions in all, making the gacha component of the game incredibly large.
The visuals are very detailed regardless of the character, and players may pick between arena missions, campaign objectives, and even dungeon crawls. To vanquish your foes, you can pick from a variety of balanced teams of Sorcerers, Skinwalkers, Undead, Knights, Elves, and more. RAID seems like a premium gacha game, but it demands you to pay actual money into it to help you along the road. Aside from that, it's a fun adventure with eye-catching graphics.
RAID: Shadow Legends may not be difficult for you if you've played harder games, but the campaign fights are compelling enough to make you want to give it a shot. You can also use Bluestacks to play RAID Shadow Legends on PC.
5. THE ALCHEMIST CODE [ Free ]
THE ALCHEMIST CODE is a strategy RPG game with over 1 million downloads and a 4 star rating on Google Play.
THE ALCHEMIST CODE is a turn-based strategy game set in a beautiful, bright universe filled with future technology and a dash of magic. It has a delightful blend of true tactical components and a variety of high-quality material, ranging from dramatic 3D animations to breathtaking anime-styled cutscenes, as well as an excellent soundtrack.
The goal of this game is to play your cards correctly and master the ancient power of Alchemy in order to rescue the Earth. It has a traditional turn-based fighting system with grid-based mobility, as well as many modes to select from, including real-time 4P multiplayer co-op and an arena to hone your abilities. To preserve your interest in the game, fresh stuff is often updated.
THE ALCHEMIST CODE is a fantastic blend of anime-style fighting and the gacha concept, so if you like any of them, you should give this game a shot. You can also try THE ALCHEMIST CODE on PC here.
6. Fate/Grand Order (FGO) [ Free ]
Fate/Grand Order (FGO) is a command card battle RPG with over 1 million downloads and a 4.2 rating on Google Play.
FGO begins by introducing us to the tale, which unfolds when an unknown village in Japan surfaces on the organization's radar. The Protagonists then become Masters, defeating demons and solving the riddle of human history's absence with the help of Heroic Spirits. It is up to you to gather a group of your favorite Heroic Spirits.
Fate/Grand Order makes advantage of the fantastic backstory of the popular Fate anime series. As a result, the game has a surprisingly intriguing plot and soundtrack. Furthermore, the anime-style graphics appear high-end, with a plethora of characters to summon, unique events, and good improvements throughout. FGO is one of the oldest games on the list, and it has led the path for others with occasional upgrades and its ultimate premise.
If you like the Fate series or are searching for an old-school RPG with Gacha features, this may be a nice fit. This is one of the games that you might have trouble running on your device, but we've got you covered; you can even check FGO out on a PC here.
7. AFK Arena [ Free ]
AFK Arena has established itself as one of the best mobile gacha games, with over 10 million downloads and a 4.5-star rating on Google Play,
AFK Arena is an idle RPG fantasy game with a focus on rapid progression, Gacha systems, and a great quantity of loot. It has a wide cast of unique characters, the most notable of whom being Hypogeans and Dimensionals, while also special guest actors such as Assassin's Creed's Ezio Auditore. The basic goal is to equip heroes and build smart lineups to defeat your opponents in battle.
The game may start with the well-known campaign mode and progress to PvP fighting in the PVP Arena mode; there is a wide range of options to keep you entertained. However, keep in mind that this game places a high value on the quality of its turn-based combat system and the Gacha factor, or acquiring the greatest gear for your fights, is just as vital as your strategy.
It is simply one of the most established games on the list, which also reached our top 10 list of IDLE games. AFK ARENA can also be tried out on PC here.
8. Pokémon Masters EX [ Free ]
Pokemon Masters EX is a Pokemon-themed gacha-style game with over 10 million downloads and a 4.3-star rating on Google Play.
Pokémon Masters EX is a 3v3 RPG battler in which your goal is to acquire Pokémon and discover trainers to join your squad while progressing through a fantastic narrative mode loaded with characters directly synchronized from the original Pokémon series. The animation throughout the game is flawless, which is why the game feels one of the most premium on our list.
Pokémon battles, like all of the characters, are well animated, and the sync-moves are just as spectacular as the Z-Moves seen in the mainline Nintendo Pokémon games. Building synergy levels with your Pokémon is typically the key to winning, and there are always events going on to assist you do so. Pokémon masters EX is a unique style of adventure that appeals to Pokémon lovers.
If you're tired of the same old Pokémon and want to try something different, Masters EX is a perfect choice.
9. Guardian Tales [ Free ]
Guardian Tales is an action RPG with puzzles and dungeons that has over 5 million downloads and a 4.6 star average rating on Google Play.
Guardian stories, A game set in Kanterbury, the planet is in upheaval as a result of the Invaders' invasion, destined to be saved by the Legendary Guardian, whom you want to be. The primary objective is to go about carrying explosives and dispose of them and surprisingly, there is also a competitive option for individuals who desire to advance through the rankings by completing challenges.
The game includes Strategic Action Combat which is a well-thought-out combat system that allows you to dodge, duck, dip, and dive your way to victory against fierce attackers and gigantic monsters throughout the plot. You may also form a guild with your friends and participate in challenges with them. Not only that, but they've been adding fresh stuff to keep you engaged in the game and motivated to unlock all of the characters.
Guardian Tales is a fantastic game for grinding with your friends, and while the game runs quite well, you can also play Guardian Tales on PC here.
10. Arknights [ Free ]
Arknights is a Tower Defense game that combines Tower Defense, RPG features, and gacha components to create a one-of-a-kind experience. The game has over 1 million downloads and a 4.7 rating on Google Play.
In Arknights, you take on the role of a leading leader of Rhodes Island, a pharmaceutical business combating both a deadly illness and the revolt it generates. With the leader Amiya, you recruit Operators, train them, and then send them on different missions to save the innocent. Arknight offers an astonishing 200 characters across a range of classes to open up limitless gameplay choices, in addition to an innovative story mode.
The game's anime-style graphics, like other gacha games, along with a fantastic combination of RPG and tactical aspects are enough to land it on the list.
Arknights, Being the only Tower Defense game on this list, constantly updates it with new events and maps, keeping your interest piqued. While the game plays well on most Android phones, The enhanced experience can be tried with Arknights on PC here.