Game Guides
How to Install and Play Tacticool on BlueStacks 4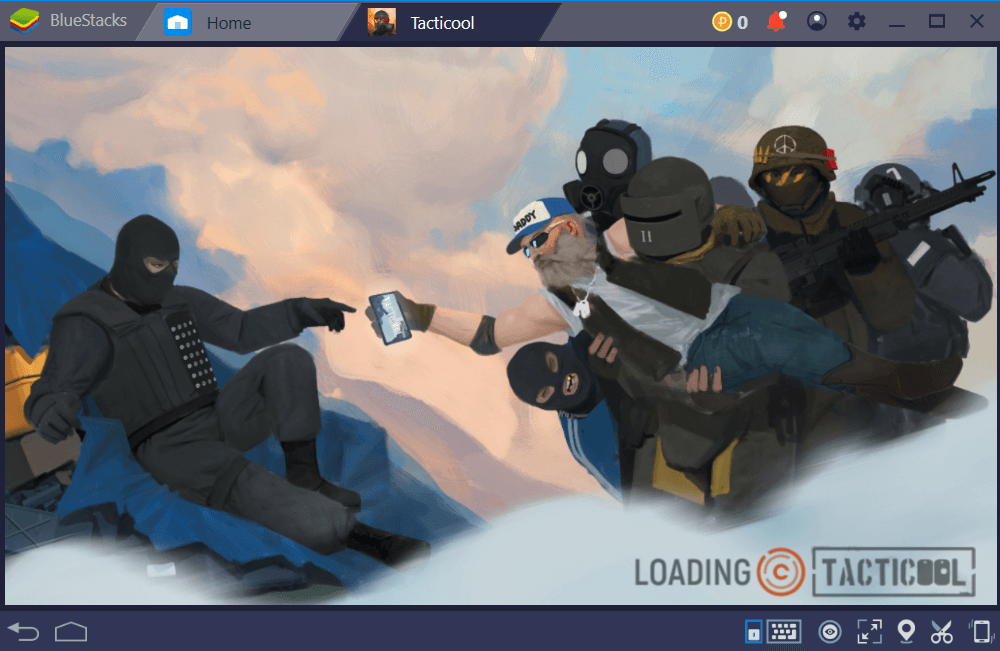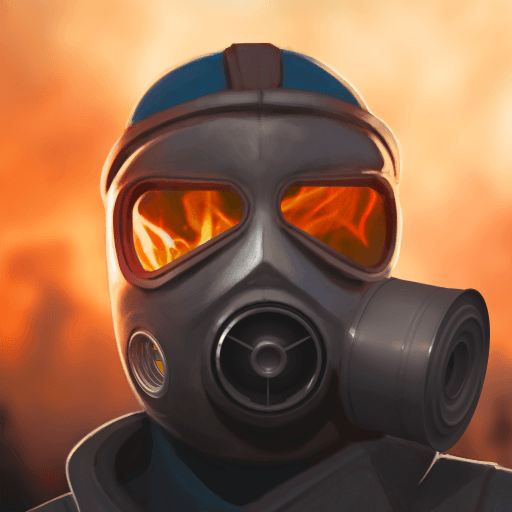 Tacticool is one of the latest additions to the roster of action-packed Multiplayer shooter games that you can play on the mobile platform. The game is generally simple yet surprisingly challenging and tricky that requires players to exert the best of their tactical skills as well as their impressive eye and hand coordination to win the battle. Gameplay wise, if you have tried games like Counter Strike or Modern Combat then you should know the drill. Tacticool works similarly with your typical multiplayer battle but still offers distinctive elements that makes the game unique. The game features a 5v5 Team match campaign where your goal is to kill as many opponents as possible within the given time frame.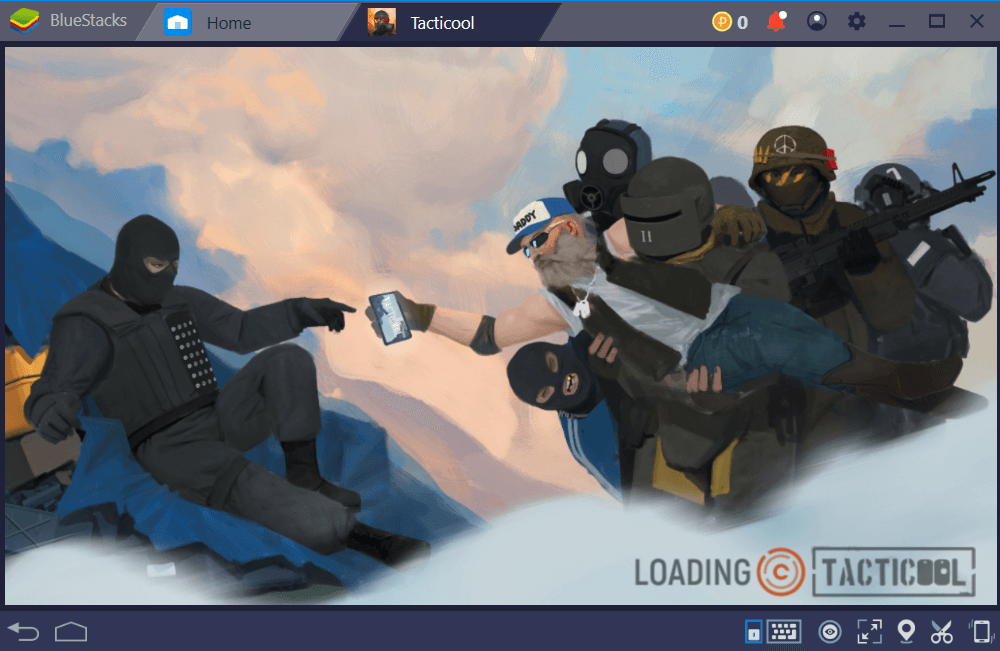 Interestingly, the game is packed with many engaging features from comprehensive weaponry system to generous rewards and the ability to customize your operators and weapons. Currently, Tacticool by Panzerdog is available for both Android and iOS devices. However, if you are aiming for a full gaming experience then you should definitely try playing this game on BlueStacks with keyboard and mouse controls for better aiming and shooting capability.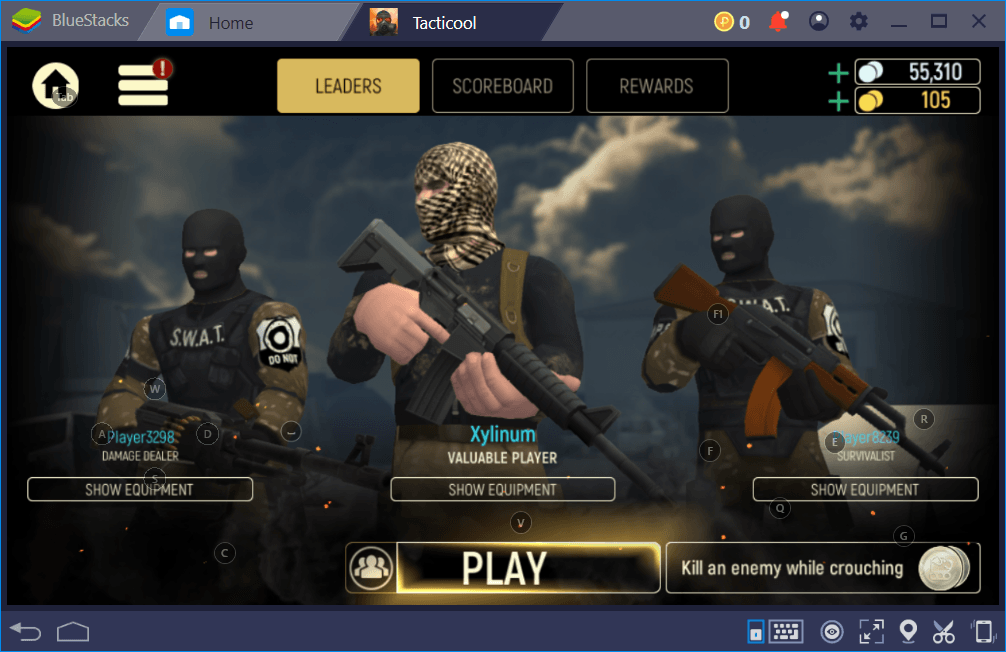 Advantages of Playing Tacticool on BlueStacks
Wider Screen – Why should you settle on a 5 inch wide screen if you can play the game on a bigger and wider resolution? With BlueStacks, you can play the game on a bigger screen or better yet in fullscreen which allows you to see the battlefield a lot clearer. It helps you formulate a more effective strategy and maximize your chances in winning.
Manage Game Controls – Knowing that the game will be played on your desktop, kindly expect a drastic change when it comes to game controls. Instead of tapping and swiping on the tiny mobile screen, you will get to use your keyboard and mouse. Another great advantage of playing this game on BlueStacks is the ability to customize your controls based on your very own preferences. This Keymapping tool allows you to run the game in the most convenient way possible. You can assign keys for each necessary action and you can also change them anytime you want.
Creating New Instances – In Tacticool, you will either be part of a team with members that are randomly picked by the system or you can form your own squad by inviting your friends. Sometimes, however, the strategy fails because of lack of proper coordination. If you think you are skillful enough, BlueStacks can actually allow you to create new instance. Here, you can open another window and play the same game of different accounts simultaneously.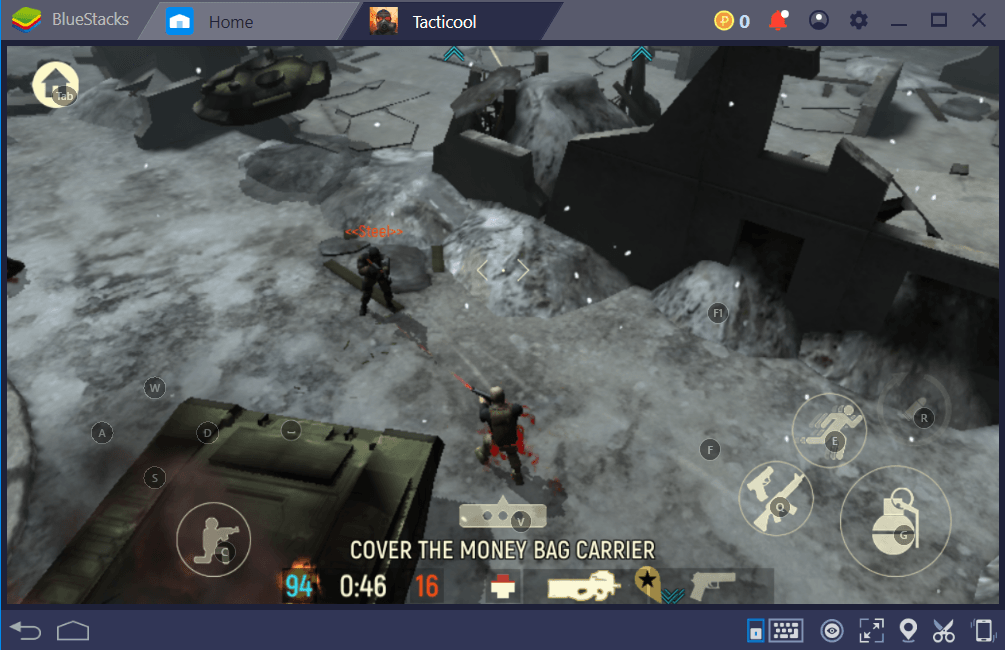 Faster Gameplay and Better Graphics – BlueStacks 4 is considered to be 6 times faster than the latest Samsung Galaxy S9+ when it comes to overall performance. This allows you to appreciate the game even more, especially those games with higher latency. To top it all, BlueStacks will eliminate all the distractions that will ruin your game. You do not have to worry about the battery running out and you will no longer be kicked out from the game because of sudden calls you receive on your phone while playing.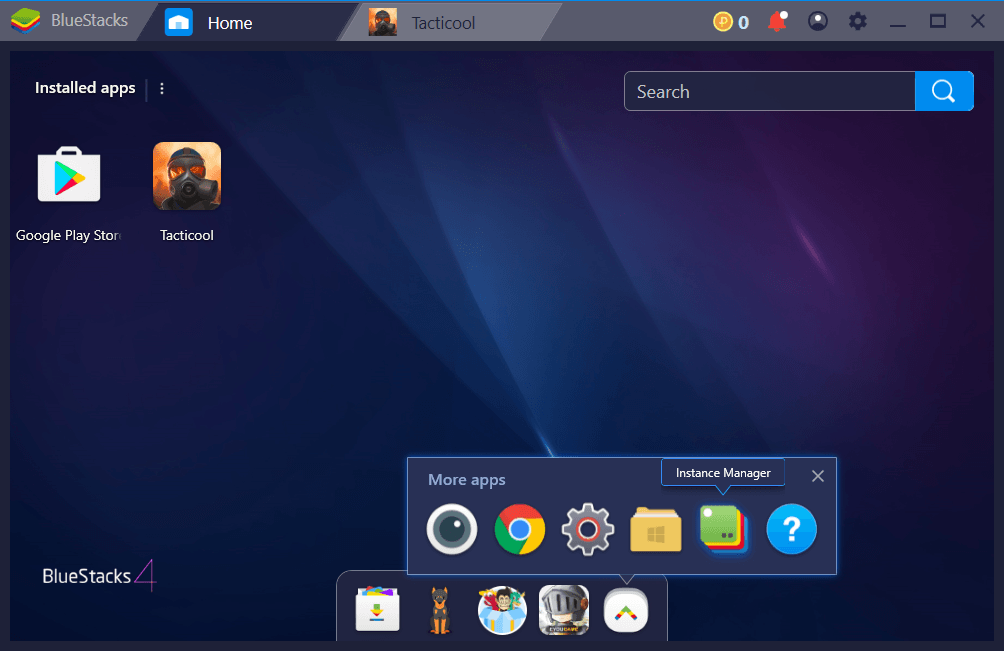 How to Install Tacticool on BlueStacks
Installing Tacticool on BlueStacks is as simple as installing games on your mobile. First of all, you must have an updated version of BlueStacks installed on your PC. Simply head over to www.BlueStacks.com and download the latest version. Once done, you just have to click on the BlueStacks icon on your desktop to launch your BlueStacks screen. In order to gain the full access, you must either create a Google Account or use an existing one. This allows you to access the Google Play Store and download the games you want.
To start, simply click the Google Play Store icon and search for "Tacticool". Hit the Install button to download the game. Much like on your mobile device, a separate icon will be generated on your BlueStacks screen and on your desktop for easy access. Click the icon and you can now play the game!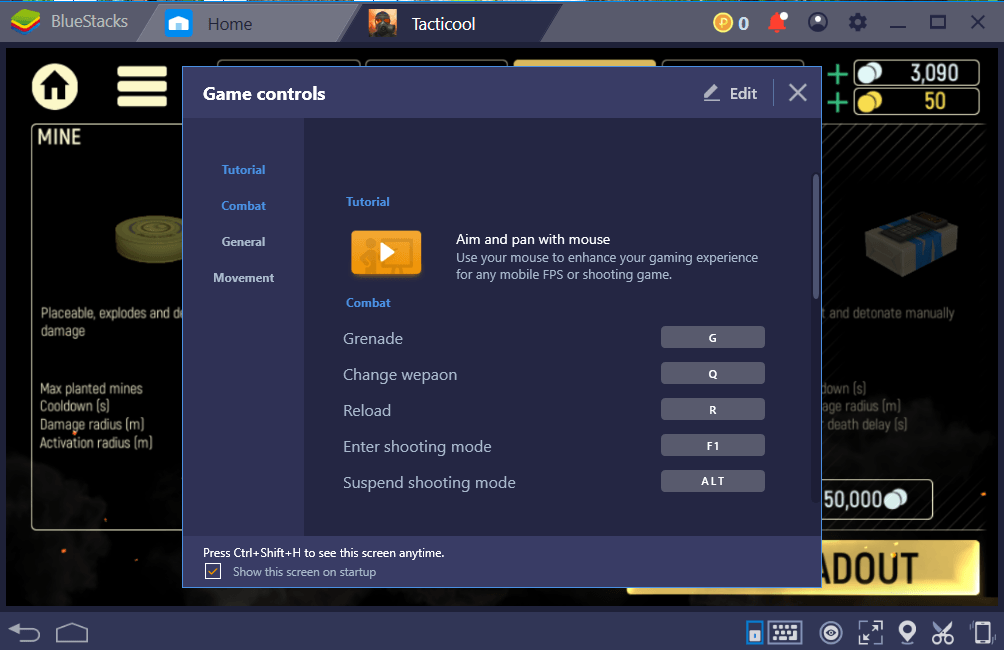 Configure and Manage Game Controls
Since you are playing the game on a different platform, the first thing you should be familiar with is the game controls. Although there is a default game control scheme assigned for each action, you can actually configure the controls based on your preferences. You can access the Game Control screen by clicking the keyboard icon on the task bar or by pressing "Ctrl+Shift+H".
For Tacticool, you can configure controls for Combat, General and Movement. You can assign certain keys to activate or to perform each action. The default keys for movement for an instance is the traditional WASD keys but you are free to change it to Arrow Keys if you want to. Shooting and aiming is done through mouse clicks.
If you think you have made something special or you have encountered a moment that is worth-sharing, you can instantly grab a screenshot of your gameplay by clicking the Scissor icon on the taskbar.
Strategize Battle With BlueStacks Combo Key Feature
Tacticool is all about strategy and you cannot simply rely much on your weapons. You must learn how to strategize your battle by coming up with some effective tactics. However some actions will consume more time and it only ruins the entire strategy. Switching from one weapon to another will require a key press and it takes another key press to reload them. You also have a designated key for crouching and another key for using your special weapon. Therefore, in order to perform a smooth combo, you have to hit all these keys manually.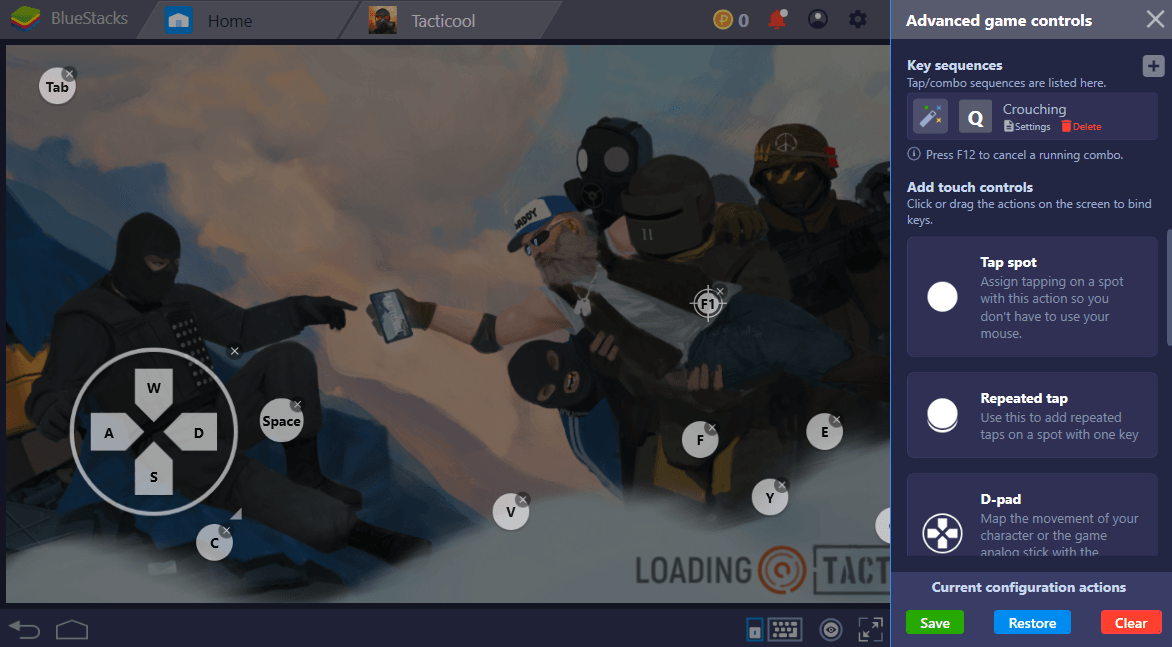 With BlueStacks Combo Key feature, you can record all your actions and perform them repeatedly using a single shortcut key. Here's how it works.
From the taskbar, click on the Keyboard Icon to access the "Game Controls" screen. You can also access the window by pressing "Ctrl+Shift+H"
On the Game Control Screen, click "Edit" on the upper right corner.
Click on the Advanced Settings to access the Advanced Game Control screen.
From here, you can now set up and record your combo key sequences. Simply click the "+" icon and hit the Start Button to start recording. Once done, tap the Stop button and assign a Shortcut key before saving. You can activate the combo keys anytime during the game.
In Tacticool, this particular function can save you especially when you are engaged on a skirmish. You'll find it extremely handy when you are trying to unlock certain achievements. Some quests will ask you to kill opponents in a special way and help you earn bigger rewards in return. For example, the game will ask you kill an opponent while crouching. You can simply record this particular movement and set up a combo key to perform the action smoothly.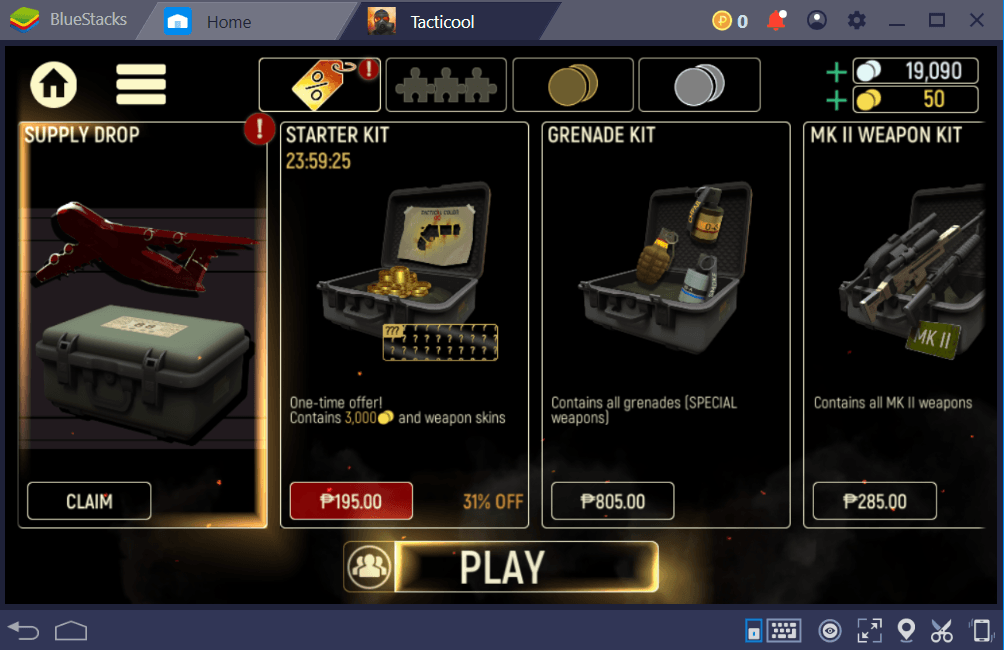 "Daily Supply Drop and In-game Shop of Tacticool"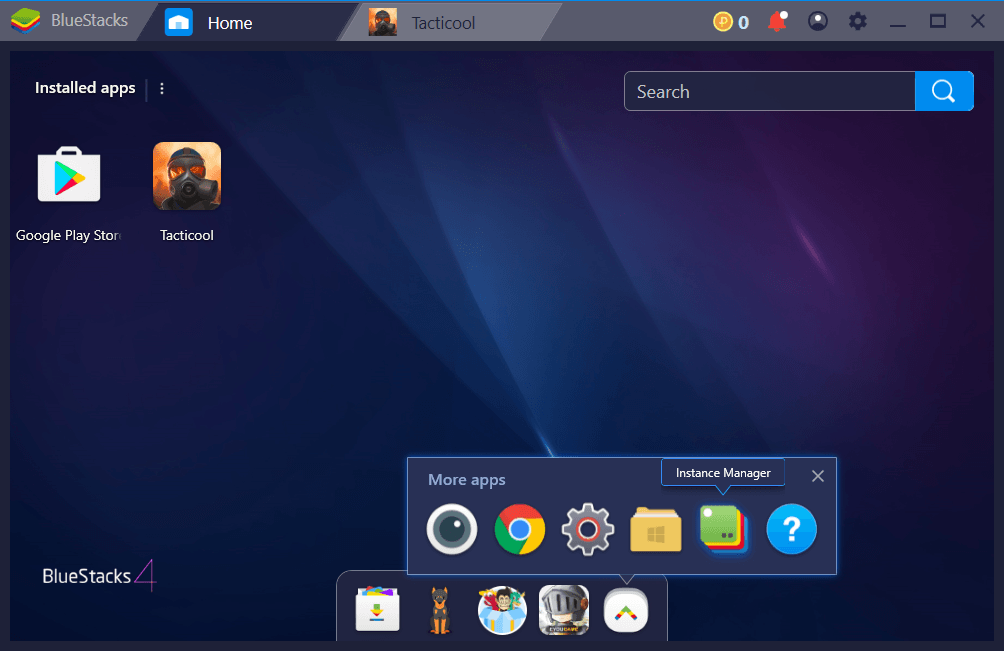 "Accessing BlueStacks Multi-Instance App"
Taking Advantage of The BlueStacks Multi-Instance
For a 5v5 Shooter game, teamwork is most likely the key to win the match. Each member should come up with the most effective strategy to win over their opposing team. Unfortunately, since the game randomly picks team members for each match, victory is not always an assurance. Same thing goes if you invited friends and formed a squad of your own. If there is lack of cooperation then you might all end up losing the battle. This is where you can take great advantage of the BlueStacks Multi-instance feature.
As what the title suggests, this BlueStacks app allows you to create new instances. This will open up a new BlueStacks window which you can either clone from the original window (same account) or create a new instance (a different account). When creating a new instance, you must establish a different Google Account and you must install a different Tacticool application too.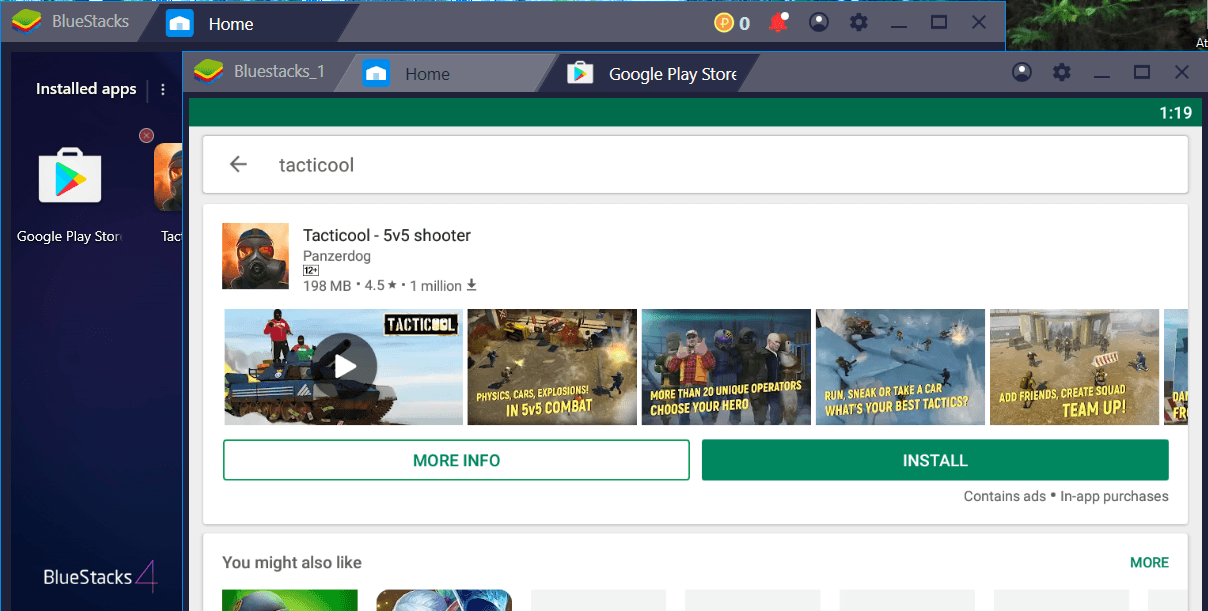 Generally, this allows you to play the same game with different accounts simultaneously on different windows. In this way, you can formulate your own strategy and play the game in your own way. You can confidently form your own squad and assign operators who will take charge of the melee combat and long-range tactics. An effective and tricky strategy indeed. It will also help you increase your overall ranking too.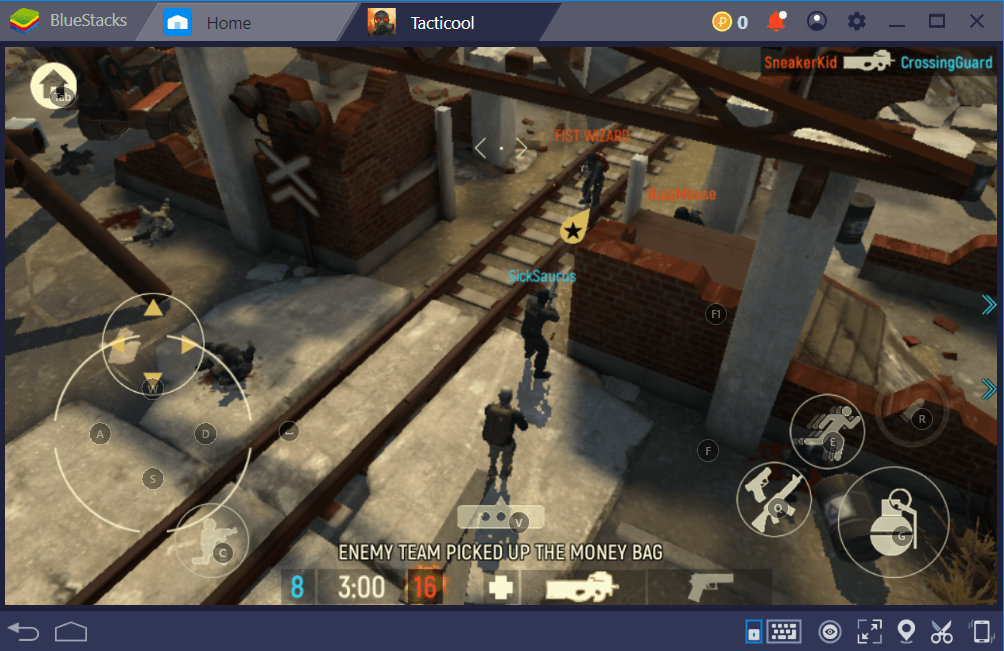 Tacticool is definitely a game worth-playing. It offers the right amount of action and fun that most gamers are looking for. Of course, we all want that full gaming experience, a faster gameplay, wider battlefield and a game with less distractions. Interestingly, you can achieve all of the above if you play the game in BlueStacks. Now that you have the idea on how it works, feel free to download BlueStacks, install Tacticool and play this epic game like you've never experienced before! Good luck and have fun!