Game Guides
Tacticool – Intense 5v5 Military Shooter Game That is Way Cooler than You Imagine!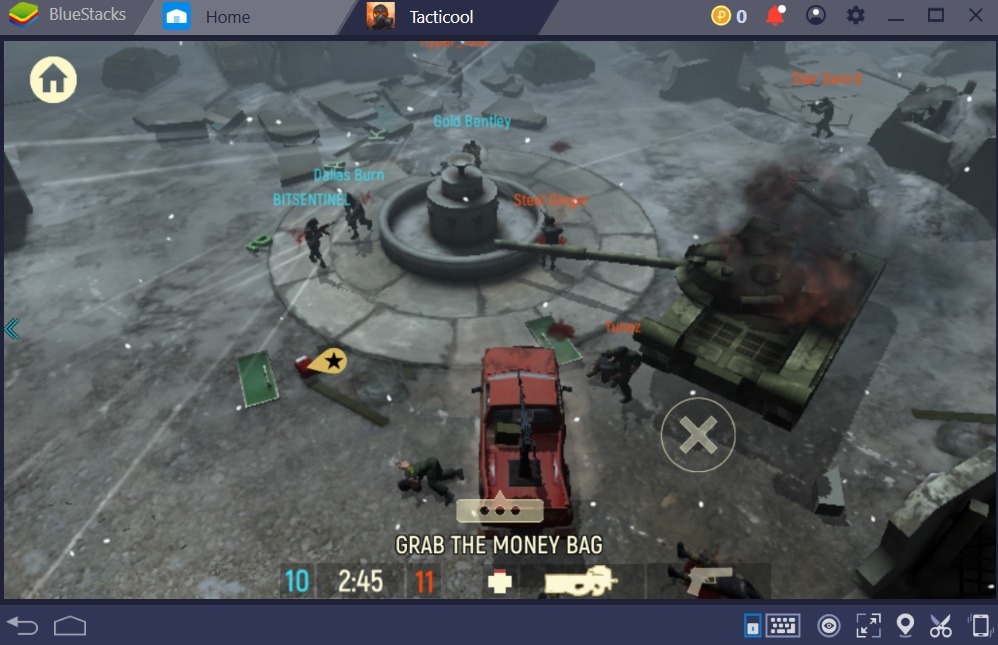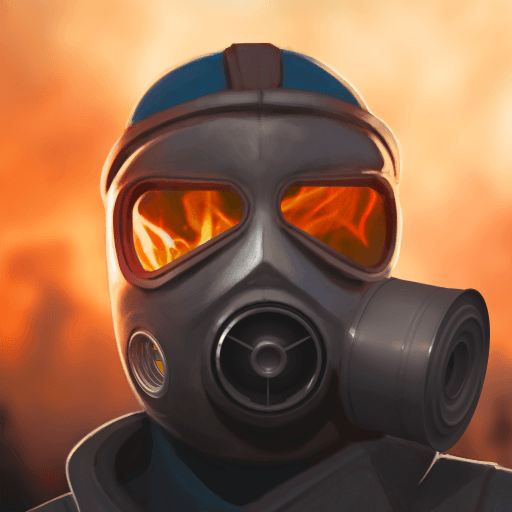 Panzerdog recently released a game called "Tacticool", an action-packed multiplayer military shooter game that will absolutely put your skills on a great test. With visually stunning graphics and intense gameplay, Tacticool easily managed to elevate itself as one of leading 5v5 shooter games on mobile today. The goal is simple, help your team win the match by killing as many opponents as possible within the given time limit. Yes, the concept is obviously adapted from other well-established shooter games like Call of Duty, Modern Combat and Team Fortress 2 to name a few.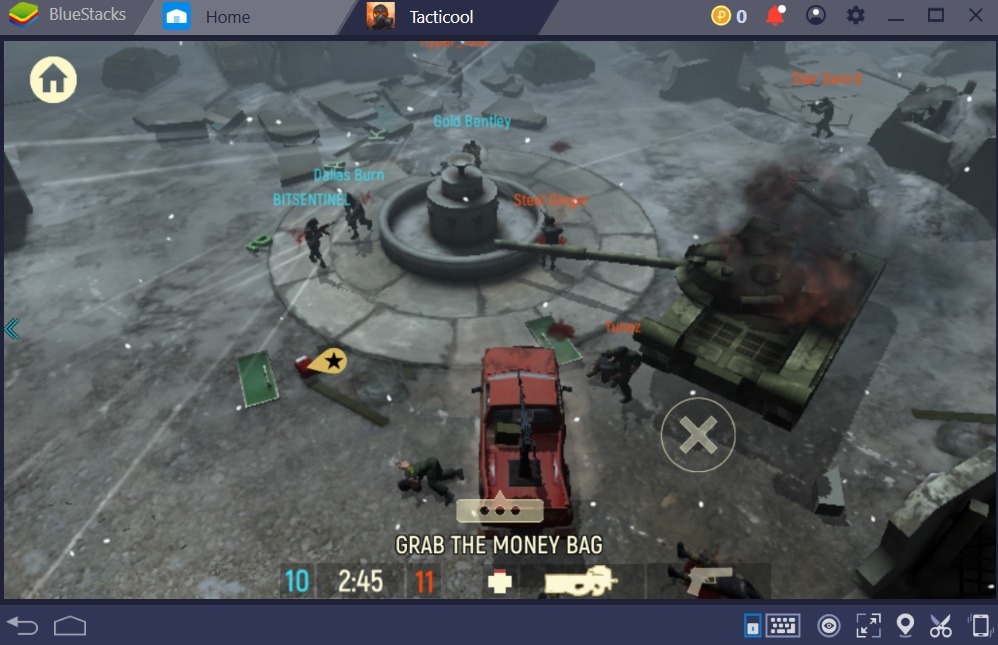 On the Mobile platform, games like Guns of Boom and Forces of Freedom have established names for themselves. Despite the notable similarities with the aforementioned games, Tacticool still features a plethora of unique game elements that instantly differentiate itself from the rest. There are many features to explore and interesting items to unlock along the way. If you are looking for a game that offers both intensity and fun, Tacticool is surely a perfect fit.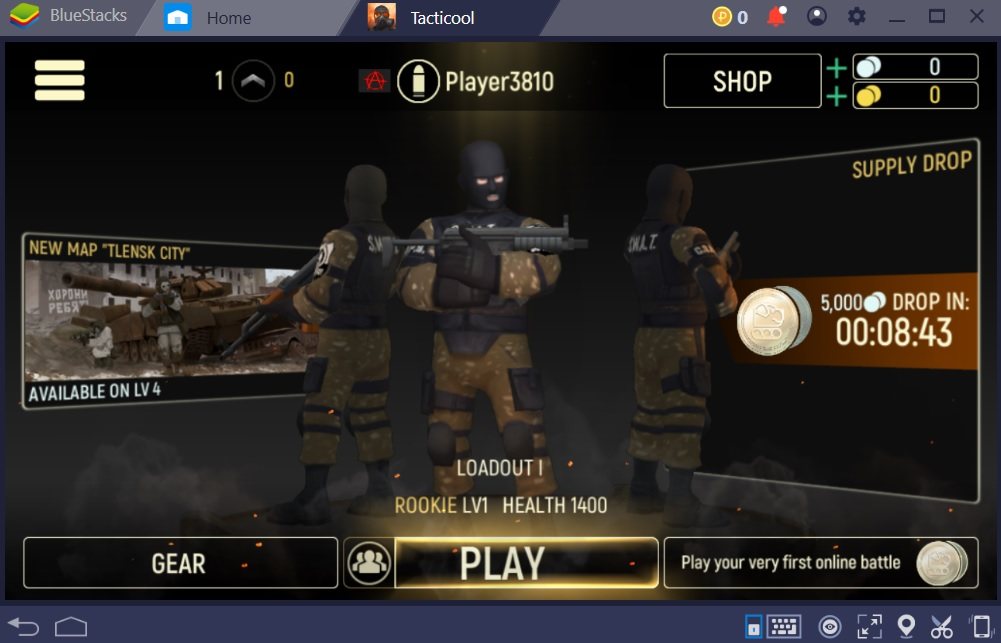 Your Standard Multiplayer Battle
Tacticool has everything you need for a multiplayer battle. The mechanics are generally simple but mastering the gameplay is quite a challenge. You start off the game as a rookie player armed with standard set of weapons with interchangeable loadouts. Take note that this is a team battle and you will be part of the Blue Team by default along with 4 other online players that are randomly picked and matched. As soon as you enter the battlefield, you can freely navigate the map and shoot players of the opposite team (Team Orange).
The first team to score a hundred or the team with the most number of kills within the given time frame wins the match. It is also interesting to note that both ammunition and health points are infinite in this game. Players will never run out of ammo regardless of the weapons they use but the reload capacity may vary depending on your chosen weapon. Health points, on the other hand, will replenish automatically unless the character sustained too much damage before the life meter fills up. If you get killed, you will be prompted back to the battlefield in random respawn point.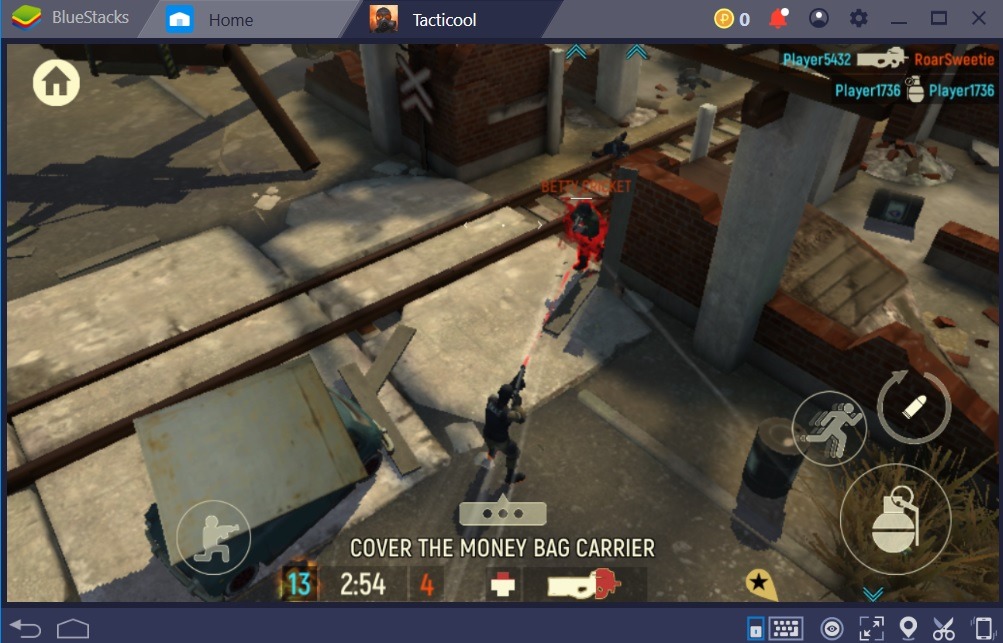 Fixed Camera Setting
One of the most unique elements of Tacticool is the unique camera perspective. Unlike games like Call of Duty where players can freely switch their view from first person to third person, Tacticool has fixed camera setting. The game treats you with a default isometric or semi-top down perspective which could either be a good or a bad thing. One of its notable advantages is the fact that you can get wider view of your surroundings which allows you to track nearby opponents or obstacles. This perspective, however, may not be very ideal for stealth or other related tactics.
Shooting and aiming your target may also be a big challenge in Tacticool. Players can move the camera view by simply swiping the screen on both sides while moving the character via virtual joystick (or if you're using BlueStacks, you can move the camera view by clicking and dragging the cursor around the gamescreen). Tacticool features an Autofire system which is now very common in most shooting games today. Here, the reticle or crosshair is set on the center of the game screen and you just have to strategically move the character and camera view towards the opponent. If the reticle touches the nearby foes, the weapon fires up automatically.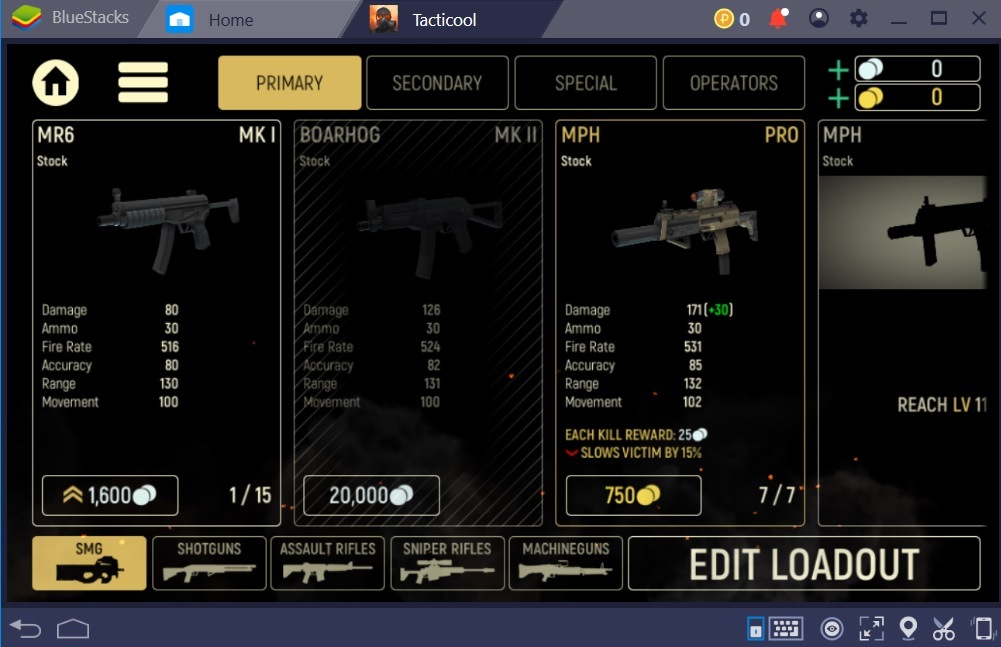 Weaponry and Rank System
A shooter game will not be complete without a weaponry system and Tacticool will certainly not disappoint you in this part. The game features a comprehensive weapon system. Normally, a player is equipped with three set of weapons per match. These include the Primary and Secondary which you can freely switch during the game and a Special weapon (explosives like grenades and mines). Players can upgrade the weapons through the game's virtual currency which you earn after each successful battle. Upgrading is necessary to increase your weapon's respective attributes from damage rate to fire range.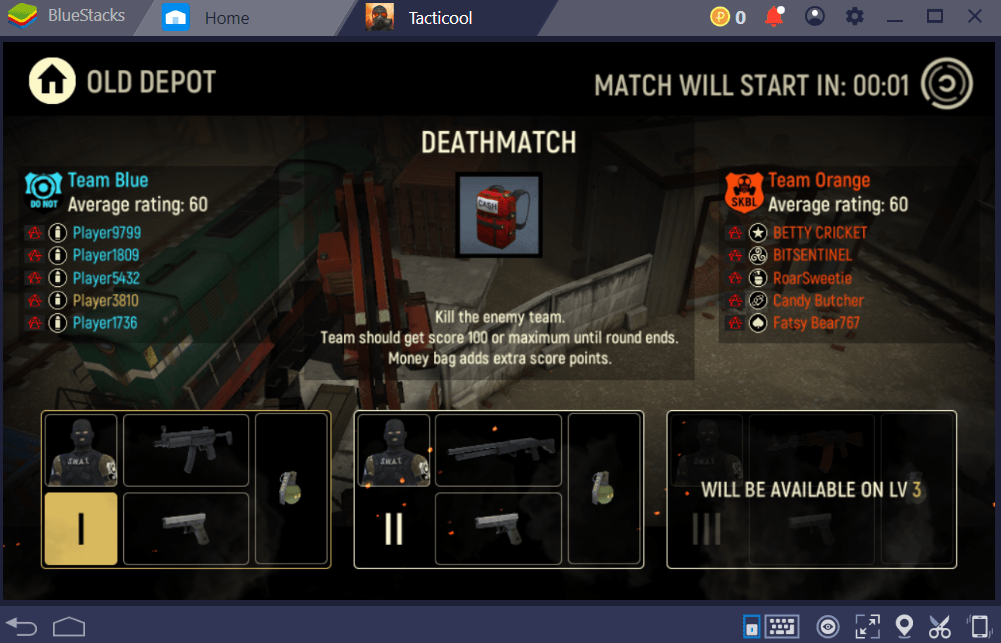 Prior to every battle, the game allows you to pick your preferred loadout. You start off with two interchangeable loadouts and you'll get another one upon reaching level 3. Players can also customize their Loadout based on their own preferences. Another interesting element of the game is the rank system. A player gains experiences after each battle and if you earned enough, the Operator/character will be elevated to a higher rank. Rankings will also dramatically affect your overall global rating.
Reward System and Microtransactions
A successful battle will help you on many levels. Players, for instance ,will receive rewards in return which could be in the form of virtual currency, experiences and other valuable prizes: All of which can be used for upgrades and customization. At the end of each match, you'll get a chance to spin a roulette which gives you an opportunity to unlock rare and uncommon items. If you are lucky enough, you can instantly unlock a new Operator skin or a new weapon. You can also earn Free Rolls by watching rewarded videos, a clever way to input ads on the game.
Much like most shooter games on mobile today, Tacticool is generally considered as free-to-play but you might also consider buying items from the in-game shop. You can buy more coins including premium currency to avail more premium items which makes your character even more efficient and effective in every battle.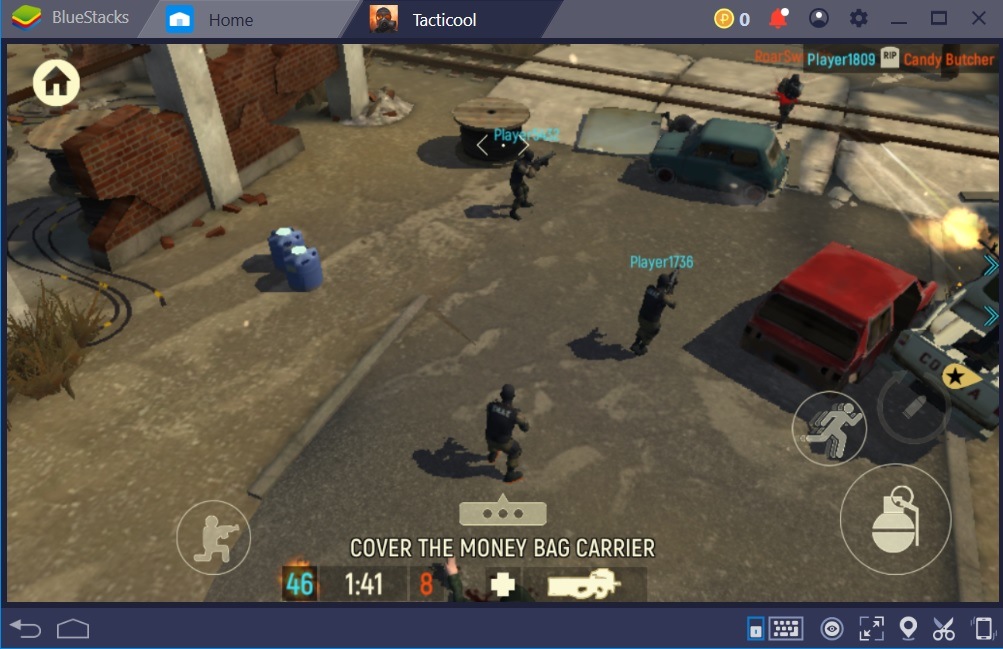 Interactive Maps and Multiplayer Functions
Tacticool may not offer an overwhelming map to explore but it currently has 5 interactive maps you will definitely enjoy. Each map features various terrain conditions where you can come up with hundreds of different tactics. Interestingly, everything on the map is interactive. Players can break fences, destroy barricades, and blow up cars and tanks. You also have the ability to operate cars and artillery trucks and use them to your very own advantage.
To top it all, each map features various moving mechanisms which could either help or harm you in the process. Speeding train for example can hit and kill you instantly. Same thing will happen if you get hit by a moving vehicle either intentionally or unintentionally by your opponent or even by your own team member. Speaking of team members, the game has multiplayer functions you can take advantage of. You can form your own squad, invite online friends to be part of your team and engage yourself on an epic cooperative battle.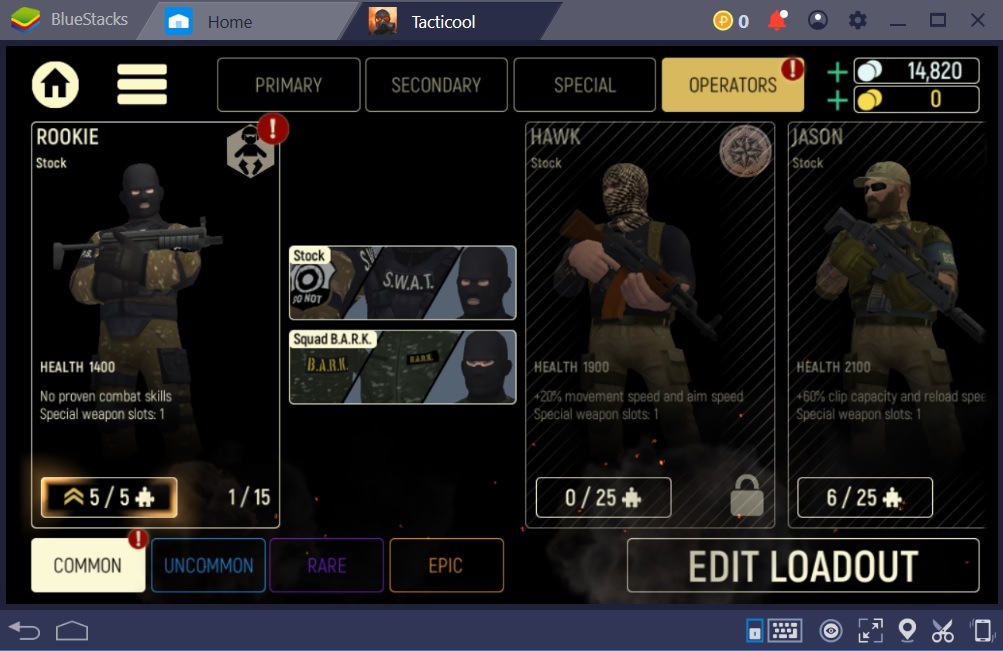 As much as we would like it, a squad may not be able to help you much, or the other players on it may just not be as good as you. Well, you don't need to rely on others any more.
With BlueStacks Multi-instance you can play multiple instances of Tacticool from different accounts at the same time. To create a new instance, Simply click on the Multi-instance icon on My Apps on your BlueStacks, choose new account and pick a name for your new instance.
So how will this help you with Tacticool? You can build your own team or have multiple accounts join the same team, establish your own effective strategy to maximize your chances of winning. A clever tactic indeed!
Other Noteworthy Features
Extra Missions: Aside from your main goal to win the match along with your teammates, you also have your personal tasks to complete and earn great rewards in return. These objectives can be found on the main menu and can only be taken one at a time. The tasks will vary from buying weapons to killing enemies in certain ways.
Grab Money Bag: This is an optional task you can perform during the match. Here, you get extra points by picking up the bag of your choice and keeping it until the match ends. If you are looking for a bigger challenge, you might as well perform this task.
Offline Mode: Tacticool is an online multiplayer shooter game which relies mainly on stable internet connection in order to experience the game to the fullest. However, if you don't have that, do not worry, you can still enjoy the game without Internet. You can do so by accessing the Offline mode. You can play either the Training or the Deathmatch campaign.
Overall, Tacticool is an awesome Multiplayer shooter game that provides decent action and an incredible replay value and longevity. If you're looking for a shooter game that you can confidently include on top of your "shooter" game list, Tacticool is definitely an excellent candidate! So if you're ready for some killer action, feel free to explore Tacticool on BlueStacks and let the epic military battle begins!