Game Guides
BlueStacks' Beginners Guide to Playing Valor Legends: Eternity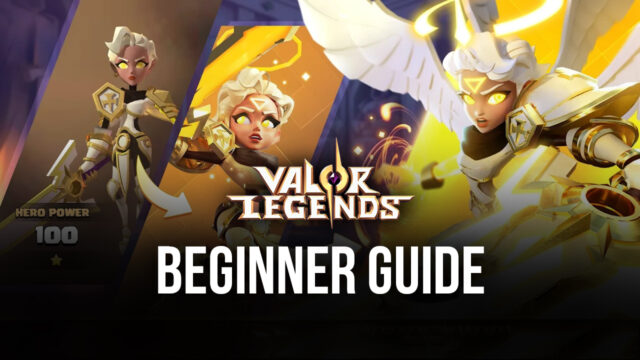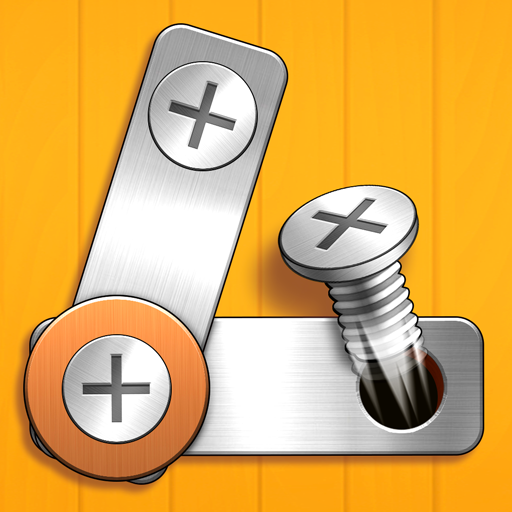 Beginners often find games like Valor Legends: Eternity overly complicated with all of the features that they need to learn about in addition to the numerous hardware limitations. This combination can really put off players that want to try everything out at once. Having very little understanding of why these are placed can lead to a player's dissatisfaction of what the game has to offer. By introducing all of the important elements at the start, you'll be able to have a better expectation of what the game will be giving you.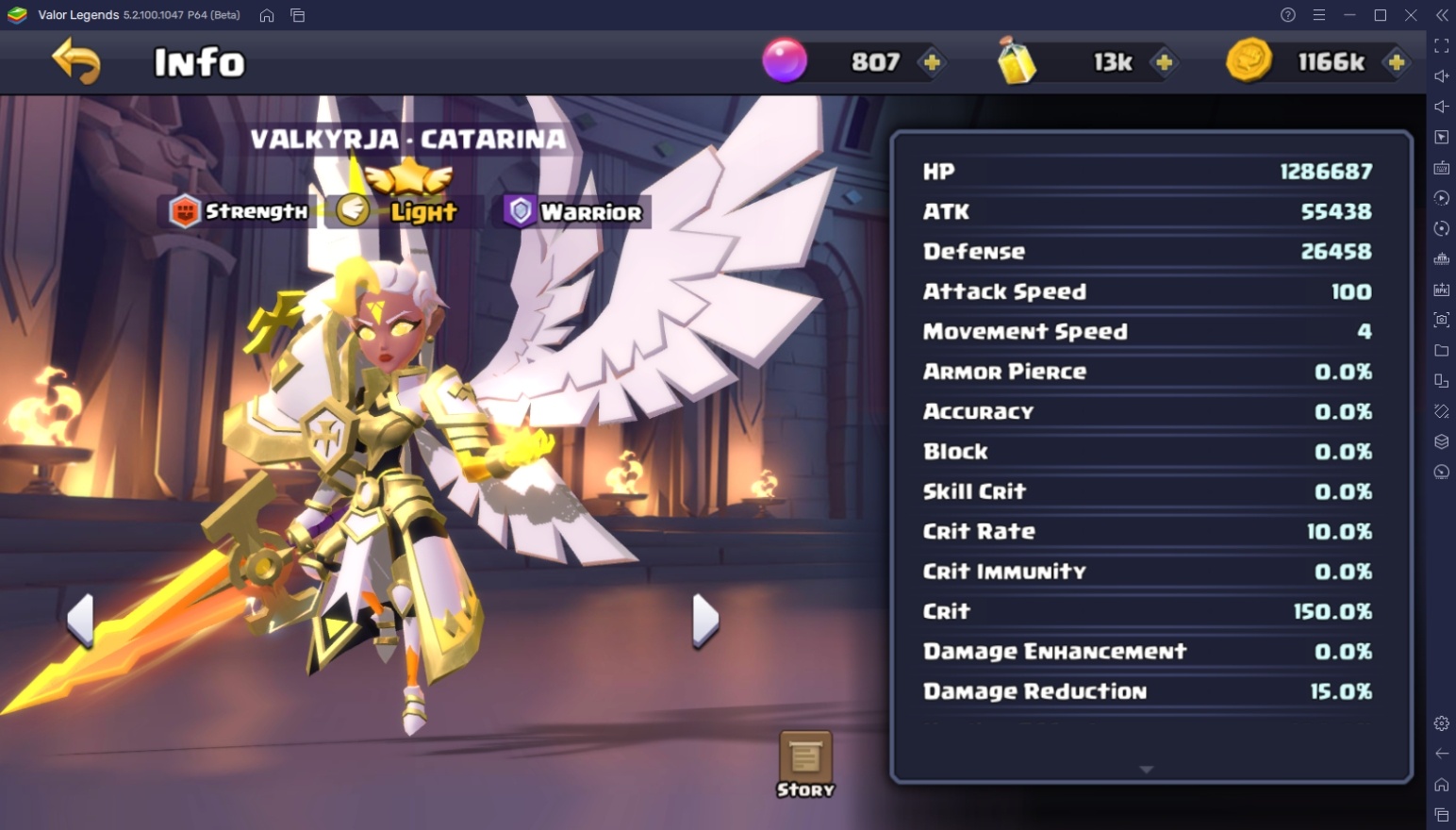 Idle RPGs like Valor Legends: Eternity have evolved to cater to all types of players, not just those who like to watch on their screens. Many additional game modes and features have been added for the sake of giving players more content so that they'll stick around for longer when playing the game. The problem with this is that players don't know what these game modes do or if they even need to do it, so they end up getting a slow start. This beginner's guide will try to shed more light on the game's fundamentals.
Collecting Heroes
Collecting heroes is one of the primary objectives in the game as they are the one aspect that heavily influences how you will play it. The game has three types of heroes, which are Legendary, Epic, and Common heroes, but players can promote these units to a higher status by means of Awakening. Players can get new heroes by going to the Summon Circle and spending tomes or gems. Heroes can also be acquired by assembling Hero Fragments that can be found in the inventory.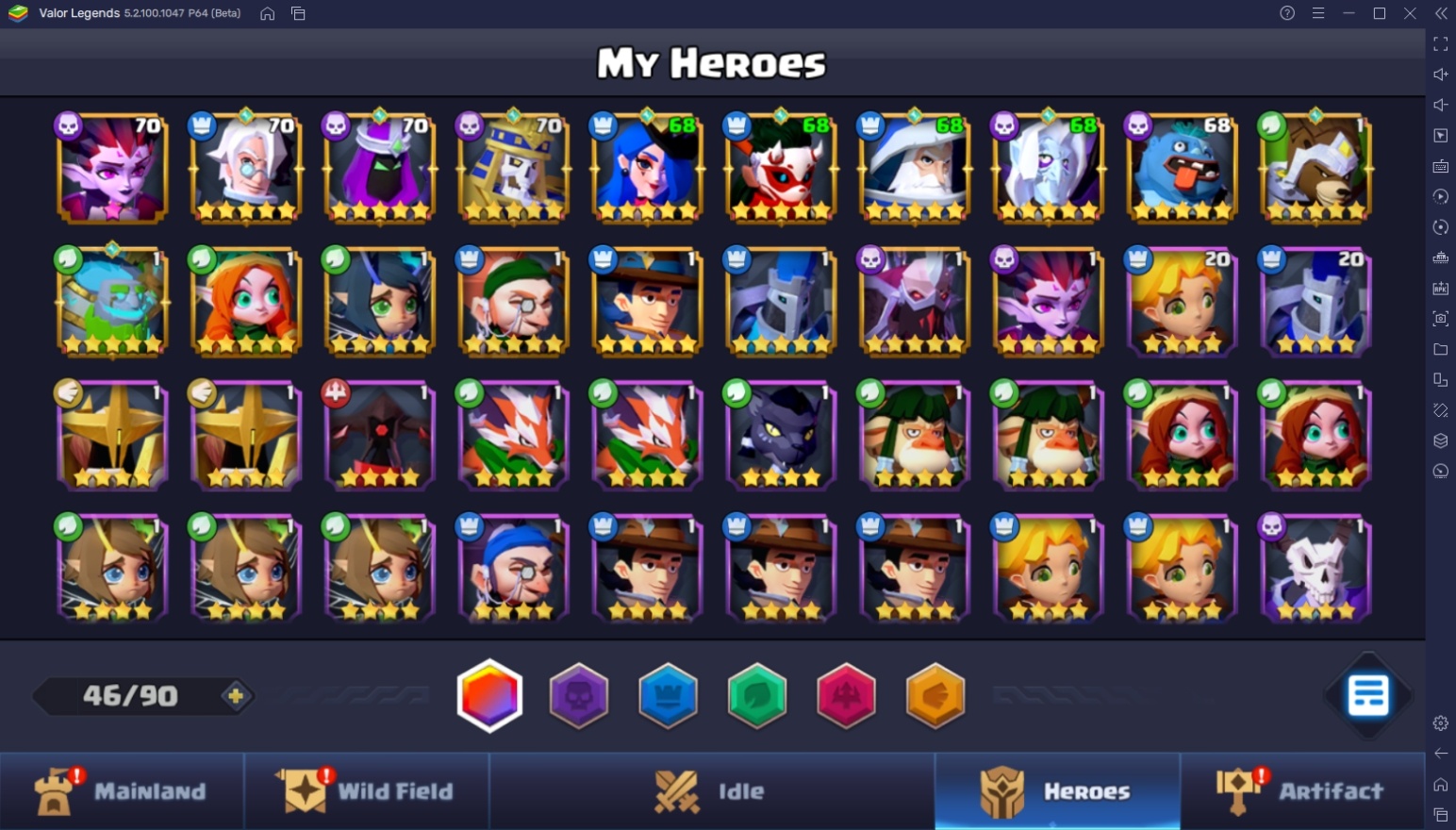 Heroes each have unique characteristics such as class (warrior, assassin, mage, priest) and faction (forest, legion, undead, light, shadow), which makes each one unique, but we'll dive deeper into that in a later article. Heroes can also be upgraded so that they'll prove to be more efficient in battle. Understanding how heroes work is essential to creating a perfect team and beating the game. With so many characters to collect, you'll be playing this game for a while before being able to use all of them.
Campaign Progression
The game's main campaign is the centerpiece of content that the game has to offer. It affects every part of the game and is necessary for the player to become better at playing and collect more rewards that will help them along the way. To progress through the campaign, players will need to clear stages separated into levels. Every five levels will upgrade the player's Idle Chest rewards so that they'll earn more experience, gold, and loot even if they're not actively playing the game.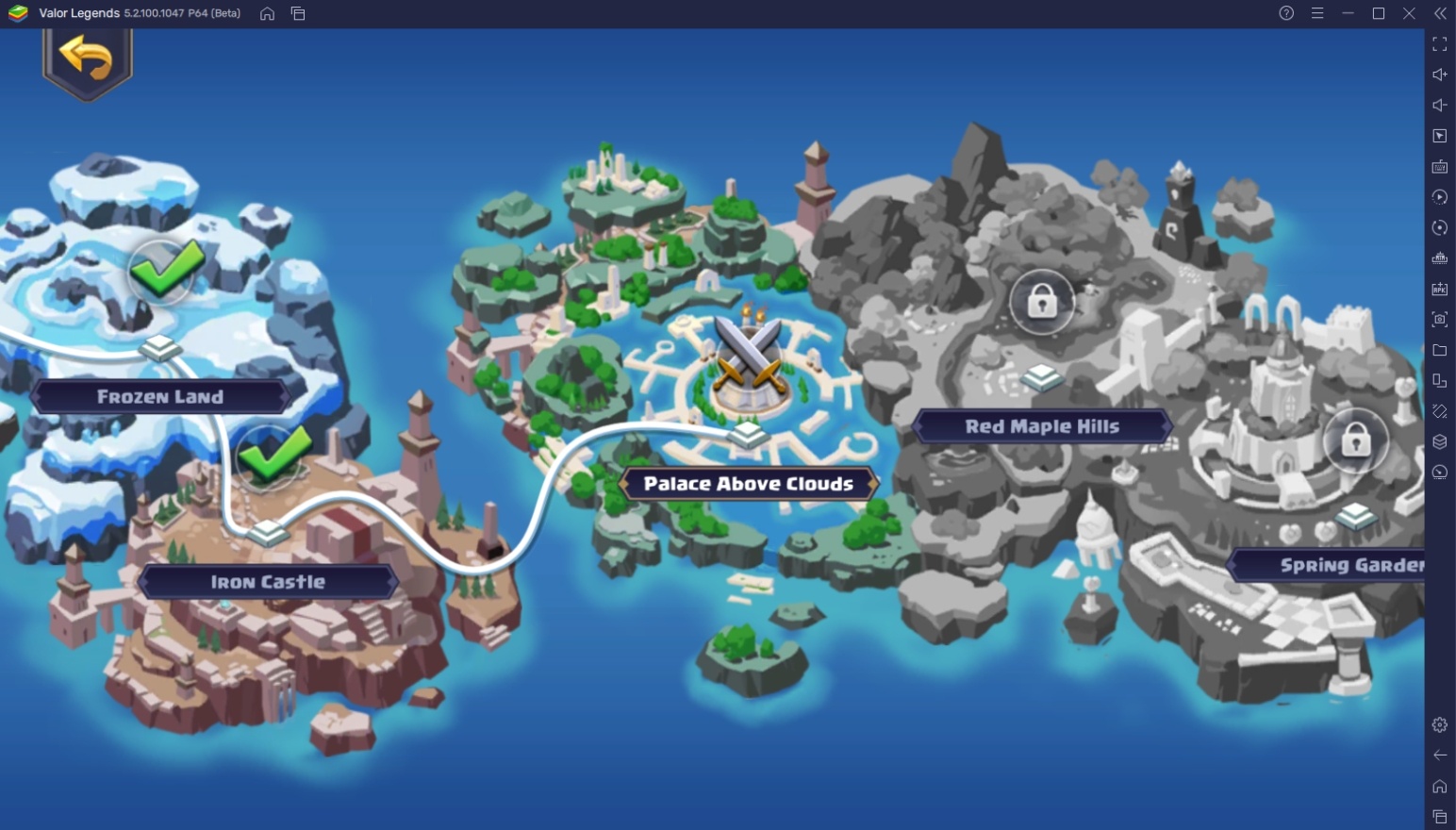 The campaign will unlock different content in the Wild Fields and Main City. Completing as many stages as you can every day should be your top priority as a player so that you'll gain experience faster and build a better team as soon as you can. The level of each stage scales as you go up, so enemies will undoubtedly become more difficult. Players will also occasionally encounter bosses which have increased attack and health to act as a random challenge to spice up your progression.
The Mainland
The Mainland is the place where players can enjoy the non-combat features of the game such as summoning new heroes, purchasing items, and joining a guild. As mentioned before, players will need to complete a certain number of stages in the main campaign to unlock all of the features that you can find in this place. While some features will definitely take a lot longer than others, players shouldn't be discouraged from challenging the main campaign so that they can reap the benefits as soon as possible.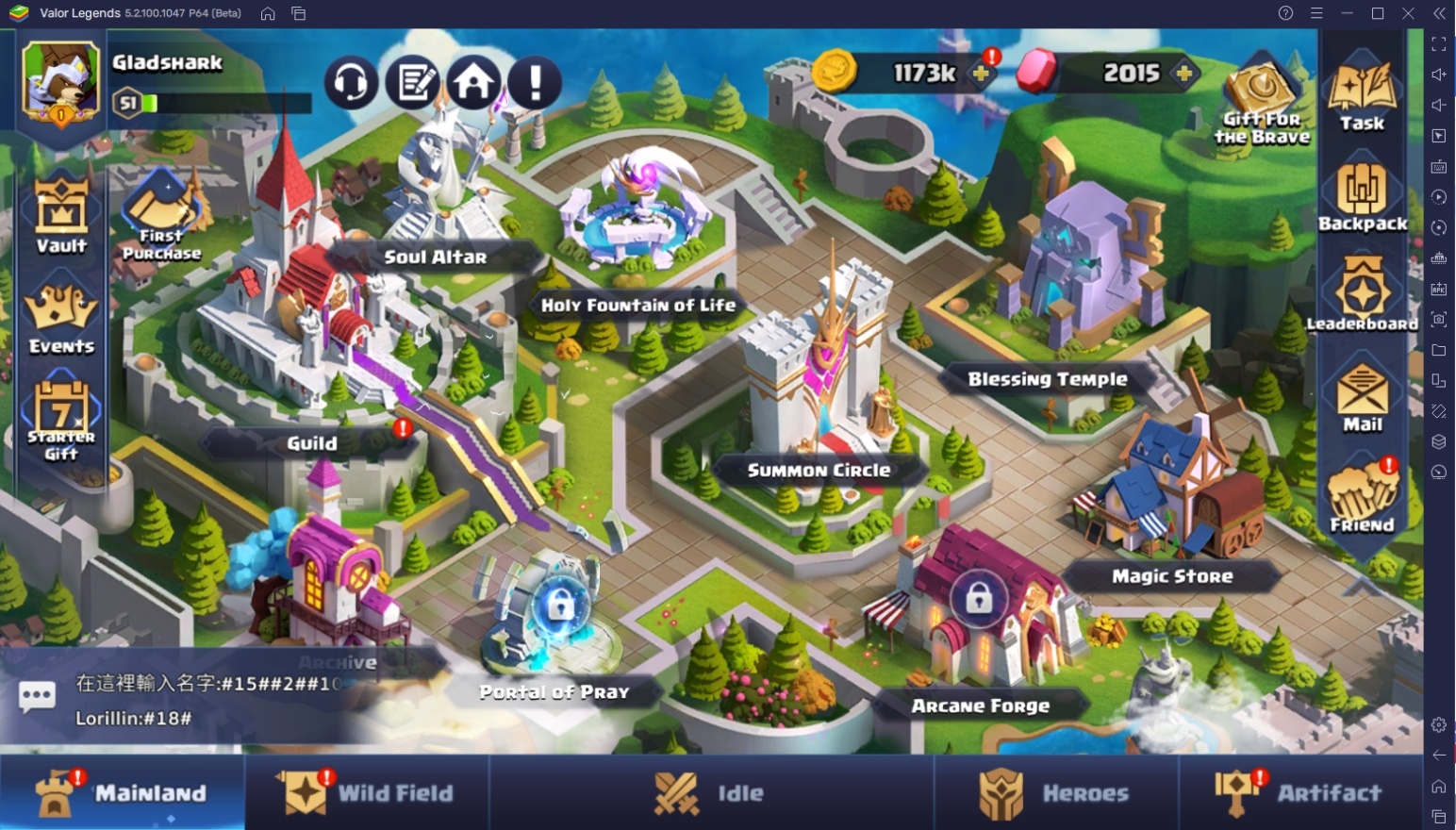 Another feature of the Mainland is that it's the place where players can check their friends list, event notifications, and challenges. It is highly suggested that players try to explore all of the tabs so that they can claim any rewards that might be offered such as the free Daily, Weekly, and Monthly sign-in rewards. Once you've poked around the Mainland, you'll have a deeper understanding of how you can upgrade your heroes and team so that you'll become a better player overall.
The Wild Fields
The Wild Fields is an area where players will see most of the combat-based game modes such as the Endless Trials, Mysterious Realms, and Glory Arena. Again, we'll remind you that it requires unlocking a certain number of stages in the main campaign. Keep in mind that the requirements here are a lot more grueling though since there's a lot of content to be unlocked here before you can play all of the game modes to 100%, as the game modes are segmented.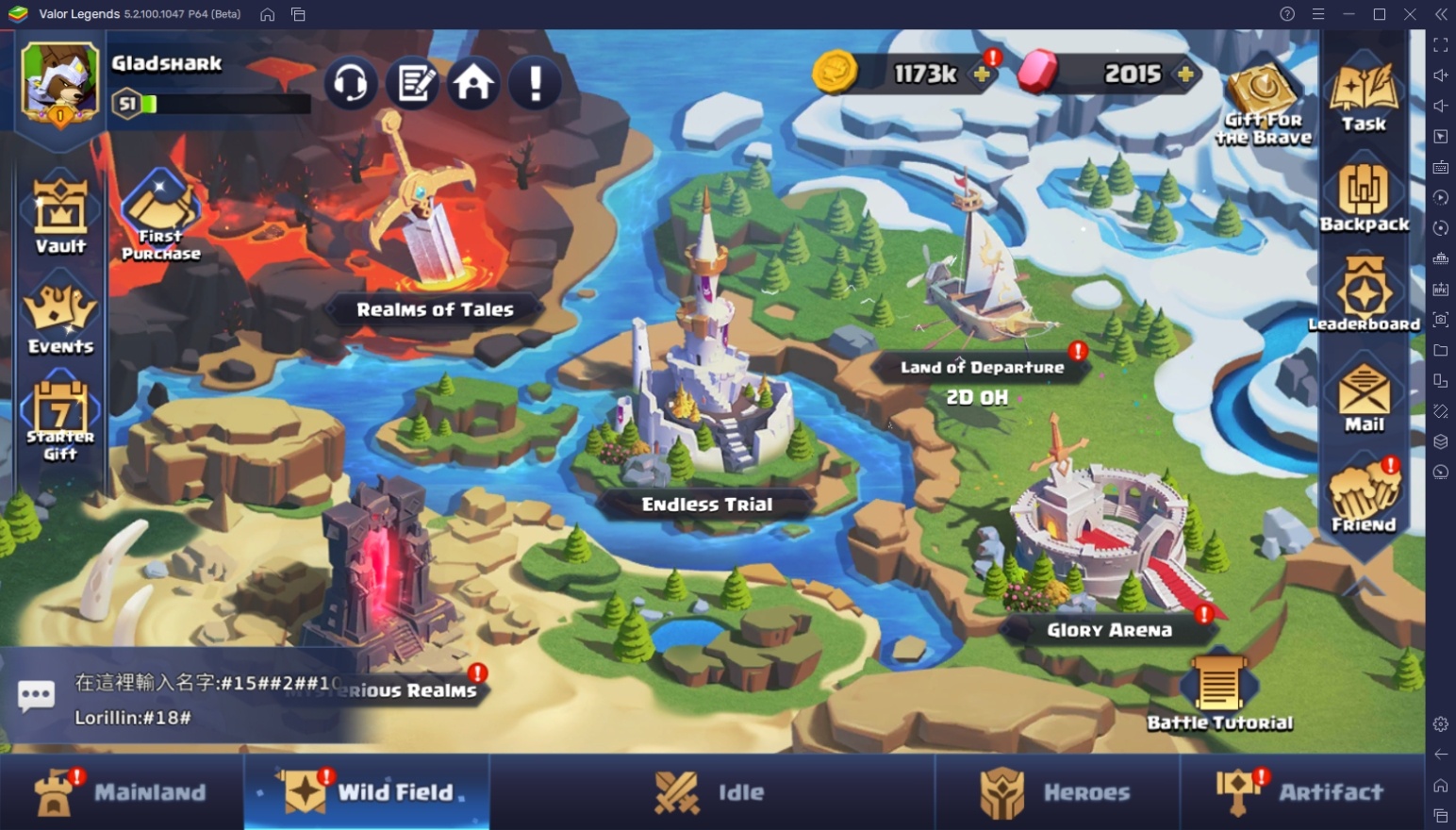 Most of the game modes in The Wild Fields have limited attempts per day. This is because the stages here give the players an abundance of useful rewards such as summoning tomes and gems that can be used to purchase anything under the in-game sun. Players should always aim to exhaust all of their free attempts daily so that they can earn the maximum amount of rewards that they can get every day without missing out on awesome loot.
The Goal
Players have two goals in Valor Legends: Eternity – to become the top player on the server and to clear all of the content the game has to offer. The first goal can be achieved in two ways, which are either by being the number 1 player on the PvP Arena, or having the highest-rated team in the game. Climbing the PvP ladder is the ultimate trial since you'll be facing various players that have dedicated their time to creating the deadliest team that the game allows.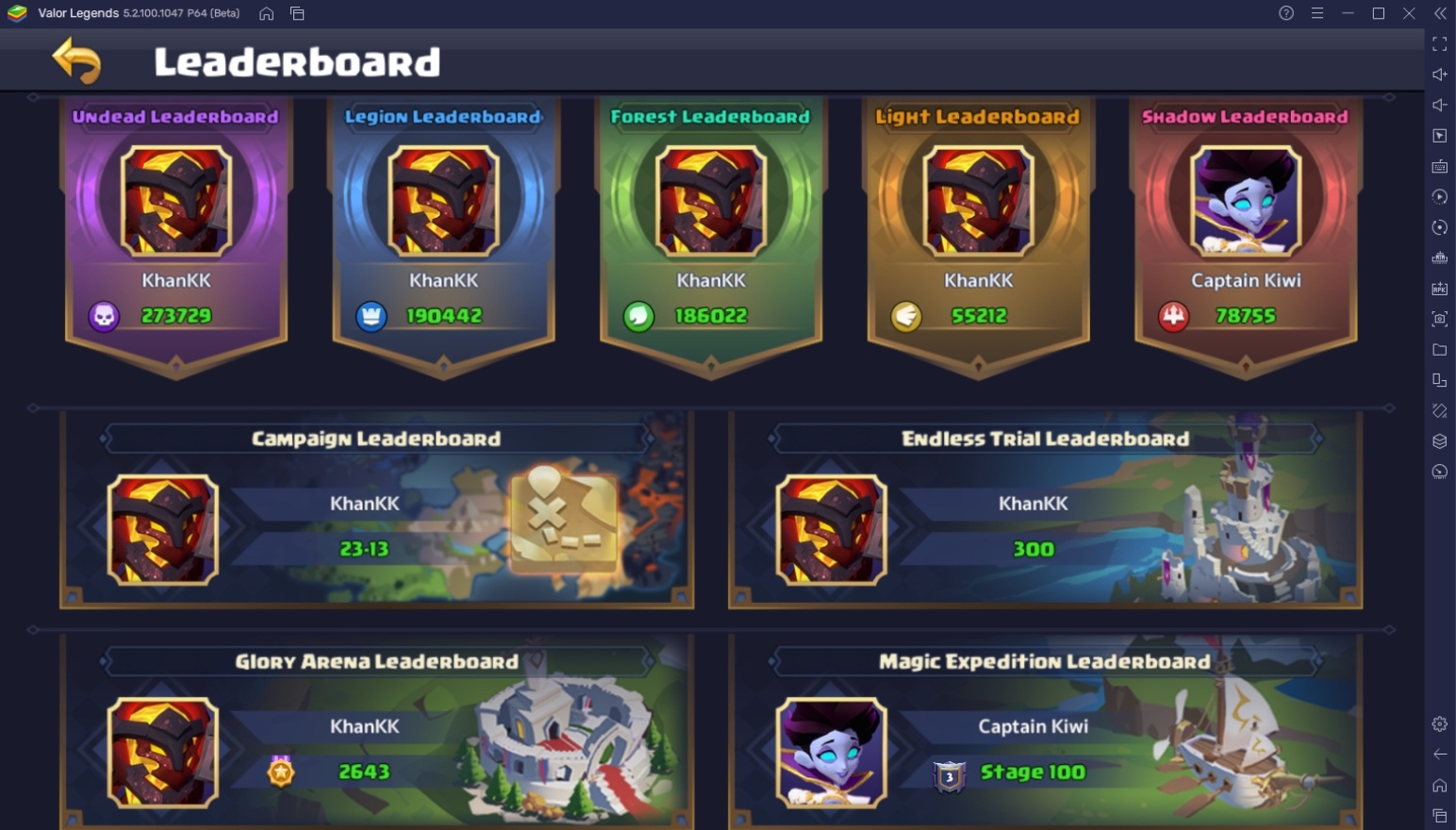 Clearing all of the game's content might prove to be easier, but it'll take a lot of time and effort to do so. Since idle games like Valor Legends: Eternity tend to give players a lot to look forward to, the amount of content that you can accomplish may seem endless, not including the alternate difficulties that come after finishing the first round. Nevertheless, it will feel immensely satisfying for the player once all their work pays off in the end.