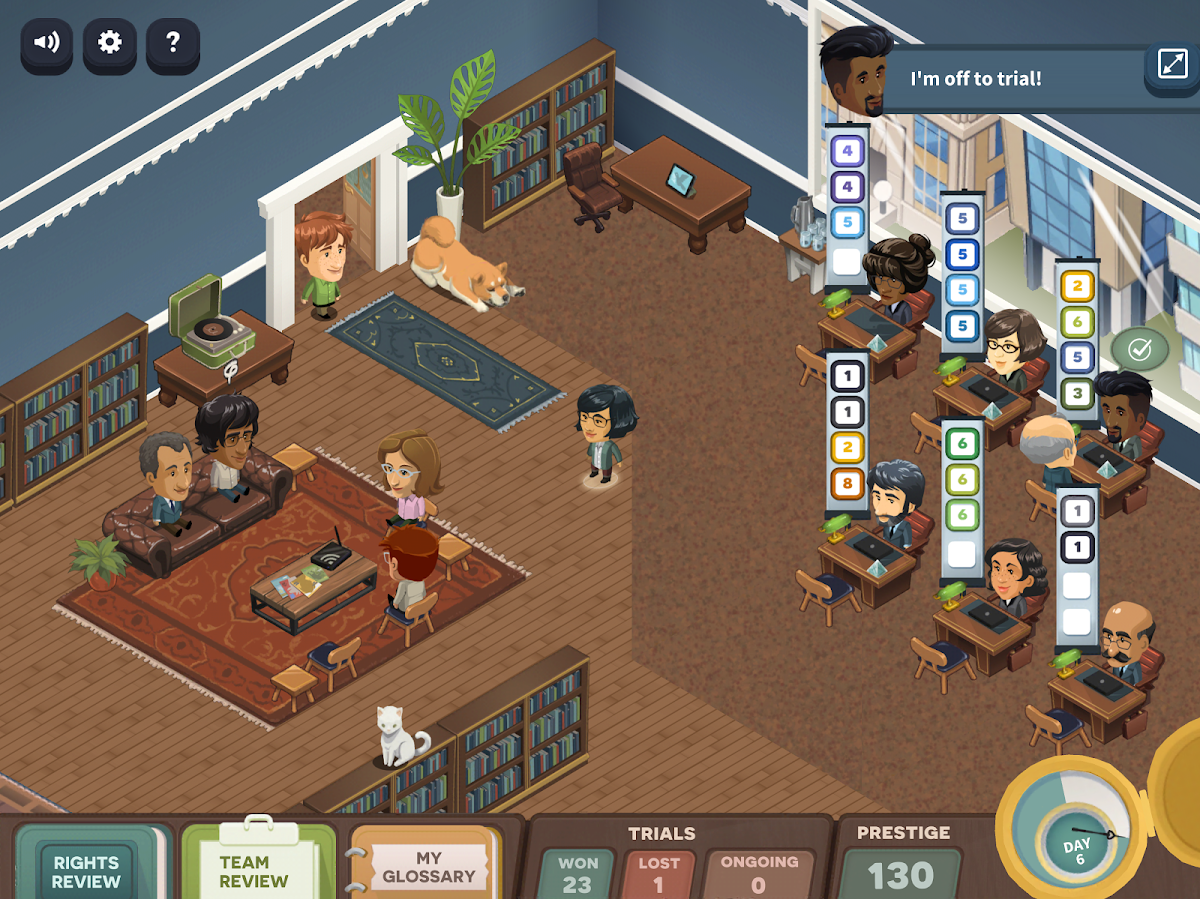 Do I Have a Right?
Juega en PC con BlueStacks: la plataforma de juegos Android, en la que confían más de 500 millones de jugadores.
Última actualización 25 de octubre de 2017
Características del juego
Decide if potential clients have a right, match them with the best lawyer, and win the case. The more clients you serve and the more cases you win, the faster your law firm grows!

iCivics has given their most popular game a complete makeover, blending the original game with the Bill of Rights Edition in one app.

This NEW and IMPROVED version of Do I Have A Right? includes the following features:
- Refreshed content, art, and game mechanics
- Greater customization options for your avatar and law firm
- New support features: illustrated amendments, glossary, and voice over
- Legal Eagle Case Analyzer
- Spanish translation

Sign up for an iCivics account to earn Impact Points and game-based achievements!

Teachers: Check out our classroom resources for Do I Have a Right?. Just visit www.icivics.org!

Learning Objectives: Your students will ...
- Identify rights guaranteed by the Bill of Rights and the 13th, 14th, 15th, 19th, and 26th Amendments.
- Recall the specific amendment that guarantees a particular right.
- Recognize complaints not involving constitutional rights.

Grow your law firm by successfully defending the constitutional rights of your clients.
You'll earn perks like:
-More lawyers to handle more cases
-A coffee machine for extra pep
-Waiting room upgrades for impatient clients
-Ads to drive more clients to your office
Juega Do I Have a Right? en la PC. Es fácil comenzar.
Descargue e instale BlueStacks en su PC

Complete el inicio de sesión de Google para acceder a Play Store, o hágalo más tarde

Busque Do I Have a Right? en la barra de búsqueda en la esquina superior derecha

Haga clic para instalar Do I Have a Right? desde los resultados de búsqueda

Complete el inicio de sesión de Google (si omitió el paso 2) para instalar Do I Have a Right?

Haz clic en el ícono Do I Have a Right? en la pantalla de inicio para comenzar a jugar