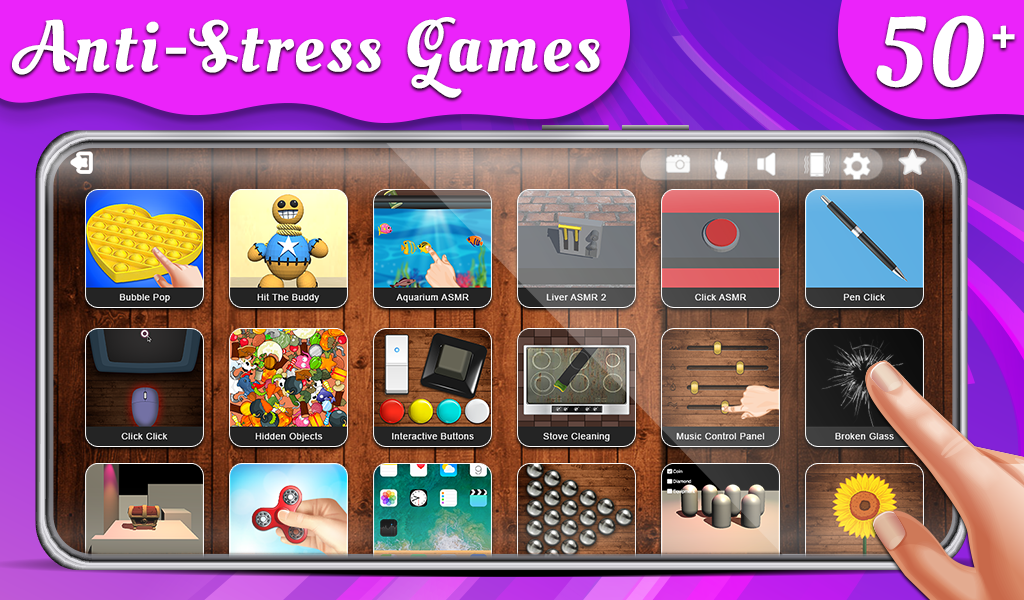 Fidget cube 3D: Antistress toy relaxing games
Casual
Fashion Doll Makeup Games
Juega en PC con BlueStacks: la plataforma de juegos Android, en la que confían más de 500 millones de jugadores.
Última actualización 15 de febrero de 2021
Características del juego
Stressed out ? Searching for some stress free mini games? Click the most anticipated stress free toys calming game and produce ASMR sensation in you. Stress has become the norm of the daily life and everyone is rushing to complete their task on time which may enhance their stress but fun games may help you in this regard. Get rid of your stress and try this 3D toys calming games which will drive you out from this stress world and will produce asmr sesnsation in you. According to psychological point of you gadgets like 3D fidget toys including 3D fidget cube are the best way to release your stress but to carrying them all around might not be possible however this problem can be easily solved by this stress free toys relaxing games that contain all the gadgets including 3D fidget cube in a single game. Play the fidget cube or use the fidget spinner choice is all yours Just tap the screen and get the real amusement in just one click. This anti stress game will not only help you to anti-stress yourself but also give you the real fun and will develop ASMR sensation in you . Enroll yourself in the best fidget toys 3D calming games and calm yourself.

This fidget toys 3D games contains a bunch of mini games of antistress that will release you stress in minimum time. Have a look below on stress free relaxing games
💡 Fidget spinner
💡 3D fidget cube
💡 Bubble wrap
💡 melodious sounds fidget toys relaxing games
💡 Stone assembling calming games
💡 Pen clicking anti stress games specially for busy fingers and much more...

How to play 🤔 ?
Hit the install button on the right and get the most anticipated antistress toys relaxing games on your mobile .Enjoy the best antistress toys calming games on your phone.
🧠 3D fidget spinner is just amazing .Get the realistic feel of having 3D fidget spinner by tapping the screen and spinning it.
🧠 Mobile movement will be more fun in ball movement but you can also click the screen for ball movement.
🧠 Click the Screen for ball wrap
🧠 Music gives a relaxing feel to you and harmonize your feeling listen to melodious voice in and relax yourself .
Juega Fidget cube 3D: Antistress toy relaxing games en la PC. Es fácil comenzar.
Descargue e instale BlueStacks en su PC

Complete el inicio de sesión de Google para acceder a Play Store, o hágalo más tarde

Busque Fidget cube 3D: Antistress toy relaxing games en la barra de búsqueda en la esquina superior derecha

Haga clic para instalar Fidget cube 3D: Antistress toy relaxing games desde los resultados de búsqueda

Complete el inicio de sesión de Google (si omitió el paso 2) para instalar Fidget cube 3D: Antistress toy relaxing games

Haz clic en el ícono Fidget cube 3D: Antistress toy relaxing games en la pantalla de inicio para comenzar a jugar