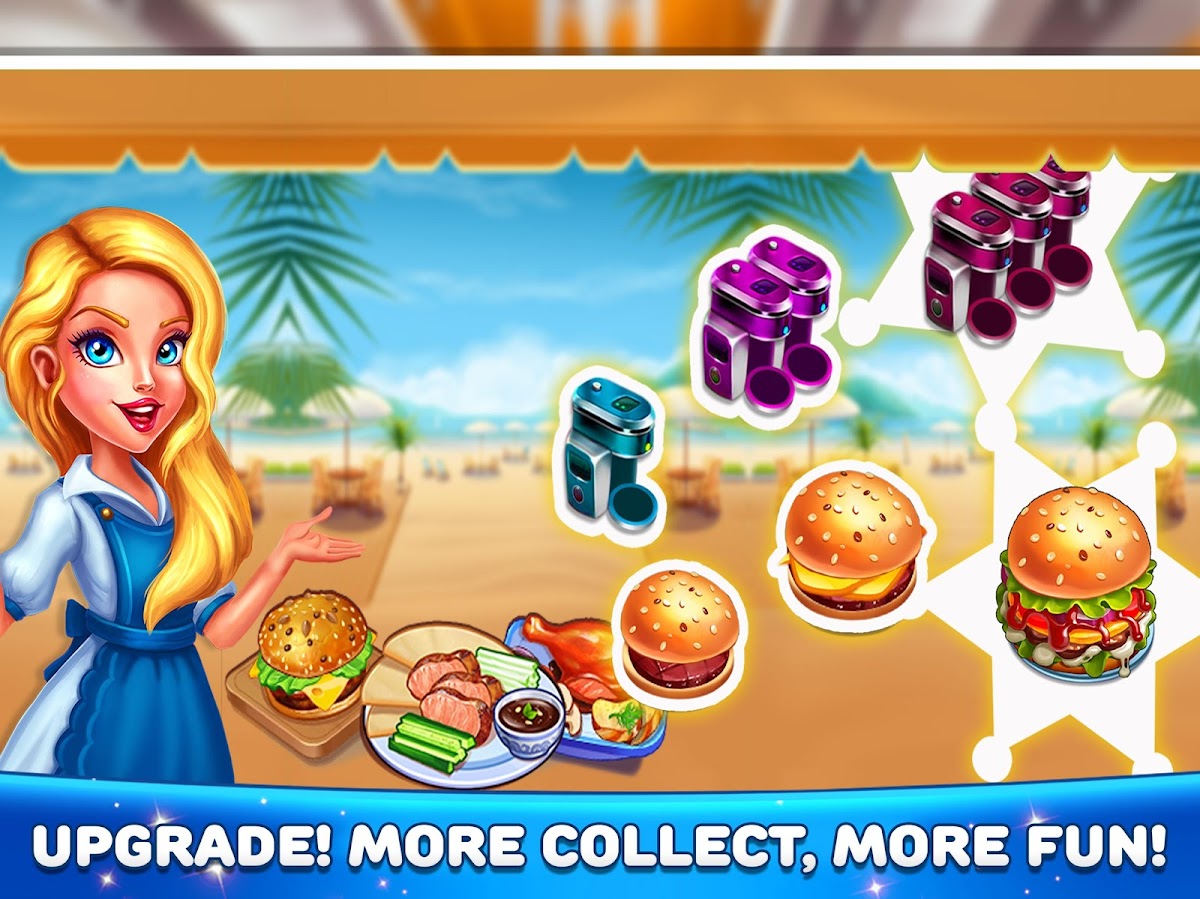 Tasty Cooking: Craze Restaurant Chef Cooking Games
Santai
Futoo Family Casual Games
Mainkan di PC dengan BlueStacks – platform Game-Game Android, dipercaya oleh lebih dari 500 juta gamer.
Pembaruan Terakhir 5 Mei 2020
Fitur-Fitur Game
Master‌ ‌chef‌ ‌is‌ ‌the‌ ‌newest‌ ‌sensation‌ ‌kitchen game‌s which will give you an opportunity of ‌becoming‌ ‌a‌ Best ‌Chef‌ in fun cooking games. You can put together exquisite food recipes ‌everyone‌ ‌will‌ ‌be‌ ‌crazy‌ ‌for in our top and unique restaurant games.‌ ‌But‌ ‌to‌ ‌reach‌ ‌that‌ ‌level‌ ‌you‌ ‌will‌ ‌have‌ ‌to‌ work hard in your crazy kitchen using delectable ingredients and experience the true craze of cooking games.‌ ‌It is an amazing idle cook time management games in which you work at top notch kitchens using modern equipment like food maker, burger maker, Sandwitch maker, hotdog, donut & many more. Use your secret food recipe to prepare delicious food in the story of restaurant tycoon games. Now you can also enjoy baking games all in one place. It is the top free food diary cooking games for adults in which you can experience the joy of cooking scramble.
‌
Let the cooking adventure begin!
In this new town people are desperately waiting for good‌ ‌restaurants‌ ‌to‌ ‌open in crazy cooking games for girls.‌ ‌Guess‌ ‌what,‌ ‌that‌ ‌calls‌ ‌for‌ ‌a‌ ‌great‌ ‌opportunity‌ ‌to‌ ‌become‌ ‌the‌ ‌Master‌ ‌Chef‌ ‌here‌ ‌and‌ ‌open‌ ‌your‌ ‌top‌ ‌notch‌ ‌restaurant in crazy kitchen games!‌ Pick‌ ‌the‌ ‌style‌ ‌and‌ ‌color‌ ‌of‌ ‌the‌ ‌furniture,‌ ‌art‌ ‌to‌ ‌decorate‌ ‌and‌ ‌everything‌ ‌else in story of restaurant games.‌ If you enjoy kitchen challenges in cafe games and love to play waitress games, dairy cooking & dash games, diner games etc then this surely is the perfect all-in-one for you. Experience joy of cooking simulator with time management games.‌ Use your pizza maker, sandwich maker, burger maker in food maker game to prepare tasty cuisine like hot dog, donut, noodles etc. Open your own cake shop, coffee shop & burger shop. ‌Decorate‌ ‌your‌ kitchen, and play crazy cooking games. This is going to be the top chart cooking scramble restaurant game. This will be the cafe world kitchen game to remember! Experience the fun of fast food games and polish your skills. Experience baking games fun.

Run a successful cafe..
Be the star of chef games and run your restaurant business tycoon. Explore the world cuisines!

It is your calling to become a Master Chef in this restaurant games! Start the time management games now! Travel the world of food games, cook exotic and unique dishes and become a cooking simulator top Chef now in crazy kitchen games! Use your tasty fast food recipe and make people go crazy in restaurant tycoon games.

Features:‌ ‌
🖼️‌DECORATE‌‌ ‌your‌ ‌kitchen‌ ‌using‌ ‌your‌ ‌personal‌ ‌style‌ in craze of cooking
📱‌Play‌ ‌offline‌‌ ‌or‌ ‌online,‌ ‌no‌ ‌internet‌ ‌connection‌ ‌required‌ ‌to‌ ‌play in restaurant game
💸‌Free‌ ‌to‌ ‌play‌‌ ‌forever,‌ ‌no‌ ‌purchase‌ ‌required in crazy cooking games
🌎Prepare‌ ‌recipes‌ ‌from‌ ‌‌around‌ ‌the‌ ‌world in kitchen game
🎉‌ ‌‌Over‌ ‌a‌ ‌THOUSAND‌‌ ‌challengings‌ ‌levels‌ ‌for‌ ‌you in food game
💯‌ ‌Share‌ ‌your‌ ‌scores‌ ‌on‌ ‌‌social‌ ‌media‌‌ ‌and‌ ‌show‌ ‌your‌ ‌friends‌ ‌why‌ ‌you're‌ ‌the‌ ‌greatest‌
🚀‌UPGRADE‌‌ ‌every‌ ‌tool‌ ‌and‌ ‌ingredient in cooking scramble restaurant game

Download now!
This‌ ‌is‌ ‌all‌ ‌going‌ ‌to‌ ‌be‌ ‌a‌ ‌crazy‌ ‌cooking‌ ‌adventure‌ ‌and‌ ‌world‌ ‌exploration‌ ‌in‌ ‌your‌ ‌Master‌ ‌Chef‌ ‌games journey in new cooking games for adults.‌ ‌You‌ ‌won't‌ ‌just‌ ‌polish‌ ‌your‌ ‌cooking‌ ‌skills‌ in time management games ‌but‌ ‌also‌ ‌show‌ ‌off‌ ‌your‌ ‌design‌ story in restaurant!!‌ ‌Get‌ ‌ready‌ ‌to‌ ‌embark‌ ‌on‌ ‌the‌ ‌most‌ ‌fun‌ ‌joy of food making ‌ride in craze of cooking games!!‌ ‌Play the best of cooking simulator kitchen. Everyone will want to know your food recipe in the story of restaurant tycoon games. You will become the super chef of to earn money in resturant idle games. Use your pizza maker, sandwich maker, coffee maker in making food games to prepare tasty cuisine like hot dog, donut, noodles etc. Run your own cake shop, coffee shop and burger shop.
Baca Lebih Sedikit Baca Lebih Banyak
Mainkan Tasty Cooking: Craze Restaurant Chef Cooking Games di PC Mudah saja memulainya.
Unduh dan pasang BlueStacks di PC kamu

Selesaikan proses masuk Google untuk mengakses Playstore atau lakukan nanti

Cari Tasty Cooking: Craze Restaurant Chef Cooking Games di bilah pencarian di pojok kanan atas

Klik untuk menginstal Tasty Cooking: Craze Restaurant Chef Cooking Games dari hasil pencarian

Selesaikan proses masuk Google (jika kamu melewati langkah 2) untuk menginstal Tasty Cooking: Craze Restaurant Chef Cooking Games

Klik ikon Tasty Cooking: Craze Restaurant Chef Cooking Games di layar home untuk membuka gamenya