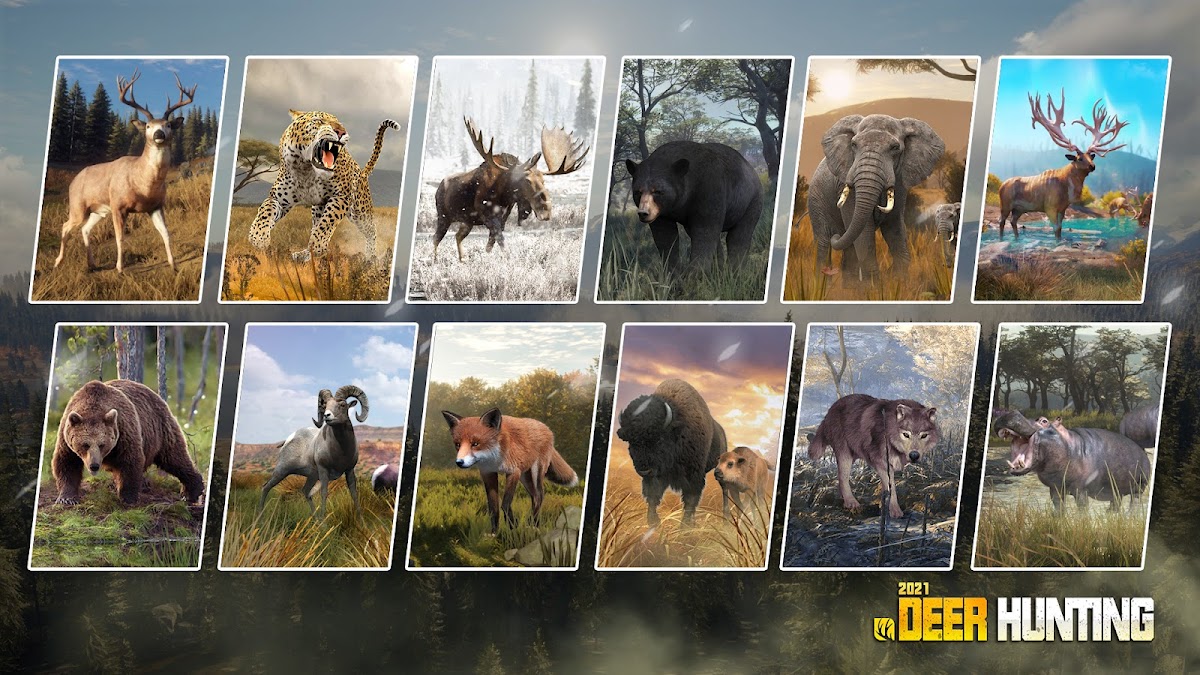 Deer Hunting: 3D shooting game
Gioca su PC con BlueStacks: la piattaforma di gioco Android, considerata affidabile da oltre 500 milioni di giocatori.
Pagina modificata il: 31 dicembre 2021
Caratteristiche del gioco
Deer hunting is a hunting simulator game.
Here, traveling through multiple regions in West America, Northern Europe, and Central Africa, you can embark on an epic journey to hunt the world's most exotic animals! Return to the wilderness in the visually stunning FPS hunting simulator on your smart phone!
Countless elusive animals are hidden all over the world. Can you hunt them? It's Hunting Season - Get Hunting right now!

Shoot like a Pro
In our game, we take you to real hunting locations on all continents. Take up your weapon, Line up your sight & aim at the vital organs, hone your skills in the continuous hunting success, and be a perfect hunter.

Explore a living world
Hunt animals are so real that they nearly jump off the screen! Beware of fierce animals, including bears, wolves, lions, etc! Kill them before they knock you down.

Boost your firepower
Open the arsenal, customize & perfect your weapons. Buy guns with stronger firepower. Upgrade magazines, scopes, butt stocks, barrels and more! Improve your hunting level! Whether you like classic rifles or shotguns, we can meet your needs. Keep upgrading and you will become the top hunter in the hunting ground!

Improve hunting skills
In the face of ferocious beasts, it may be necessary to hit its lungs or even its heart to successfully kill them. Otherwise, they will run towards you at full speed, trying to eat you.

Pick up legendary treasures
There are not only deer, sika deer, pronghorn, moose, antelope, argali, brown bear, black bear, lion, buffalo, wild boar, wolf, elephant, snow wolf and other conventional animals. In particular, there are some legendary creatures waiting for your hunt, don't forget to check out the amazing treasures dropped by legendary creatures.

Zoom realistic 3D target
Deer Hunting differs from all other action shooting games in its attractive 3D graphics. Observe the hunted animals up close through the weapon scope, aim and carefully pull the trigger! Watch the bullet fly in slow motion, go through the bushes and hit the target-the bullseye!

Interested in the ultimate hunt?
Do you want to visit a new cool hunting ground and realistic wild animals?
Do you dream of trying different hunting game modes, such as free hunting, sports hunting activities?
Want to learn how to load a gun, upgrade bow and arrow rifle, shoot wolf, deer or any other hunter games?
What are you waiting for? Download and play this 3D shooting game for free right now. Have fun with your friends and family members!
Gioca Deer Hunting: 3D shooting game su PC. È facile iniziare.
Scarica e installa BlueStacks sul tuo PC

Completa l'accesso a Google per accedere al Play Store o eseguilo in un secondo momento

Cerca Deer Hunting: 3D shooting game nella barra di ricerca nell'angolo in alto a destra

Fai clic per installare Deer Hunting: 3D shooting game dai risultati della ricerca

Completa l'accesso a Google (se hai saltato il passaggio 2) per installare Deer Hunting: 3D shooting game

Fai clic sull'icona Deer Hunting: 3D shooting game nella schermata principale per iniziare a giocare