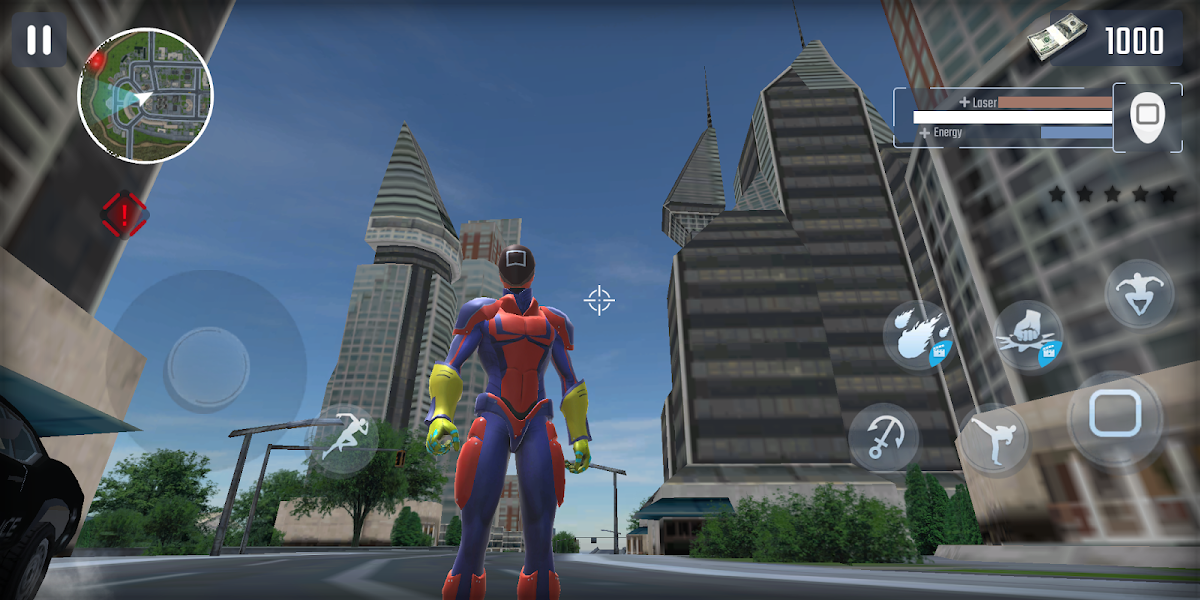 Rope Hero: City Battle
Action | Zego Global Publishing
Gioca su PC con BlueStacks: la piattaforma di gioco Android, considerata affidabile da oltre 500 milioni di giocatori.
Pagina modificata il: 10 dicembre 2021
Caratteristiche del gioco
Rope Hero, City Battle is one of the most popular hero games for all those who love heroes!

Come play Rope Hero, City Battle and enjoy the first-rate, smooth animations as heroes swing freely through the Gangster Crime city like never before.

Rope Hero, City Battle main features

- Rope hero saves the gangster crime city from car snatchers, mafia gangsters, terrorists
- Mafia gangster crime city in detailed environments with different views
- City rope hero adventure in a gangster vegas city to explore the grand crime city
- Rope hero stories, including amazing rope hero
- Rope Hero is a highly futuristic grand city crime
- Amazing Hero jump high to cover the larger distances of rope hero
- Rope Hero stories in the grand crime city
- Mafia gangster overwhelming web in gangster crime city
- Rope Hero game help you unlock more Hero suits to play

Rope hero action combination-fused crime-fighting by shooting webs at bullet firing opponents and punching all your enemies in this cool crime-filled thriller game.

Rope Hero, City Battle gameplay:

- Hero fighting in the gangster crime city with cool music & sounds
- Rope Hero game with nice graphics and beautiful animations of grand crime city
- Stunning rope hero gameplay with a variety of Hero levels
- Superhero with fantastic action thrilled gameplay of Rope Hero
- Rope hero fights against the incredible mutants who are destroying the buildings and offices

Rope Hero, City Battle how to play:

Frog Rope Hero fly in the air using a rope at every point
- Rope hero fight as a savor of your futuristic city not for yourself in a battle zone
- Show your rope hero shooting skills and stop all the villains standing in your way
- City rope heroes defeat enemies and stop their illegal activities from the street grand city
- Mafia gangster using your rope hero building climbing styles
- Grand city makes you run like a rope hero in the Rope Hero game
- In gangster vegas superpower can save the people
- Rope hero combat skills in this alliance battle

The Rope Hero game with rope hero climb because of your flying strategies in this superhero alliance battle and no one can beat you in this grand crime city.

Flying Rope heroes are fighting in your support, you are everyone's hope and they are calling you my amazing rope hero, show some super villain stealthy action for the survival of your futuristic grand city and make it secure.
Gioca Rope Hero: City Battle su PC. È facile iniziare.
Scarica e installa BlueStacks sul tuo PC

Completa l'accesso a Google per accedere al Play Store o eseguilo in un secondo momento

Cerca Rope Hero: City Battle nella barra di ricerca nell'angolo in alto a destra

Fai clic per installare Rope Hero: City Battle dai risultati della ricerca

Completa l'accesso a Google (se hai saltato il passaggio 2) per installare Rope Hero: City Battle

Fai clic sull'icona Rope Hero: City Battle nella schermata principale per iniziare a giocare