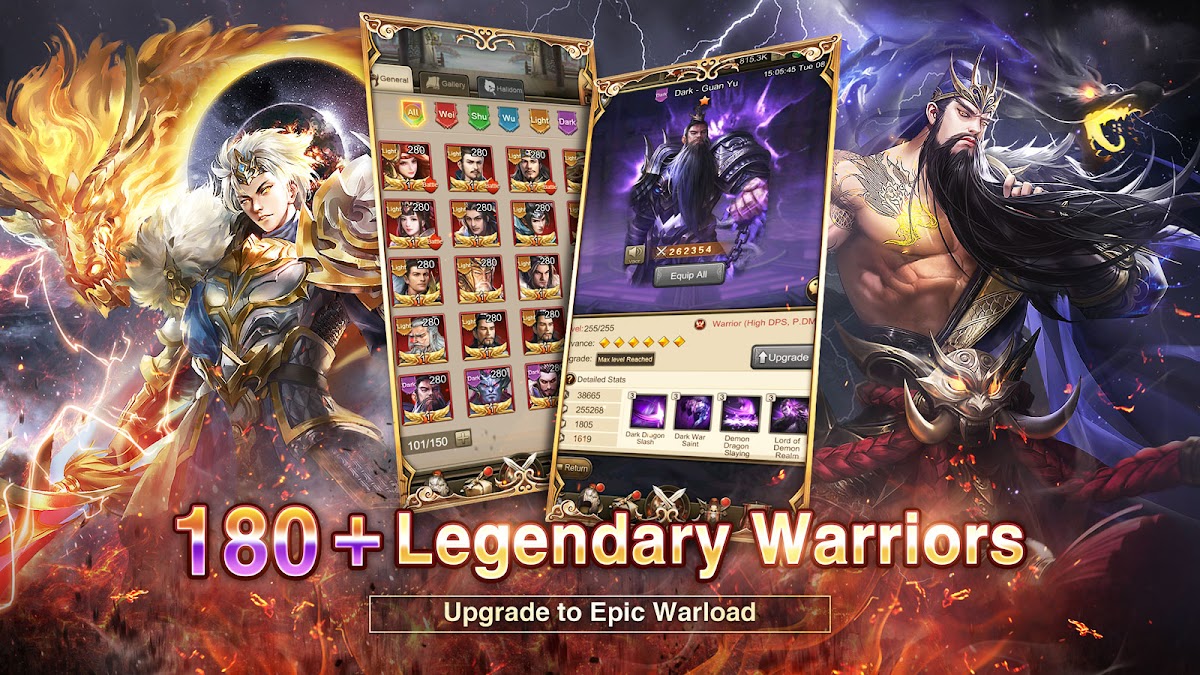 IDLE Warriors:Three Kingdoms
Juega en PC con BlueStacks: la plataforma de juegos Android, en la que confían más de 500 millones de jugadores.
Página modificada el: 14 de octubre de 2021
Características del juego
Facebook : https://www.facebook.com/IdleWarriors

"IDLE WARRIORS: THREE KINGDOMS" is a turned-based RPG with over 10 million downloads worldwide.
Players can enjoy 50 free draws right from the start, assemble renowned Generals into your lineup and build your own unique Three Kingdoms experience. Worried about too much work needed? Not a problem, you can level up even when you're offline, you'll be shocked by the tons of rewards waiting to be claimed on your next login! Each faction has its own distinctive features, and interacts with each other differently, guaranteeing balanced gameplay for all. Plan your strategies, take control over the battlefield!
-------------------------------------------------------------------------------------------------------------------
Diverse Factions, Arrange Lineups Strategically
Each faction has its own unique characteristics, arrange your Generals strategically and discover various lineups that suit your style best. Develop your Generals accordingly, from gears to skills, and from Dragon Souls to Battle Flags, etc. Ready yourself for all types of encounters.

Free 50 Draws, Right from the Get-Go
Claim 50 free draws on Day 1, getting rare Generals just got a lot easier! Daily events, gift packs, Alliance rewards, etc. doubling your progression speed!

Hassle-Free, Non-Stop Progression
Playing in Portrait mode means no extra work for your hands, enjoy intense combat even during bus commute or while on foot. Your progression doesn't stop while you're offline, collect accumulated rewards on your next login, find yourself getting stronger and stronger.

Over 100 Renowned Generals to Choose
Derived from famous Generals during the Three Kingdoms, adds unique and powerful Light & Dark factions, bringing players a refreshing experience. Each general is unique, bearing their own historical features & persona.

Form Alliances, Conquest Together
Build your Alliance, enlist friends to compete against other Alliances, or fend off Alliance Bosses to earn generous rewards. Reinforce your friends with your own powerful Generals, provide aid during their conquest, and get rewarded.
Juega IDLE Warriors:Three Kingdoms en la PC. Es fácil comenzar.
Descargue e instale BlueStacks en su PC

Complete el inicio de sesión de Google para acceder a Play Store, o hágalo más tarde

Busque IDLE Warriors:Three Kingdoms en la barra de búsqueda en la esquina superior derecha

Haga clic para instalar IDLE Warriors:Three Kingdoms desde los resultados de búsqueda

Complete el inicio de sesión de Google (si omitió el paso 2) para instalar IDLE Warriors:Three Kingdoms

Haz clic en el ícono IDLE Warriors:Three Kingdoms en la pantalla de inicio para comenzar a jugar