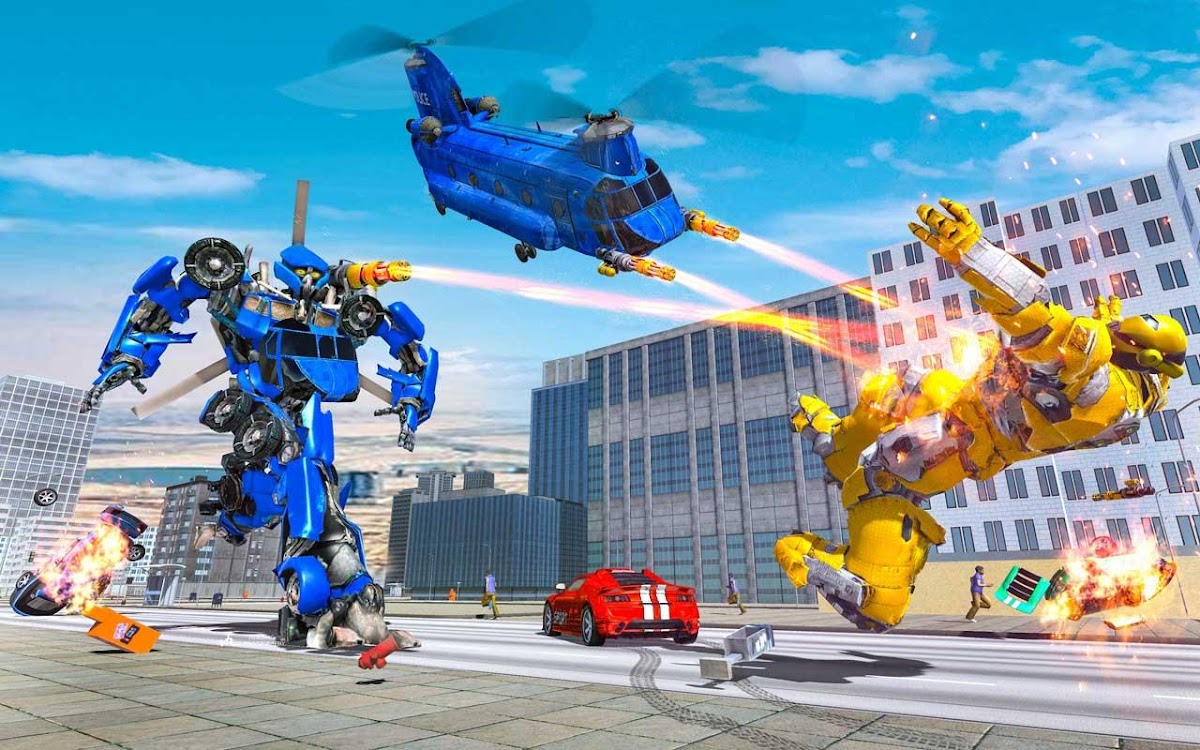 Grand Cargo Helicopter Robot Battle
Juega en PC con BlueStacks: la plataforma de juegos Android, en la que confían más de 500 millones de jugadores.
Página modificada el: 6 de diciembre de 2019
Características del juego
Transform cargo helicopter simulator shows its round of the week Grand Mech shooter Robot battle game: Grand Cargo Helicopter Robot Battle with fun and unique interactivity different from other US military helicopter transformation games or Cargo helicopter Robot action game of future Flying helicopter Transform fighting games where you are an extreme copter robot warrior and mech warrior of Futuristic robot transform games. In future bot fighting people have been replaced by robots in Robot helicopter transformation games played with Cargo helicopter robot shooter games as a helicopter robot in new transformation games 2019. It might be US army robot transformation as found in Grand Robot fighting games of Multi task mech battle 2019 and helicopter fighting games in Transform robot battle games.

We are reliant on helecopter robots and helicopter robot superheroes in Warrior robot transform battle and Robot helicopter simulator games. Countries are occupied with Champion robot shooters of Helicopter transformation robot games so you ought to be prepared for Grand Hero Robot battle simulator Mech fighting games. You will continue changing robot into cargo helicopter as a Multi task helicopter robot fighter or Modern robot hero warrior as a feature of robot helicopter to change robot into helicopter as a robot battling machine in Grand Cargo helicopter game.
Grand Robot hero Helicopter game and Super hero Robot shooting game will prepare you to get master in copter robot game and robot cargo helicopter games to improve your plane robot and flying plane robots to achieve missions of enemy destruction as robot warrior. Grand Cargo Helicopter Robot Battle Game is a stream robot flying robot helicopter game where helicopter robot or Grand Cargo is not at all like any Grand helicopter robot battle game. Most Robot warrior's superhero games are unremarkable yet our changing robots can fly helicopter, crush enemy robots to battle the bots with helicopter robot vehicle in Transform robot games. Your aptitude of air robot games will help you in flying air robots, changing planes, changing robots in Robot war games.
Play the best 3D helicopter robot game to appreciate transforming robot and helicopters to check your shooting aptitudes in the helicopter robot battling game.

FEATURES:
* Fun missions from robot fighting games.
* Smooth helicopter robot controls.
* Smooth controls of mech warrior robots.
* Helicopter transformation animation from best robot games.
* Super sounds & visual effects of flying robots.
* Interesting missions unlike other new robot games.
Juega Grand Cargo Helicopter Robot Battle en la PC. Es fácil comenzar.
Descargue e instale BlueStacks en su PC

Complete el inicio de sesión de Google para acceder a Play Store, o hágalo más tarde

Busque Grand Cargo Helicopter Robot Battle en la barra de búsqueda en la esquina superior derecha

Haga clic para instalar Grand Cargo Helicopter Robot Battle desde los resultados de búsqueda

Complete el inicio de sesión de Google (si omitió el paso 2) para instalar Grand Cargo Helicopter Robot Battle

Haz clic en el ícono Grand Cargo Helicopter Robot Battle en la pantalla de inicio para comenzar a jugar