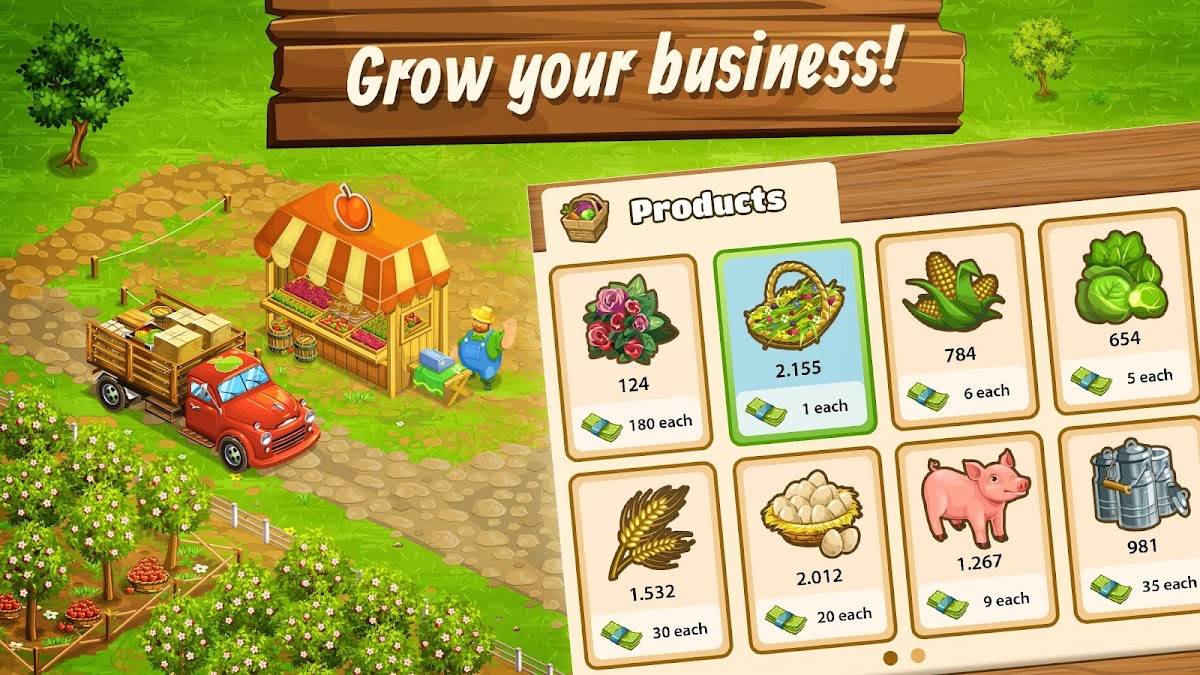 Big Farm: Mobile Harvest – Free Farming Game
Goodgame Studios
최종 업데이트 2020년 1월 20일
5억명 이상의 게이머가 신뢰하는 안드로이드 게임 플랫폼 BlueStacks으로 PC에서 플레이하세요.
이미 BlueStacks를 사용중이시라구요?
지금 열기
게임 특징
Escape to a paradise dream farm solely owned and managed by you in a co-operative farming simulator environment. Join 10M other farmers in the best free online farming game. Plant, harvest, and trade goods in your village farm to help your dream farm thrive! Cultivate hay all day in the farm town, participate in farm fests and grow your farm ville. This ultimate farming game has a modern farming simulator experience in a happy village. Escape your country life to the golden era of middle ages where you are simulated in a free farming business world game.


What is in Big Farm Mobile Harvest - Free Farming Game Online?
KEY FARMING BENEFITS
🍎 HARVEST your favorite tropical fruits, organic vegetables, and flowers in your garden scapes
🏠 BUILD the farm village of your dreams with plenty of vintage buildings, windmills and decorations
✌ JOIN the village community. Meet, chat, discuss and enter joint ventures to complete quests with farmers worldwide
🏭 PRODUCE and harvest organic foods and farm fresh goods all from your own farm village
🌱MANAGE and distribute realistic production cycles, sow seeds, water the plants, hedge in farm marketplace and collect rewards
🐷 TAKE CARE of animals and raise chickens, cows, birds, and pigs. Rear livestock and feed livestock with fodder
🥇 TRADE FARMING PRODUCTS manufactured completely from raw seeds to end consumable crops in farming marketplace

Uncle George's deed will inherit you a large garden landscape farm, a part of his real estate farming business.It is your time to step up your key farming skills and manifest an untended farming field into a flourishing farmland with your fellow villagers. In this casual strategic farming game, you can:
* Plant lentils, vineyards 🍇, fruit orchards 🍌, fresh vegetables 🍆 and several cash crops
* You must use your management skills to optimize farming resources on the farm to gradually build a farming empire
* Strategic skills, multiplying your mind and creativity will allow you to learn and grow as a village tycoon
* Several quests, events and in-games must be won by making alliances with other farmers in the virtual farming world to take better decisions in harvesting
* Players compete for the most decorative farm and happiness among the community farmers living under your command and shelter in village bungalows built with your farm earnings
Are you capable of taking farming decisions?

BUILD YOUR DREAM FARM
Carry your farm in your pocket wherever you go and never miss an opportunity to level up and expand in your favorite free farming game. This online farm game is a unique blend of town building and farming. Decorate your farm or customize your farmhouse. Upgrade your barn, farmhouse, stables, and fields to increase productivity. You can be a farmer and a town builder when you play..

FARM TOGETHER - VILLAGE COMMUNITY
Living in an old farm country is part of a family farm community. Become close friends with all the happy villagers in the world. Become a beloved member of the Big Farm- top farm game community. Join them in cooperatives in which you support each other.

FARM BUILDINGS & FARM ADVENTURES
The harvest year is full of events - follow through the quests of the villagers and let your own farm story unfold. Help the villagers organize a farmland fairy tale festival, solve the mystery of UFO sightings above the farmhouse.

Take your new farm everywhere. The game is completely free to play with optional in-app purchases. You may disable in-app purchasing using your device settings. It requires an internet connection.

Privacy Policy, Terms & Conditions, Imprint:
https://www.goodgamestudios.com/terms_en/
PC에서 Big Farm: Mobile Harvest – Free Farming Game 플레이해보세요.
BlueStacks 다운로드하고 설치

Google Play 스토어에 로그인 하기(나중에 진행가능)

오른쪽 상단 코너에 Big Farm: Mobile Harvest – Free Farming Game 검색

검색 결과 중 Big Farm: Mobile Harvest – Free Farming Game 선택하여 설치

구글 로그인 진행(만약 2단계를 지나갔을 경우) 후 Big Farm: Mobile Harvest – Free Farming Game 설치

메인 홈화면에서 Big Farm: Mobile Harvest – Free Farming Game 선택하여 실행