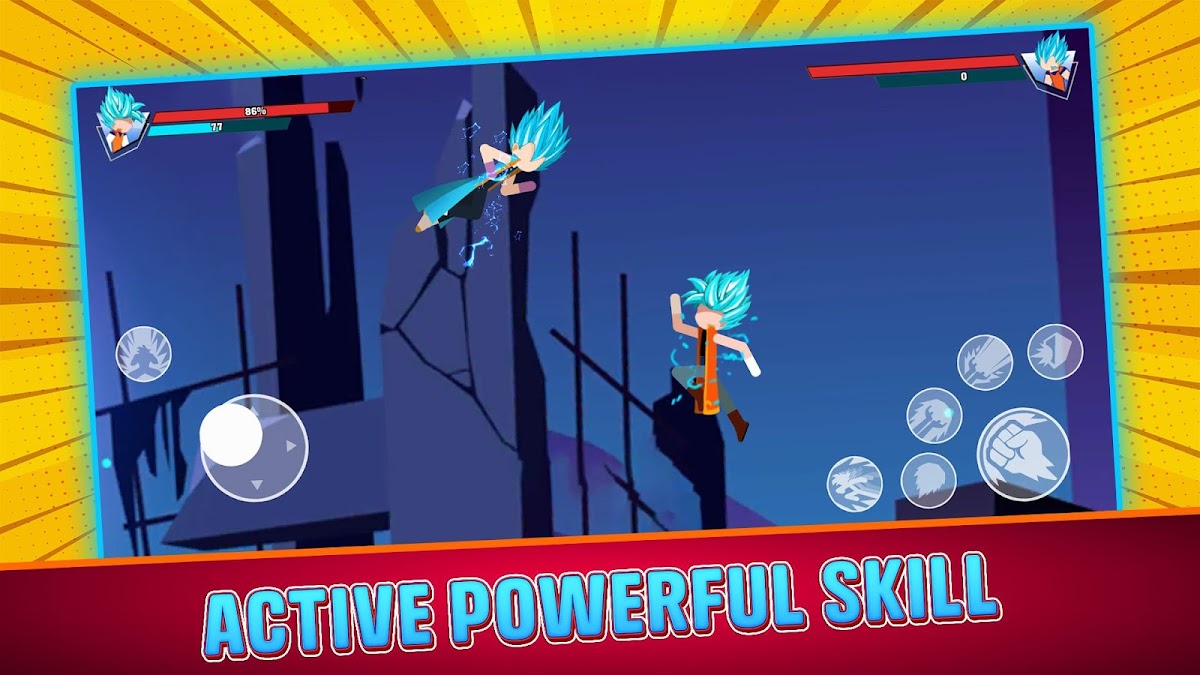 Stick Dragon Fighter: Epic Battle
Gioca su PC con BlueStacks: la piattaforma di gioco Android, considerata affidabile da oltre 500 milioni di giocatori.
Ultimo Aggiornamento 17 ottobre 2020
Caratteristiche del gioco
Stick Dragon Fighter: Epic Battle - is the most anticipated action role-playing game of 2020 on Google Play.

Join Stick Dragon Fighter will give you a chance to become one of heroes to fight z with enemies and protect everybody on earth. NOW. If you like playing role-playing games with Saiyanz characters, this is an extremely great choice with fast processing and great features.

You love the role-playing genre, Stick Dragon Fighter: Epic Battle is a great choice because of the beautiful, smooth graphics and challenging gameplay.

Stick Dragon Fighter is inspired by superhero "Saiyanz Battle Z" that promises to bring exciting battles that you cannot ignore.

Come and feel Stick Dragon Fighter, you will immerse yourself in the character to experience unique skills, epic combos. Win tournaments to become true superheroes.

Enjoy advanced skills like kemeha, energy orb, magic bean and dragon recovery. Have a good time playing our Stick Dragon Fighter.

HOW TO PLAY

Stick Dragon Fighter: Epic Battle uses the most basic joystick ever! In battle you just need to dodge, jump, power up your ki, become a superhero and defeat invaders in shadow.

HIGHLIGHTS

🔥 You must meet and win against extremely powerful opponents.
🔥 Go on the adventure to discover the ultimate power within you. Travel to new lands around the world to compete with other superheroes.
🔥 Various characters, each with special skills.
🔥 Many challenges per level
🔥 Get gold and diamonds after each battle to upgrade your character even more powerful.
🔥 Stick Dragon Fighter has simple and easy to use control panel.
🔥 The reward system in Stick Dragon Fighter is very diverse for you after winning.
🔥 Easy to play, easy to control.
🔥 Awesome skill design and effects.

Download Stick Dragon Fighter: Epic Battle for free today to protect everyone on your earth against invaders in shadow.

If you have any questions, please contact us and do not forget to comment so that we can improve the game in the future.

SUPPORTING INFORMATION:
For support, please contact us: Support@itech-vn.com
Gioca Stick Dragon Fighter: Epic Battle su PC. È facile iniziare.
Scarica e installa BlueStacks sul tuo PC

Completa l'accesso a Google per accedere al Play Store o eseguilo in un secondo momento

Cerca Stick Dragon Fighter: Epic Battle nella barra di ricerca nell'angolo in alto a destra

Fai clic per installare Stick Dragon Fighter: Epic Battle dai risultati della ricerca

Completa l'accesso a Google (se hai saltato il passaggio 2) per installare Stick Dragon Fighter: Epic Battle

Fai clic sull'icona Stick Dragon Fighter: Epic Battle nella schermata principale per iniziare a giocare