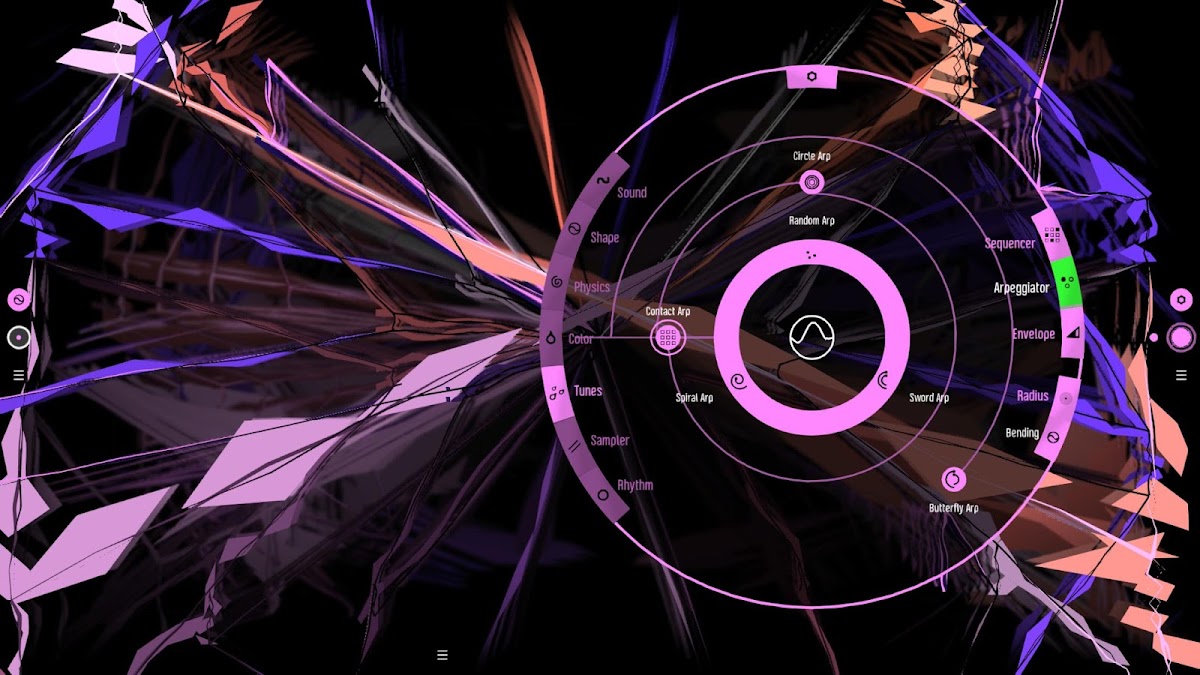 Mazetools Soniface
Música y audio | Ectoplastic UG
Juega en PC con BlueStacks: la plataforma de juegos Android, en la que confían más de 500 millones de jugadores.
Página modificada el: 6 de abril de 2019
Características del juego
SONIFACE is an...
Audio sketchbook, sound canvas, experimenting tool for pro and beginner.

Soniface is powerful in creating ambiences & immersive scenes, variations of harmonies as well as beats & rhythms. The combining of sound & visuals in a music instrument leads to unconventional creative approaches. Soniface is modular, generative and enables acting in process as well as techniques like automation, random & loop recording.

KEY FEATURES
-Multi-touch based grid synthesizer with audiovisual effects (sound synthesis, filters, frequency -modulation, vibrato, tremolo, panning, reverb, ...)
-Drum Machine with Synth / Sample combination and effects (Filter, Echo, Distortion, Chorus)
-Sampler with natural sounds, library and effects (Filter, Echo, Distortion, Chorus)
-Color harmonies (fifth circle after the color piano by Scriabin)
-Mic Recording
-Ableton Link
-In-app Help
+++ FULLVERSION
-Unlimited number of instruments (Mazes)
-Pattern Song mode
-Extended memory functions
-Master Sound Recording
-Maze Motion Recording
-Harmony & sampler sequencer
-Drumpad
-Advanced sampler library

#You like to make a harmony out of geometric shapes?
Explore multi touch & find a way to change colors...

#You like to make a beat?
Focus on the Rhythm Interface - set drums into 3 circles (bass, snare, hi-hat), put filters, distortion or echo...

#You like to make deep soundscapes?
Go to the sampler, check the library or use your microphone to record your voice or environment. Make loops and put sound effects on it, like reverb, echo & chorus...

#OVERLOAD?+-/))
Despite the masses of features, Soniface can be a tool to calm down and transform your mood into something different, something unexpected, it can take you on a journey... a journey into sound spaces of which YOU are the architect!
So keep it slow, minimalistic, and, most importantly, keep yourself comfortable!

#Don't hesitate!
You will get free updates! Therefore it is better to purchase today than tomorrow, if you'd like to support further development. There are masses of amazing features on our TODO list...

COMMENTS
"Complex and well thought out, endless possibilities."
"This is a space age futuristically complex, personal composition, feeling machine of sound vibrations turned into emotions of the soul."
"These people know music as well as sound synthesis. Simply ground breaking…"
"Brilliant innovative strange"
"I am looking forward to seeing how proficient I am with this in 3 or 4 years…"
"In any case it's an interesting app to get lost in for hours…"

ABOUT
The journey started in 2012 and Mazetools became a catalyser for many thoughts and experiments about the combining of geometric visuals, cymatics, color-note connections, sound synthesis, futuristic input methods or projection possibilities...

The release of Mazetools Soniface 1.0 in May 2017 has been made possible through a scholarship from the EU, the german federal state of Saxony-Anhalt, diligent testers, institutions AND of course our mentors, friends and families, who all gave us positive feedback. Thank you very much!

Many enthusiasts are certainly looking for specific pro features. Because we want to be cross platform useable few things still need some time! Currently we're just two guys with families and we are independent (no ba, vc or big company behind). Our story is characterized by passion and you're welcome to support us :)

Stephan Kloss (idea, design & development of Mazetools) and Jakob Gruhl (operative, support, mediator) met in 1999 as teenagers making Hip Hop and electronic music. Now, 20 years later, we have the pleasure to produce and perform with our own tool, what still feels unbelievable. So, enjoy all the demo content we put into Soniface!

CONTACT
Visit our websites Mazetools & Ectoplastic or You're welcome to follow us on Youtube/mazetoolslab and Instagram/mazetools for the latest news and videos.
Juega Mazetools Soniface en la PC. Es fácil comenzar.
Descargue e instale BlueStacks en su PC

Complete el inicio de sesión de Google para acceder a Play Store, o hágalo más tarde

Busque Mazetools Soniface en la barra de búsqueda en la esquina superior derecha

Haga clic para instalar Mazetools Soniface desde los resultados de búsqueda

Complete el inicio de sesión de Google (si omitió el paso 2) para instalar Mazetools Soniface

Haz clic en el ícono Mazetools Soniface en la pantalla de inicio para comenzar a jugar