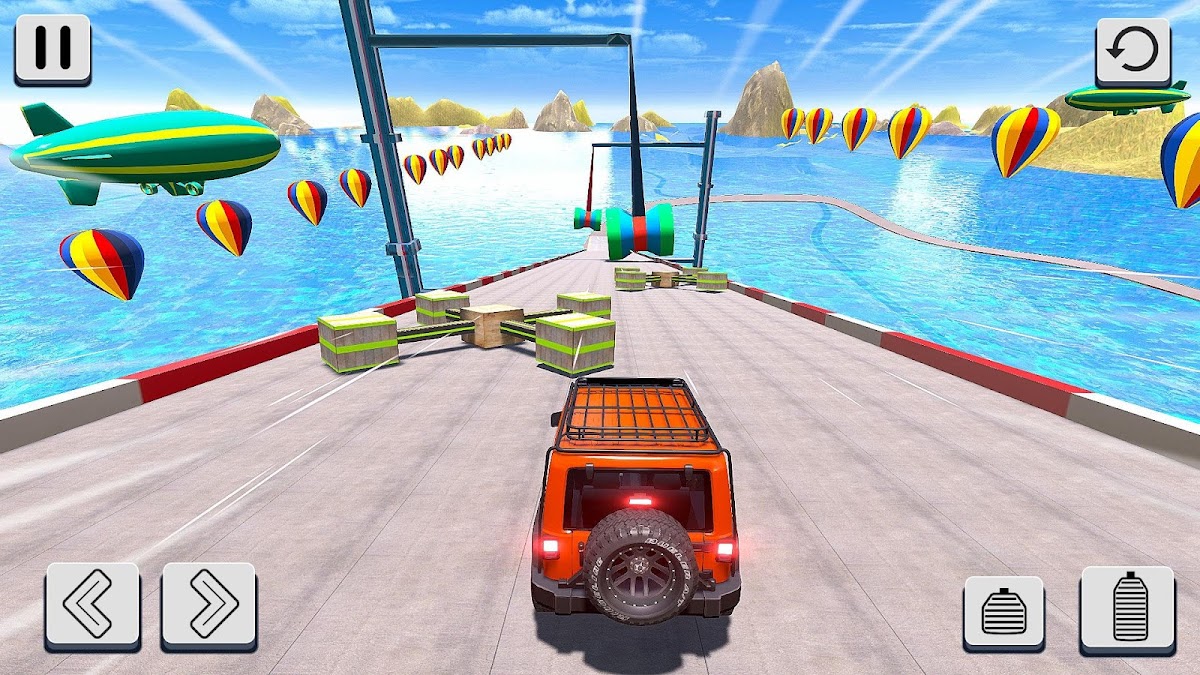 Mega Ramp Car Racing Stunts 3D - Impossible Tracks
Cómics | Mustard Games Studios
Juega en PC con BlueStacks: la plataforma de juegos Android, en la que confían más de 500 millones de jugadores.
Página modificada el: 9 de enero de 2020
Características del juego
Its time to car stunts on mega ramp with your favorite cars like sports, racing, classic and speed cars. Go and enjoy this stunts games on mega ramp car stunts and become master hero driver of this ramp car stunts games. This mega ramp car stunts - impossible tracks car stunts games has addictive and sensational interface where you will perform stunt racing effeciently on mega ramps. Choose your favorite stunt car and race on impossible tracks with proper speed and acceleration. This ramp car stunts: GT racing stunts games is interesting free stunt game where you can perform jump, stunts, race on multiple obstacles and ramps. Complete all missions with extreme car stunts games: impossible tracks in this mega ramp car stunts racing and enjoy the realistic steering and control of this mega ramp stunts car game. Become a champion driver of this master racing stunts in this mega ramp impossible car stunts games to explore the new challenges.
In this free racing and free stunt games with mega ramp, you will drive your auto vehicles on twists and curvy tracks. All missions of this mega ramp car stunts racing games will be interesting and challenging. Show your interest in this ramp car stunts impossible tracks 3d racing and become top speed driver scorer of this mega ramp car. This vertical mega ramp game: car stunts racing free is creative simulation where you have to accomplish missions with crazy stunts car: extreme gt racing.
Drive different monster truck and stunts car on mega ramp in this impossible car stunts games. Start mega stunts games on impossible tracks monster truck stunts racing game.
Features of ramp car stunts: extreme Gt car racing:
- Open vertical and horizontal ramps
- Large environments and multiple looks
- Different car selection options like monster trucks and sports racing cars
- Interesting levels and missions of extreme car stunts: Gt crazy car driving
- Speed control options and different signboards to control the accelerations
- WInning rewards and much more.
Download and enjoy this ramp car stunts: extreme gt racing.
Juega Mega Ramp Car Racing Stunts 3D - Impossible Tracks en la PC. Es fácil comenzar.
Descargue e instale BlueStacks en su PC

Complete el inicio de sesión de Google para acceder a Play Store, o hágalo más tarde

Busque Mega Ramp Car Racing Stunts 3D - Impossible Tracks en la barra de búsqueda en la esquina superior derecha

Haga clic para instalar Mega Ramp Car Racing Stunts 3D - Impossible Tracks desde los resultados de búsqueda

Complete el inicio de sesión de Google (si omitió el paso 2) para instalar Mega Ramp Car Racing Stunts 3D - Impossible Tracks

Haz clic en el ícono Mega Ramp Car Racing Stunts 3D - Impossible Tracks en la pantalla de inicio para comenzar a jugar