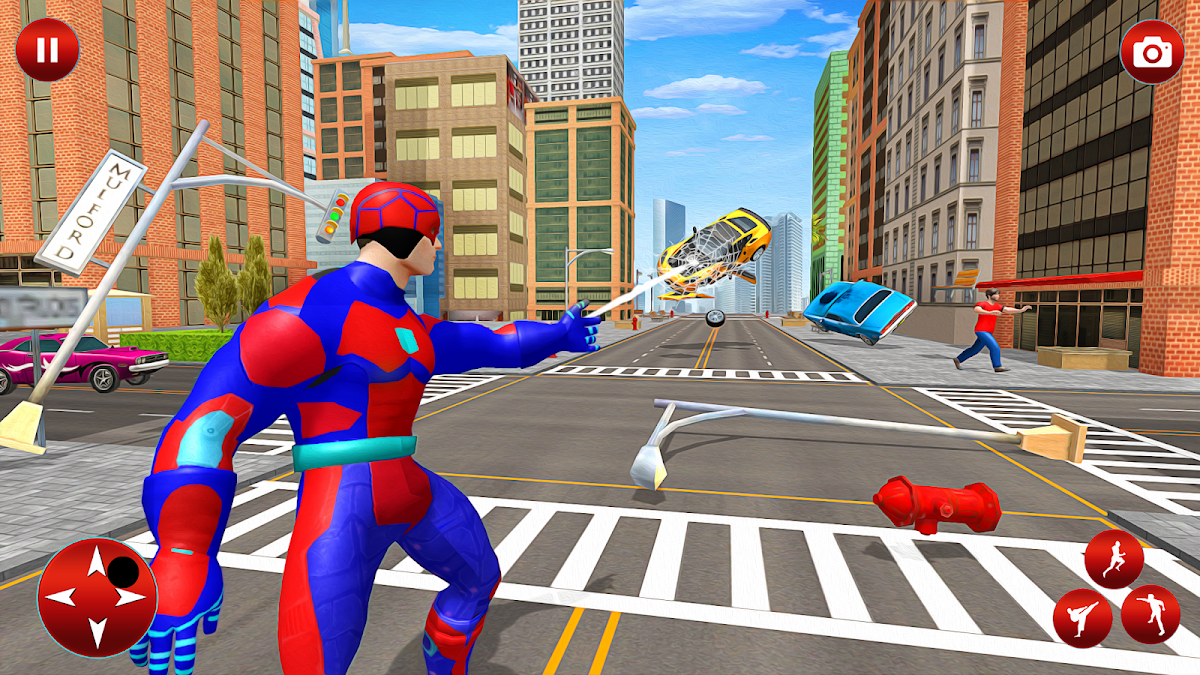 Light Superhero Police Robot Rescue Mission
Juega en PC con BlueStacks: la plataforma de juegos Android, en la que confían más de 500 millones de jugadores.
Última actualización 30 de julio de 2020
Características del juego
Police light robot is famous for its sympathetic nature and now all responsibilities of superhero rescue games are on your shoulders. Take the role of superhero police robot and start helping the troubled people and animals of rescue robot games. Change your reputation of speed hero robot games and move as flying rope hero which has soft corner for all living beings. Help people who are in need of you by bridling the light speed robot in desired fashion. You have open access of super power robot which is more powerful in all areas than light robot police hero.

There are long rows of human and animal missions in animal robot rescue which you have to carry out by moving as speed rope hero. You have genuine openings under your belt during this rope hero rescue which you have to undertake as is the case in ultimate robot hero. Your robot hero is well versed in all required areas and it assists you more than robot transformation hero. The robot hero leaves all superheroes far behind in many ways and us robot hero and police rope hero are comparing to nothing before the super special and high dignified powers of your robot.

Initiate police speed hero and use your running robot hero to perform all the rescue missions of this game and bring human rescue robot into live contact with all rescue missions. Write your name in the lists of rescue legends and be more than rescue survival hero games by making practical show of advanced people and animal rescue missions. Glorify yourself by expanding your experience of light robot stunt and come of simple nature emergency robot rescue of robot transform simulator. Help all living beings and leave the tiger hero robot far behind to become rescue legend.

Superhero Robot Rope Hero features:
• New people and animal rescue missions.
• Novel concept of superhero rescue.
• Long lists of practical rescue missions.
• Professional presentation of robot.
• Simple and smooth off line game play.
• Interesting and inspirational levels.
• Perfectly installed camera angles.
• Originality in all game actions and thrills.

Don't leave people and animals alone in their time of trouble and help them like light speed hero to upgrade the status of praise for yourself in police rescue mission games.
Juega Light Superhero Police Robot Rescue Mission en la PC. Es fácil comenzar.
Descargue e instale BlueStacks en su PC

Complete el inicio de sesión de Google para acceder a Play Store, o hágalo más tarde

Busque Light Superhero Police Robot Rescue Mission en la barra de búsqueda en la esquina superior derecha

Haga clic para instalar Light Superhero Police Robot Rescue Mission desde los resultados de búsqueda

Complete el inicio de sesión de Google (si omitió el paso 2) para instalar Light Superhero Police Robot Rescue Mission

Haz clic en el ícono Light Superhero Police Robot Rescue Mission en la pantalla de inicio para comenzar a jugar