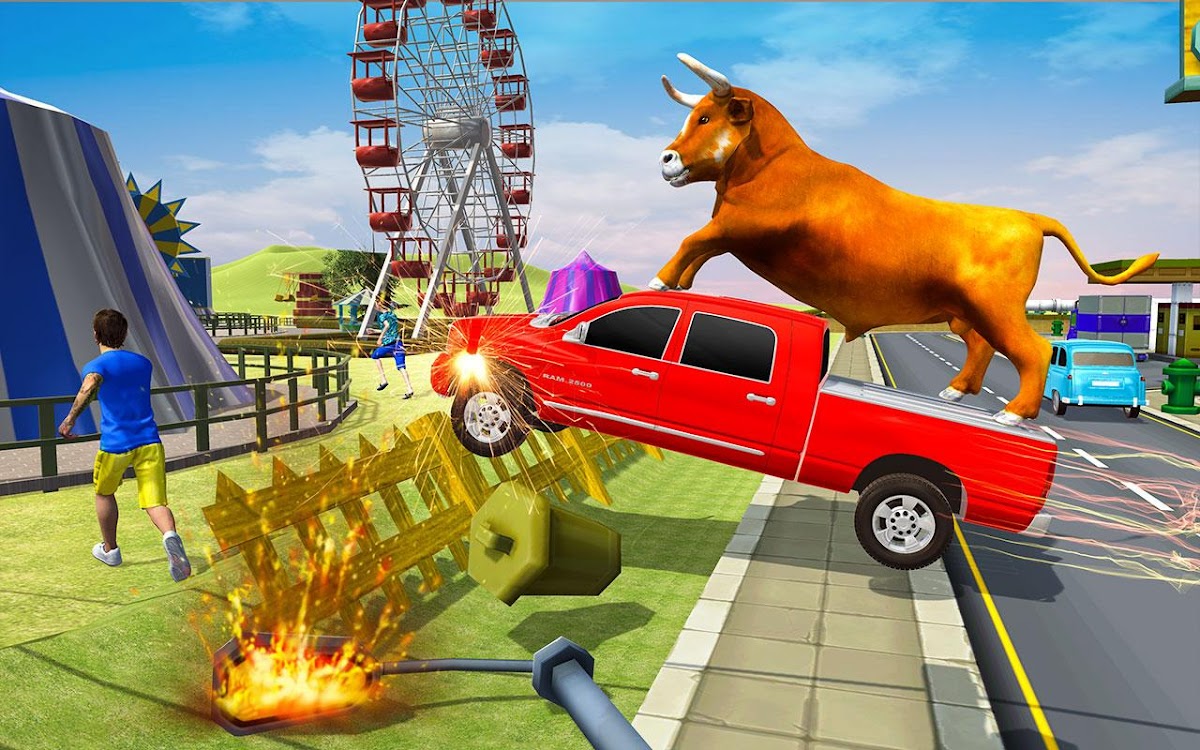 Grand Bull Rampage:City Attack
Gioca su PC con BlueStacks: la piattaforma di gioco Android, considerata affidabile da oltre 500 milioni di giocatori.
Pagina modificata il: 10 dicembre 2019
Caratteristiche del gioco
Prepare for the enjoyment at most elevated level in Animal attack simulator games 2019 with Hungry bull animal attack. This bull City rampage game will bring more energy and rush than the customary Animal hunter simulator games. Thrash everything that comes in your way in new wild animal attack game. Feel the rush and intensity of being a monster tainted brute in Rampage City Smasher bull attacking games, that is drifting around the games field in chaos in bull attack simulator 2019. Play as a bull in bull adventure games; chase down the bull in City smasher rampage game which is a recreation bull city attack free game.

Grand Bull Rampage: City Attack is about fervor, rush of being crushed and the endurance from Best bull attack games. Individuals attempting to endure in angry bull city attack are turning out to be exploited people of City attack simulator regardless of what number of them yet they can not remain against bull assault in Bull animal attack 2019.
Welcome to Animal attack simulator 2019 3D 2019 activity game where you play as insane bull of Hungry bull simulator and assault bullfighter for survival of your life in bull city rampage 2019. Wild bull attack simulator is about Public cheering the valor of the bullfighter champion of City smasher bull survival games. Bull fighting is well known in bull city attack games and Predator games for Spain and different nations. In bull rampage game, feel live existence of the wild bull that is entered in the field chase and hit individuals. In furious bull battle games, Show your wrath and solidarity to the individuals. With your strength quality, enraged speed and fierceness storm them down with your outrage in bull city Animal games. Hit them break their bones with your exceptional fierceness attack in bull games for kids.

Continue running and hit everything around you in Grand Bull Rampage - City Attack 2019, the new free city bull assault 3d which is best bull City rampage game.



Features:

* Many angry bulls for in app purchase.
* Big Stadium for bull fighting.
* Multiple action packed missions.
* Beautiful 3D Graphics.
* 3D Realistic bull animations.
* No shortage of prey.
* Town area for bull city rampage.
* Real Bull Sound Effects.
* Realistic open world environment.
.
Gioca Grand Bull Rampage:City Attack su PC. È facile iniziare.
Scarica e installa BlueStacks sul tuo PC

Completa l'accesso a Google per accedere al Play Store o eseguilo in un secondo momento

Cerca Grand Bull Rampage:City Attack nella barra di ricerca nell'angolo in alto a destra

Fai clic per installare Grand Bull Rampage:City Attack dai risultati della ricerca

Completa l'accesso a Google (se hai saltato il passaggio 2) per installare Grand Bull Rampage:City Attack

Fai clic sull'icona Grand Bull Rampage:City Attack nella schermata principale per iniziare a giocare