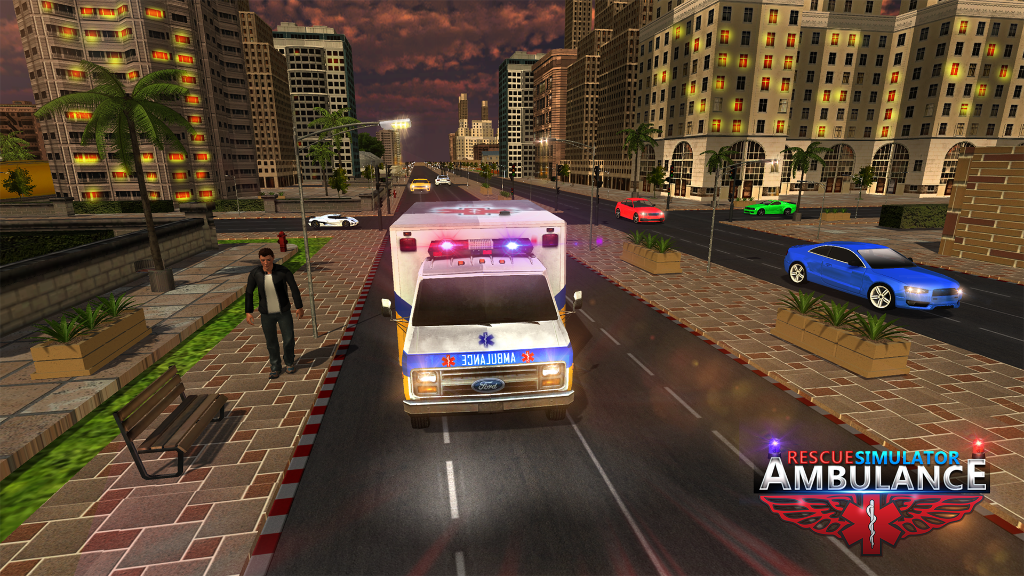 Rescue Simulator:Ambulance
500M + oyuncunun güvendiği Android Oyun Platformu, BlueStacks ile PC'de oynayın.
Sayfa Değiştirilme tarihi: 15 Tem 2022
Oyun Özellikleri
Play Ambulance Driving Simulator - Rescue Games to the place of accident and rescue games patients who are seriously injured on the road by the road accident and really need your help. Drive ambulance simulator fast to reach the place of the accident get the patient into your ambulance games and rescue ambulance driving simulator them by transporting them to the hospital. Being an ambulance driving games it is your duty to save injured people. You must be in the state of emergency 911 rescue simulator all the time. Duty driver ambulance is very responsible duty so be responsible ambulance doctor games and care for needy patients, which is not as easy as it looks from outside. This is a real new edition simulation rescue games in top games. Let's leave other ambulance car games and do something really good in this new realistic Ambulance Driving Simulator - Rescue Games.

Drive the ambulance games free for emergency 911 rescue simulator on the city highway. You are playing some extreme car parking games but this is the interesting and popular game of Ambulance Driving Simulator - Rescue Games. Play as a rescue ambulance driving simulator and run into injured patients in need on NY curvy city roads. Car accident ambulance simulation games always occur in our daily life, the earlier ambulance driving games arrive, the more lives we could save. The NY city is thrill and accident and you have to safely drive the injured to the nearest hospital. There has been a massive car accident ambulance simulation games and you're the on-duty ambulance driver! Get the injured to the doctor. Turn on the sirens and try to become an ambulance driver in one of the amazing ambulance driving games. Lots of Challenging ambulance driving simulator Missions to Test Your Driving Skills.

Turn on the siren of your 911 rescue simulator and rush to an emergency. Pick the patients to drop them at the hospital. This realistic Ambulance Driving Simulator - Rescue Games offers many challenging ambulance driving missions. Skill danger Ambulance Driving Simulator - Rescue Games. Duty driver ambulance is on a stretcher in it. So drive your rescue ambulance games car crash games and find the place of accidents and help the injured ones.
Daha az gör Daha fazla gör
Rescue Simulator:Ambulance oyununu PC'de oyna. Başlamak çok kolay.
BlueStacks'i PC'nize İndirin ve Yükleyin

Play Store'a erişmek için Google girişi yapın ya da daha sonraya bırakın.

Sağ üst köşeye Rescue Simulator:Ambulance yazarak arayın.

Rescue Simulator:Ambulance uygulamasını arama sonuçlarından indirmek için tıklayın.

(iEğer Adım 2'yi atladıysanız) Rescue Simulator:Ambulance uygulamasını yüklemek için Google'a giriş yapın.

Oynatmaya başlatmak için ekrandaki Rescue Simulator:Ambulance ikonuna tıklayın.