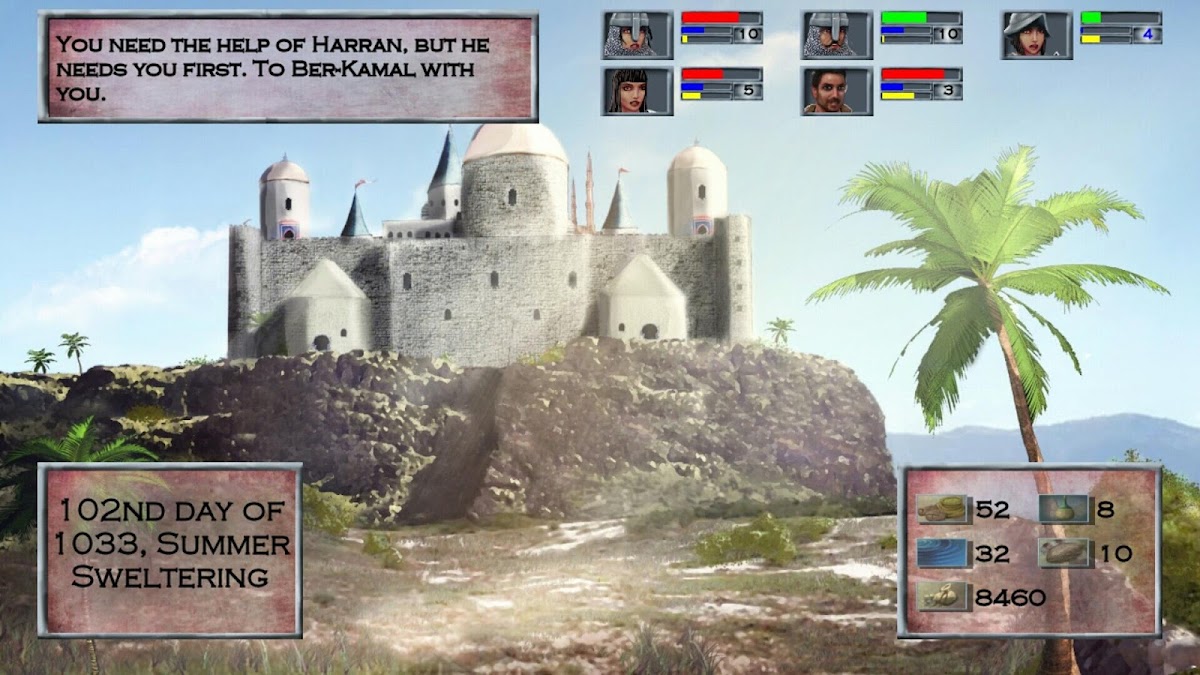 Tales of Illyria:The Iron Wall
Juegos de rol | Little Killerz
Juega en PC con BlueStacks: la plataforma de juegos Android, en la que confían más de 500 millones de jugadores.
Última actualización 22 de enero de 2021
Características del juego
'Beyond the Iron Wall is every bit as good as the first game, and I can't recommend it enough' - Killa Penguin

Explore a vast world of mythical djinn, sandworms, lamias, and arcane undead

You are Kepri, a priestess sworn to defend the Iron Wall in the desert kingdom of Vasena. In a land where women are of low status, Kepri defies tradition to strive for the recognition she deserves. But when enemies threaten the wall separating Vasena from the rest of the world, Kepri must somehow rally the armies and decide the future of her people...or face extinction.

Tales of Illyria is an RPG hybrid mixing Oregon Trail and Choose-Your-Own-Adventure game mechanics. Each party member has a distinct personality and reacts differently to being sick, running out of supplies, and decisions that go against their alignment.

Will you give precious water to a man dying of thirst, or let him die in the desert? How will you cross a river full of vicious crocodiles? Will you strive for peace, or wage bloody war?

Tales of Illyria: Beyond the Iron Wall is the second episode in the Tales of Illyria series. Each episode can be a standalone RPG.

Features:

• An epic storyline with four different endings
• 25+ hours of gameplay
• 800 unique encounters
• Hunt exotic animals and harvest plants to feed your party
• New jungle and savanna environments, in addition to forests, deserts and gorgeous mountains
• 6 kingdoms with 42 villages, castles and cities to visit
• Improved battle system featuring enemy-unique spells, elemental strengths and weaknesses
• New Vasenian armor and weapons
• 86 original musical tracks
• Learn what happened in the years following the chaotic events of Tales of Illyria Episode One: Fallen Knight
• Cameos from Episode One

After the game installs, additional graphic files will be downloaded depending on the resolution you pick. This ranges from 300MB to 1GB. You will need double that in free space to install the game.

**Take Note: If you have EP1 installed in "Shared Storage" you will NOT need to download the files**

Check out our blog and forum:
http://www.talesofillyria.com/

Like our Facebook page:
https://www.facebook.com/TalesOfIllyria

Follow us on Twitter:
https://twitter.com/TalesOfIllyria

Tales of Illyria Episode Two named one of the Best Android RPGs of 2014 (so far):
http://www.hardcoredroid.com/the-best-android-rpgs-of-2014-so-far/

Killa Penguin Review:
http://killapenguin.com/gamereviews/talesofillyriabeyondtheironwall/
Juega Tales of Illyria:The Iron Wall en la PC. Es fácil comenzar.
Descargue e instale BlueStacks en su PC

Complete el inicio de sesión de Google para acceder a Play Store, o hágalo más tarde

Busque Tales of Illyria:The Iron Wall en la barra de búsqueda en la esquina superior derecha

Haga clic para instalar Tales of Illyria:The Iron Wall desde los resultados de búsqueda

Complete el inicio de sesión de Google (si omitió el paso 2) para instalar Tales of Illyria:The Iron Wall

Haz clic en el ícono Tales of Illyria:The Iron Wall en la pantalla de inicio para comenzar a jugar