Guides for Afilliate Partners
가입 절차
BlueStacks 을 홍보할 미디어 또는 블로그 사이트를 입력해주세요.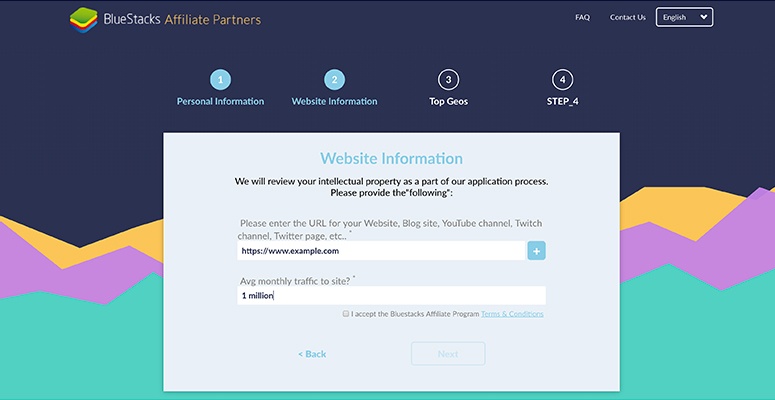 * 가입 시 가장 중요한 부분은 '지역 순위'를 선택하는 것입니다. 사용자가 있는 곳이 아닌, 유저가 위치한 국가를 선택하십시오.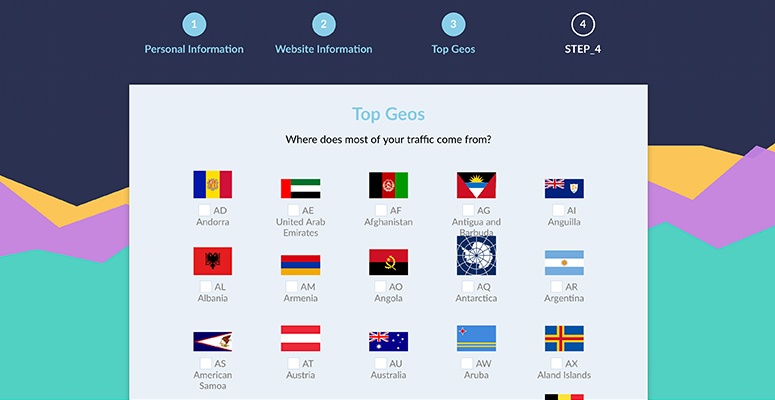 "확인 대기중인 계정" 메시지가 표시될 때까지 전체 가입 절차를 마무리해주세요.
You will then receive an email from one of our team members to verify ownership of your channel or website to be approved into the platform.
플랫폼을 사용하는 방법
Navigate around the "Dashboard" tab
The dashboard gives you an overview of three key functions your month to date stats summary, reporting section, and unique offer performance section.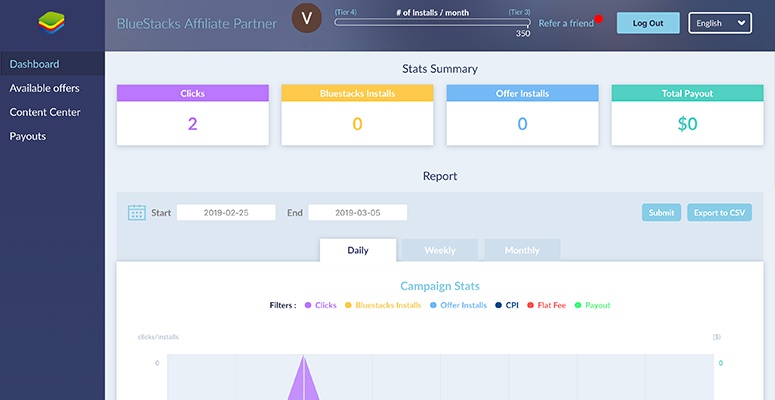 Stats Summary:
At the top center you'll find your Stats Summary. This gives you a cursory view of your month to date clicks, BlueStacks Installs, Game Offer Installs, & Total Payout earned.

There's no additional action to be taken here. Each time you login you'll simply see your most current, up to date monthly performance stats.
Reporting Section:
In the very center of the page you will find your reporting area. You have several options to view your data here: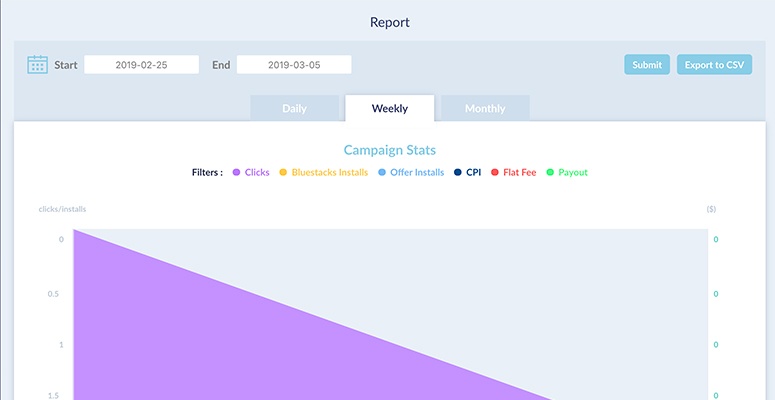 Most notable are the daily, weekly, monthly graph tabs. On the daily graph if you hover over the highs and lows you will see your KPI's for each date. By hovering over the points in the weekly graph you will be able to view your KPI's in weekly increments: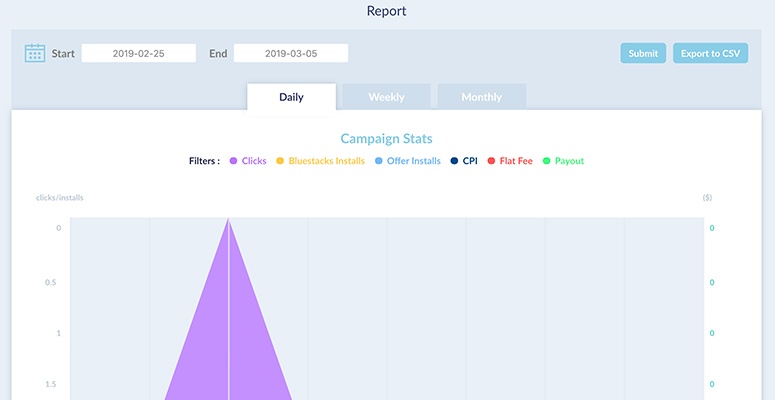 The second option is the custom date query fields located above the tabs. You can pull in data for up to 8 months. You will be able to view the data either on the tabs, or export it into csv format:

Offer Performance Section
The Performance section list out each of your offer links with its performance individually for every link you have generated. Click the blue drop down arrow to view individual performance: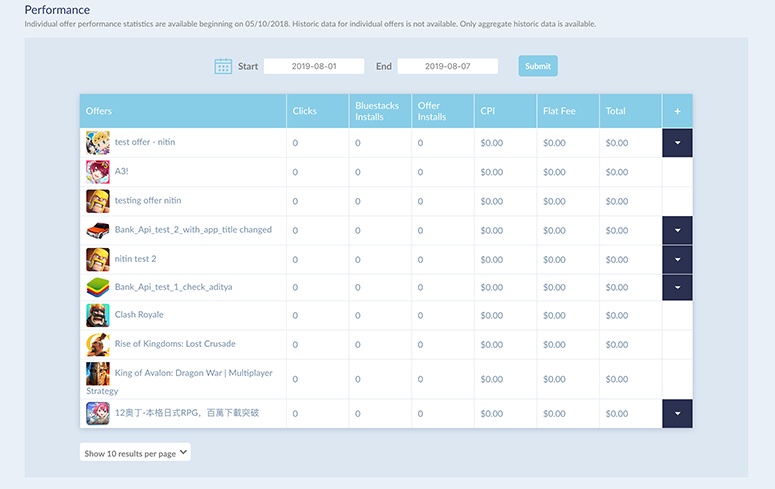 *This feature begin on 05/10/2018, and historic data for individual offers is not available. Only aggregate historic data is available.
How to get your unique affiliate links from "Available Offers" tab
The "Available Offers" tab gives you an overview of all the offers available for promotion.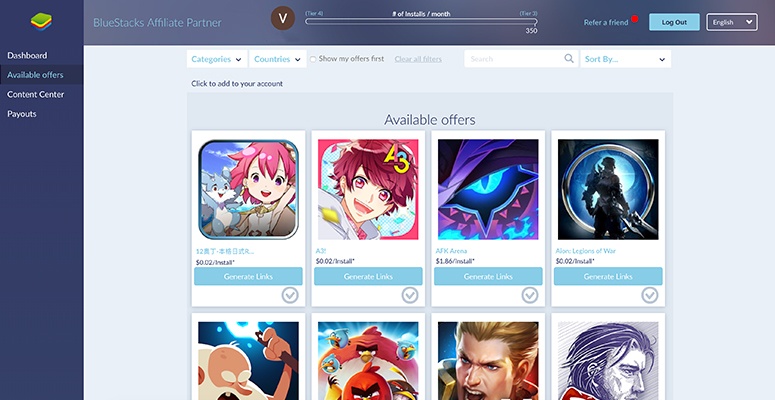 To add an offer for your site, navigate over to the Available Offers and click on the offer to see how much you can earn per install depending of the location of your audience: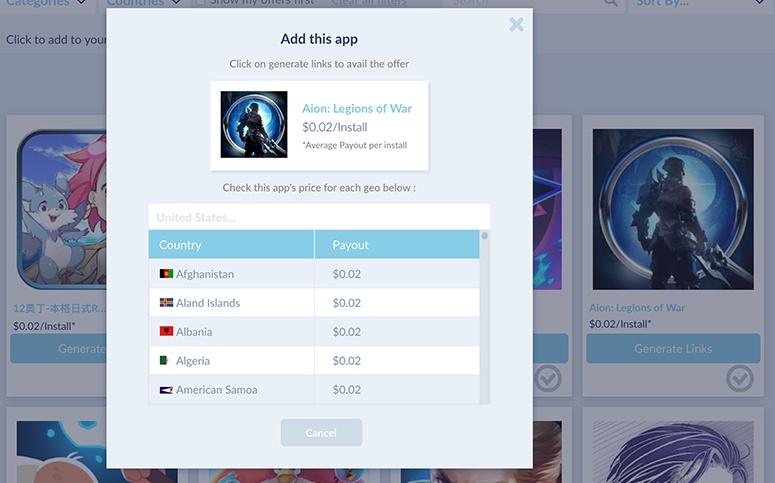 To generate your unique affiliate link click on "generate link". The language for your link will be set to the language selected during setup: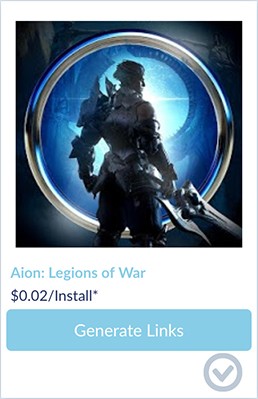 To retrieve your affiliate link click then copy & paste onto your media site. Using the drop down menu you can select different language for the app page generated by your links or even generate several links of you have different websites.
If you wish to remove an offer simply click the "X" on the top left corner, then you will receive a pop up box to confirm your decision: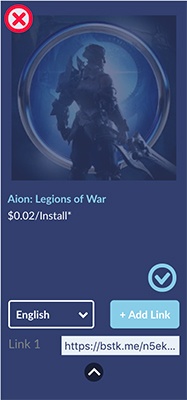 You can select an offer by using any of the dashboard filters at the top such as offers your previously selected, games category, country, sort by, the search box, or simply scrolling through the offer tiles.

**It is imperative that the affiliate link is not altered in any manner or else the payout will not be processed.
What is the "Content Center" tab and how can you use it
The content Center tab is where you will be able to upload your content for revision for Special Offers.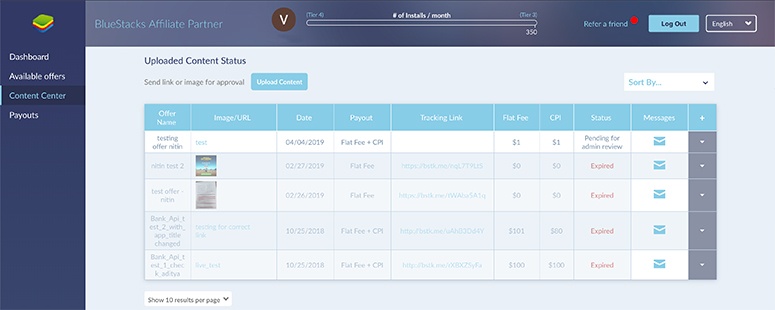 From time to time we add "Special offers" to the platform for specific promotion, launch and so on… You will find them in "Available Offers" under " Special Offer".
For these offers we need to review your content before it goes live on your channel.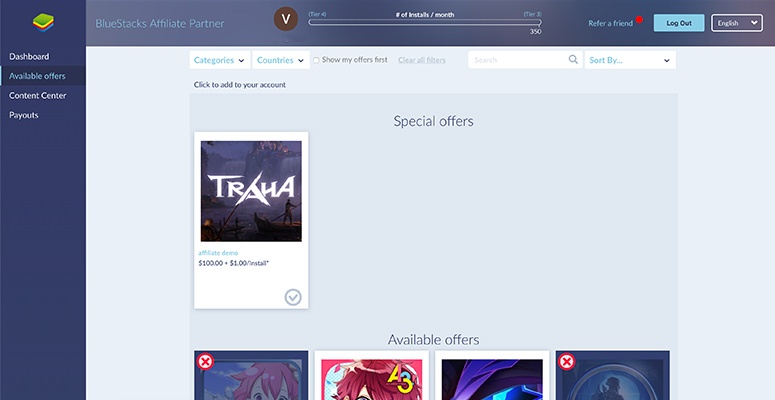 After reviewing the offer description, if your media channel qualifies, click the yes button to accept the offer. Once you create your content you can submit your video url or ad image directly to the BlueStacks Team for review on the content center tab.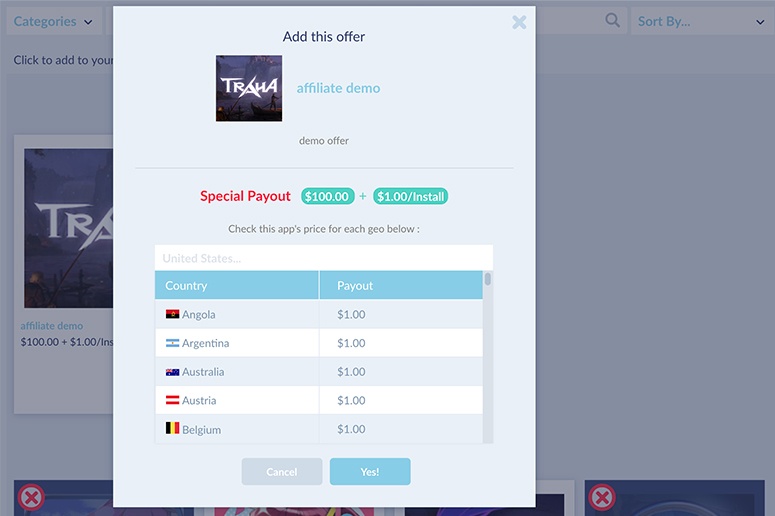 Special Content Submissions. You can submit your unlisted content for review on the content center tab by clicking on "Upload Content" and select the related offer.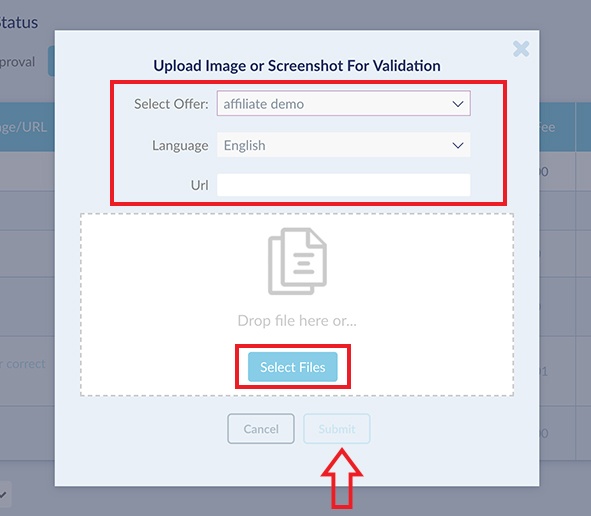 ** We will not approve for payment live content, or content that does not meet the offer requirements.
Special Content Approval Path.
Once your content has been submitted a member of our team will review it and mark your submission revise, denied, or approved.
If your submission is revised we will send you an immediate message advising of the elements that will need to be changed:

The message will always give you additional details on why your content was set to Revise. You can also respond to the admin team using the free form text box below and clicking the submit button.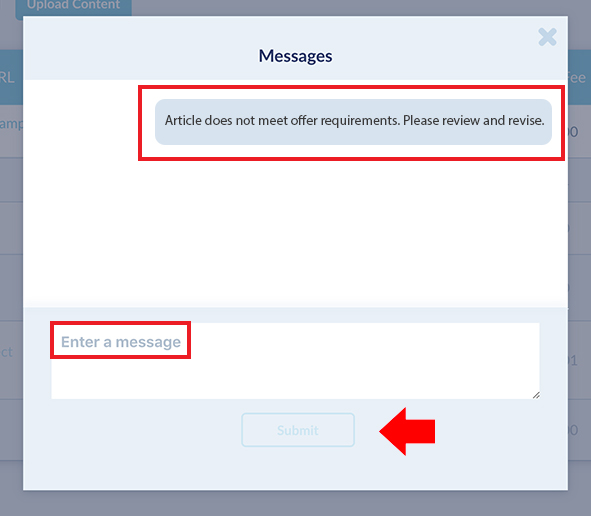 Once you make the required change you have to click the carrot in the blue box to lower the drop box that allows you to Re-upload Content.
Once your content is approved you will need to append the unique tracking link and place it in your content.

Your content will be set to denied if your chanel does not meet the offer requirements thereby making your submission ineligible to participate. It will also be denied if has been plagiarized or fraudulent in any capacity. It will also be denied if it is completely off context of what the offer is. You will not be able to re upload content once it is set to deny by the admin.
Your timely payments with "Payouts" tab
The payouts tab allows you to view your month end payment stats for each month you have been an affiliate with BlueStacks.


You can view your current eligible payment pending and right above it, the minimum threshold bar (if applicable). The progress of this bar indicates what percentage of the required minimum threshold has been met before your payout will be transferred.
Below the payout box is your payment method selections, Paypal or Bank wire transfer. BlueStacks will disburse payment to the method selected. You can change that method and the information anytime needed.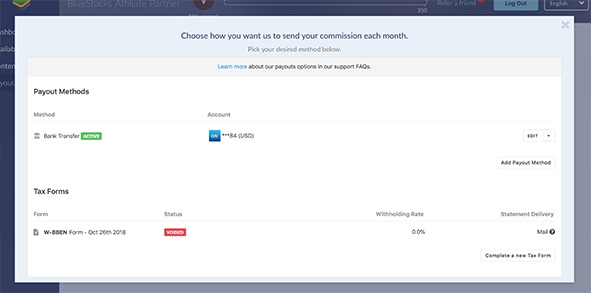 If you have any questions about the tax form, please reach out to your Account Manager
On the left side you can check data of all payments issued and installs depending on the date you set up on your dashboard tab: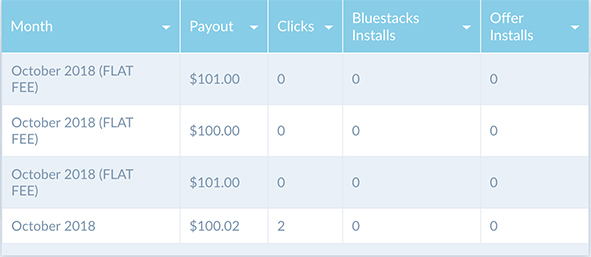 What are the Tiers
Bluestacks affiliate commissions are paid based on a tiered structure. You must maintain monthly installs at the specified tier level to remain in the associated tier.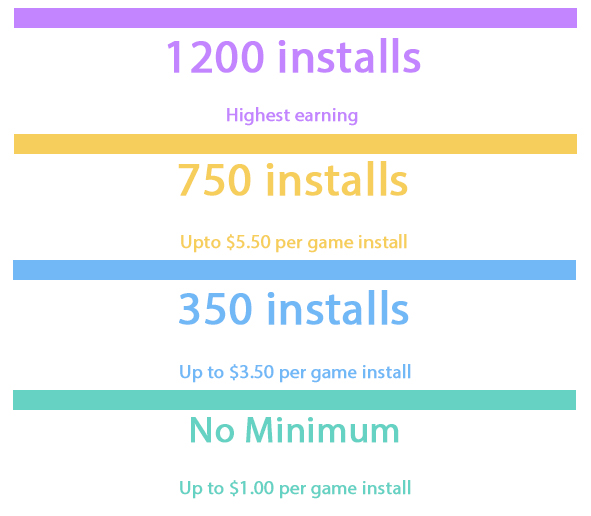 You can see your progression on the tier bar located up center of your dashboard: