Jogue Guns of Boom para PC
Desenvolvedor
Game Insight
Categoria
Ação
Última Atualização
May 3, 2018

The Game TRUE Gun Lovers Have Been Waiting For
The first-person shooter that ever gun fan will be talking about all year long is finally available on your computer. Play Guns of Boom on PC and Mac to see what all the buzz is all about with so many major gaming publications and sites calling this the greatest FPS on Android.
Join the greatest army on the planet when you play the exciting Guns of Boom. In this new world army, there is nobody telling you what to do or where to shoot. The decisions are all yours, as are the consequences of those decisions. Think fast and act quickly as you take heavy enemy fire and grenades are bursting all around you. If this sounds like the perfect life for you, then come on in and apply for Guns of Boom.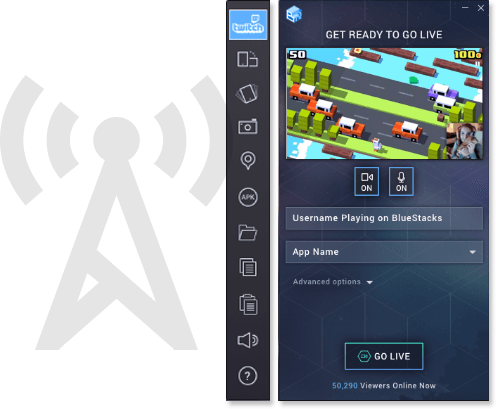 Broadcast the Streams of Boom With BlueStacks 4
The new BlueStacks 4 gives you the greatest Android gaming platform available today. Built on the state-of-the-art BlueStacks gaming platform, the BlueStacks 4 app is the fastest and most versatile Android emulator around. Now, you can stream Guns of Boom to Facebook Live, Twitch.tv, and more without worry about lag or downtime. Video game broadcasting and esports are fast-growing industries that you can easily jump right into with BlueStacks 4. One click controls mean anyone can start broadcasting right away and begin building their online presence on the road to stardom. You can now stream ANY Android app and game to the entire world anytime you want.
This is your world – you control it!