Guides for Afilliate Partners
註冊流程
請輸入您預計推廣BlueStacks的媒體或部落格網站。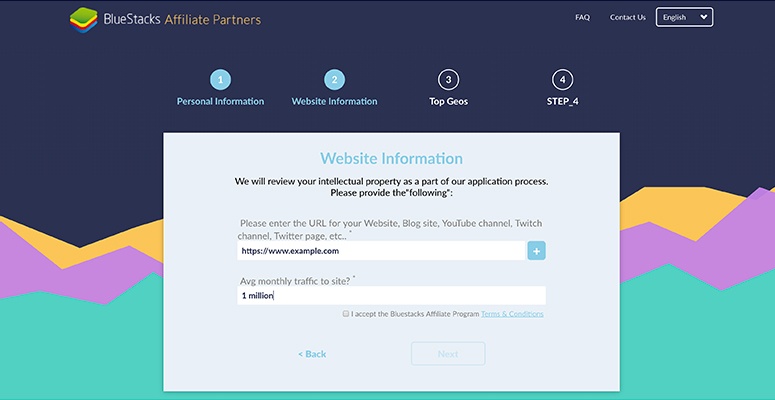 註冊最重要的部分是選擇"最佳位置"。 選擇受眾所在的國家/地區,而不是您所在的國家/地區。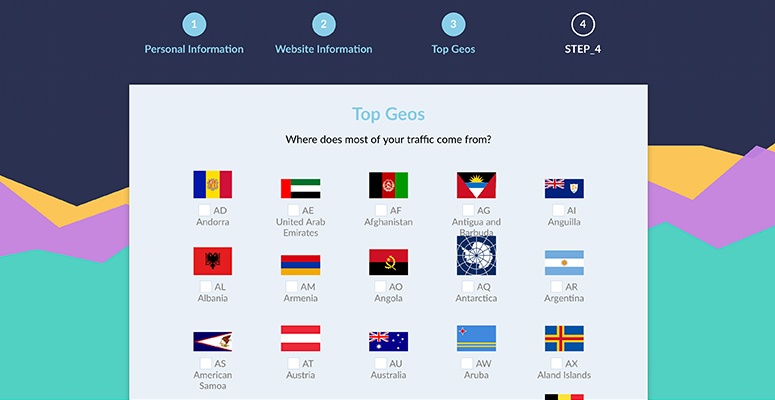 完成整個註冊流程,直到收到"帳戶待審核"的消息。
然後,您將收到我們的團隊成員發送給您的電子郵件,以驗證您的頻道或網站的所有權是否已獲得批准。.
如何使用平台
瀏覽"儀表板"內的各項標籤。
這個平台給您三個重點功能,包括這個月的統計數字、報告系統與專屬提案的成效表現。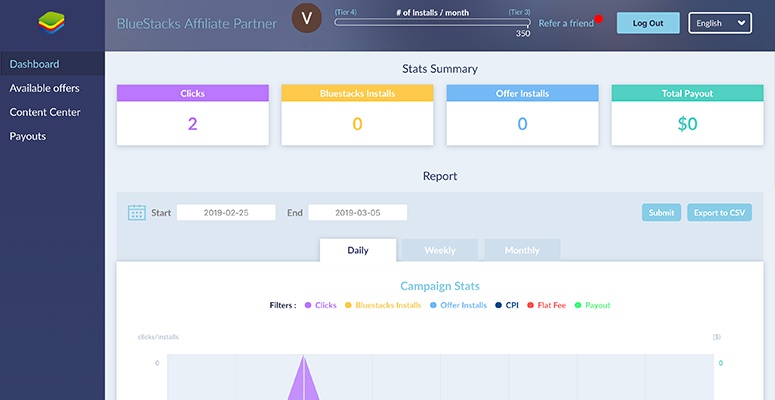 統計摘要
在平台的最上端你可以看到月累計點擊數,BlueStacks安裝數,遊戲安裝數,和總收入。

在這個部分您不用做任何事,每次登入您都可以看到這個月最新的統計數字。
報告彙整
在平台中間您可以看到報告數字,您可以選擇不同的條件查看資料。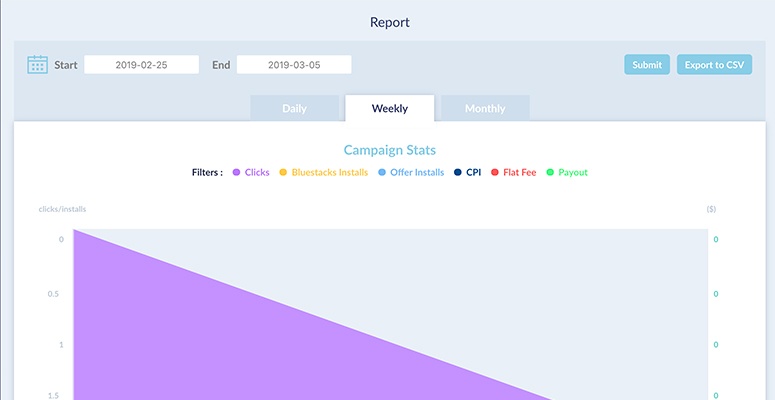 值得一提的是您可以依日、週、月的條件來選擇查看報告,您只要點選想看的條件標籤,就可以看到不同時段條件下您的內容表現。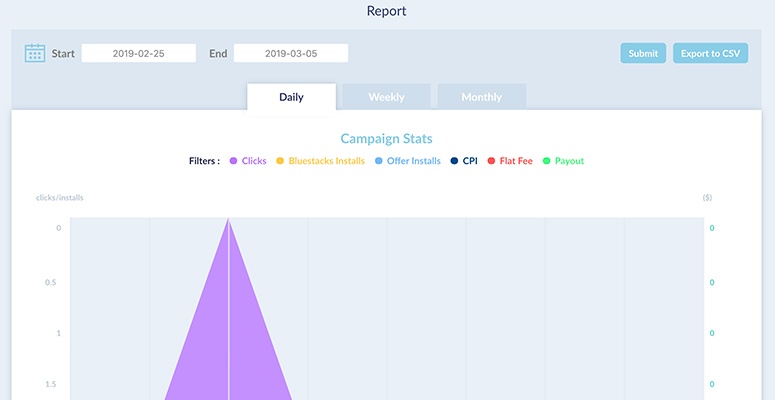 The second option is the custom date query fields located above the tabs. You can pull in data for up to 8 months. You will be able to view the data either on the tabs, or export it into csv format:

Offer Performance Section
The Performance section list out each of your offer links with its performance individually for every link you have generated. Click the blue drop down arrow to view individual performance: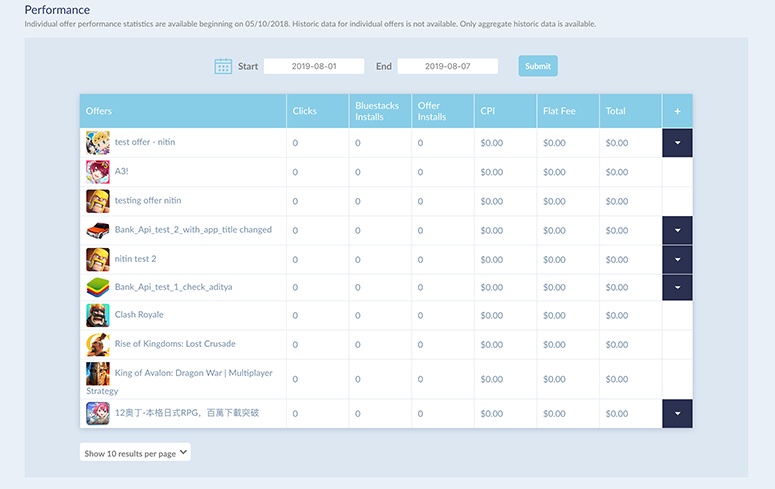 *This feature begin on 05/10/2018, and historic data for individual offers is not available. Only aggregate historic data is available.
How to get your unique affiliate links from "Available Offers" tab
The "Available Offers" tab gives you an overview of all the offers available for promotion.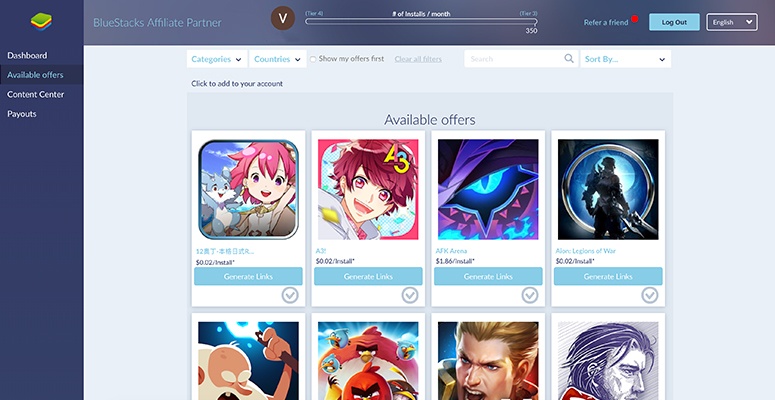 To add an offer for your site, navigate over to the Available Offers and click on the offer to see how much you can earn per install depending of the location of your audience: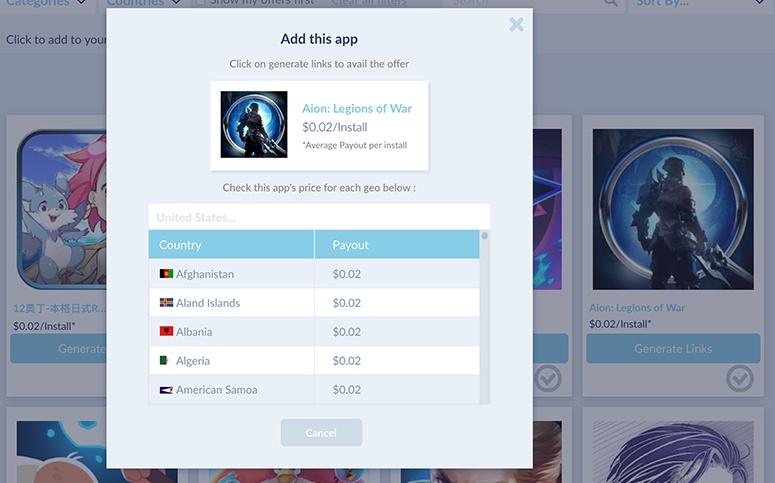 To generate your unique affiliate link click on "generate link". The language for your link will be set to the language selected during setup: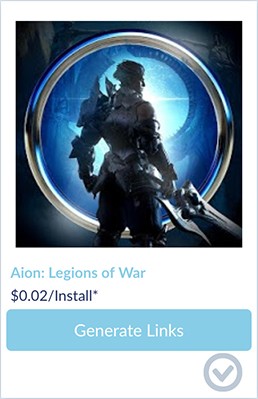 To retrieve your affiliate link click then copy & paste onto your media site. Using the drop down menu you can select different language for the app page generated by your links or even generate several links of you have different websites.
If you wish to remove an offer simply click the "X" on the top left corner, then you will receive a pop up box to confirm your decision: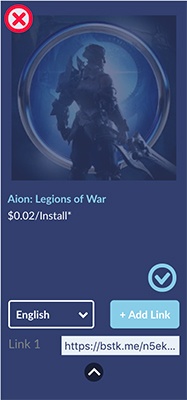 You can select an offer by using any of the dashboard filters at the top such as offers your previously selected, games category, country, sort by, the search box, or simply scrolling through the offer tiles.

**It is imperative that the affiliate link is not altered in any manner or else the payout will not be processed.
What is the "Content Center" tab and how can you use it
The content Center tab is where you will be able to upload your content for revision for Special Offers.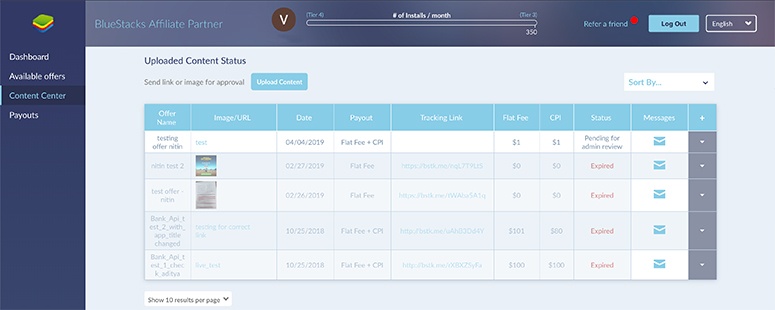 From time to time we add "Special offers" to the platform for specific promotion, launch and so on… You will find them in "Available Offers" under " Special Offer".
For these offers we need to review your content before it goes live on your channel.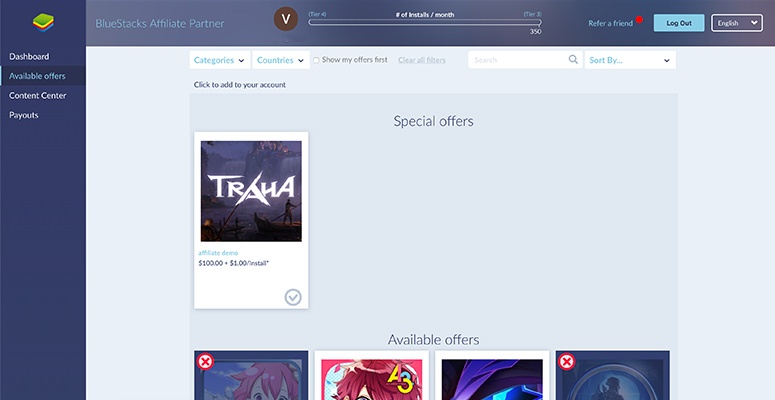 After reviewing the offer description, if your media channel qualifies, click the yes button to accept the offer. Once you create your content you can submit your video url or ad image directly to the BlueStacks Team for review on the content center tab.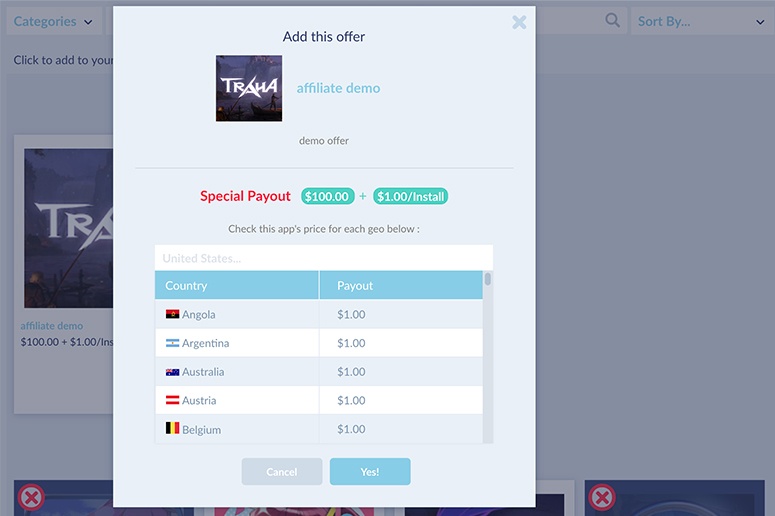 Special Content Submissions. You can submit your unlisted content for review on the content center tab by clicking on "Upload Content" and select the related offer.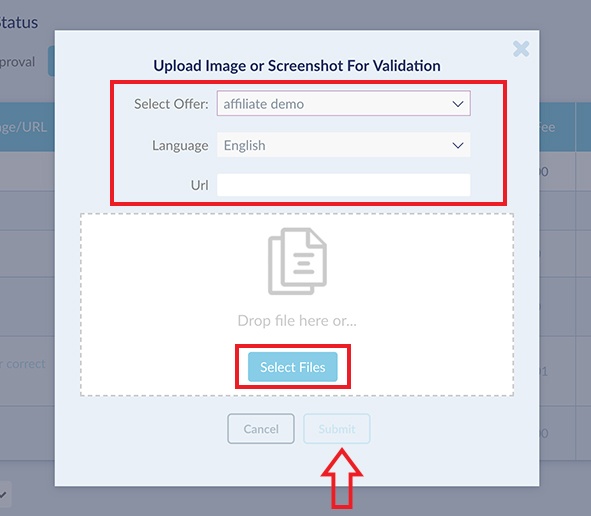 ** We will not approve for payment live content, or content that does not meet the offer requirements.
Special Content Approval Path.
Once your content has been submitted a member of our team will review it and mark your submission revise, denied, or approved.
If your submission is revised we will send you an immediate message advising of the elements that will need to be changed:

The message will always give you additional details on why your content was set to Revise. You can also respond to the admin team using the free form text box below and clicking the submit button.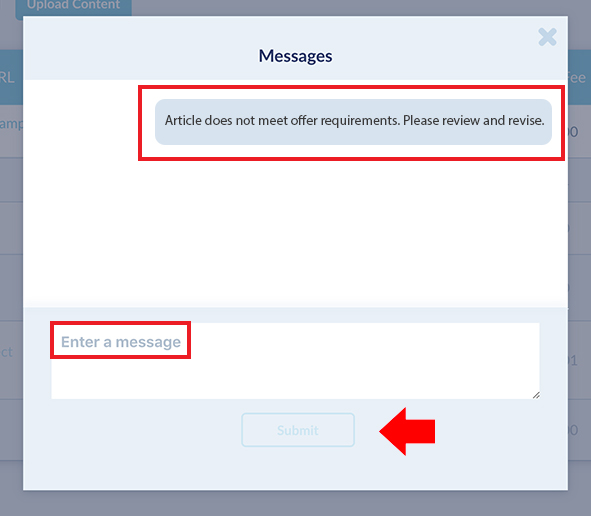 Once you make the required change you have to click the carrot in the blue box to lower the drop box that allows you to Re-upload Content.
Once your content is approved you will need to append the unique tracking link and place it in your content.

Your content will be set to denied if your chanel does not meet the offer requirements thereby making your submission ineligible to participate. It will also be denied if has been plagiarized or fraudulent in any capacity. It will also be denied if it is completely off context of what the offer is. You will not be able to re upload content once it is set to deny by the admin.
Your timely payments with "Payouts" tab
The payouts tab allows you to view your month end payment stats for each month you have been an affiliate with BlueStacks.


你可以看到你當下可以獲得的金額,最低付款額度等〈如果適用〉。圖示表示你要達到最低付款額度的進度。
在下方還有你的帳戶登錄資訊,你可以選擇PayPal或是銀行轉帳供BlueStacks轉帳。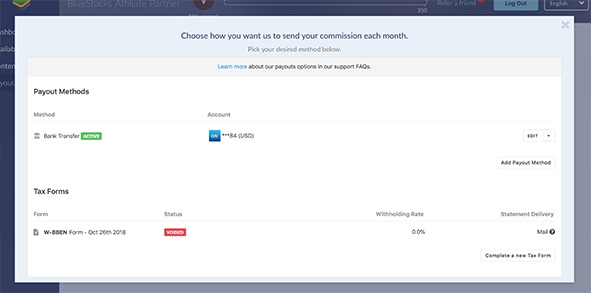 如果您對納稅方式有任何疑問,請聯繫與您聯絡的接洽人員。
在左側,您可以檢查已發放的所有付款數據並根據您在儀表板選項上設置的日期進行安裝: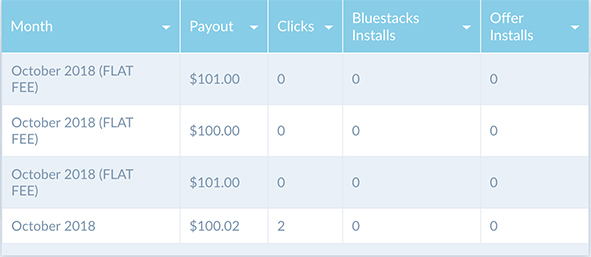 夥伴層級是什麼?
Bluestacks聯盟佣金將依據階級支付。 您必須維持您每月導引的安裝數在指定數值上來保持現有層級。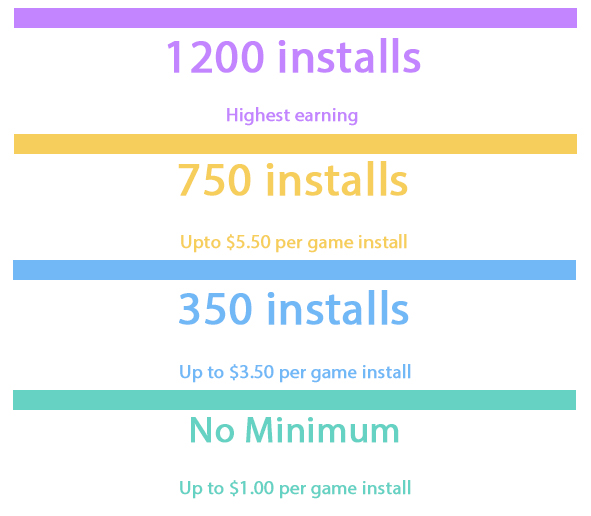 您可以在位於儀表板中心的進度欄上查看您的進度: